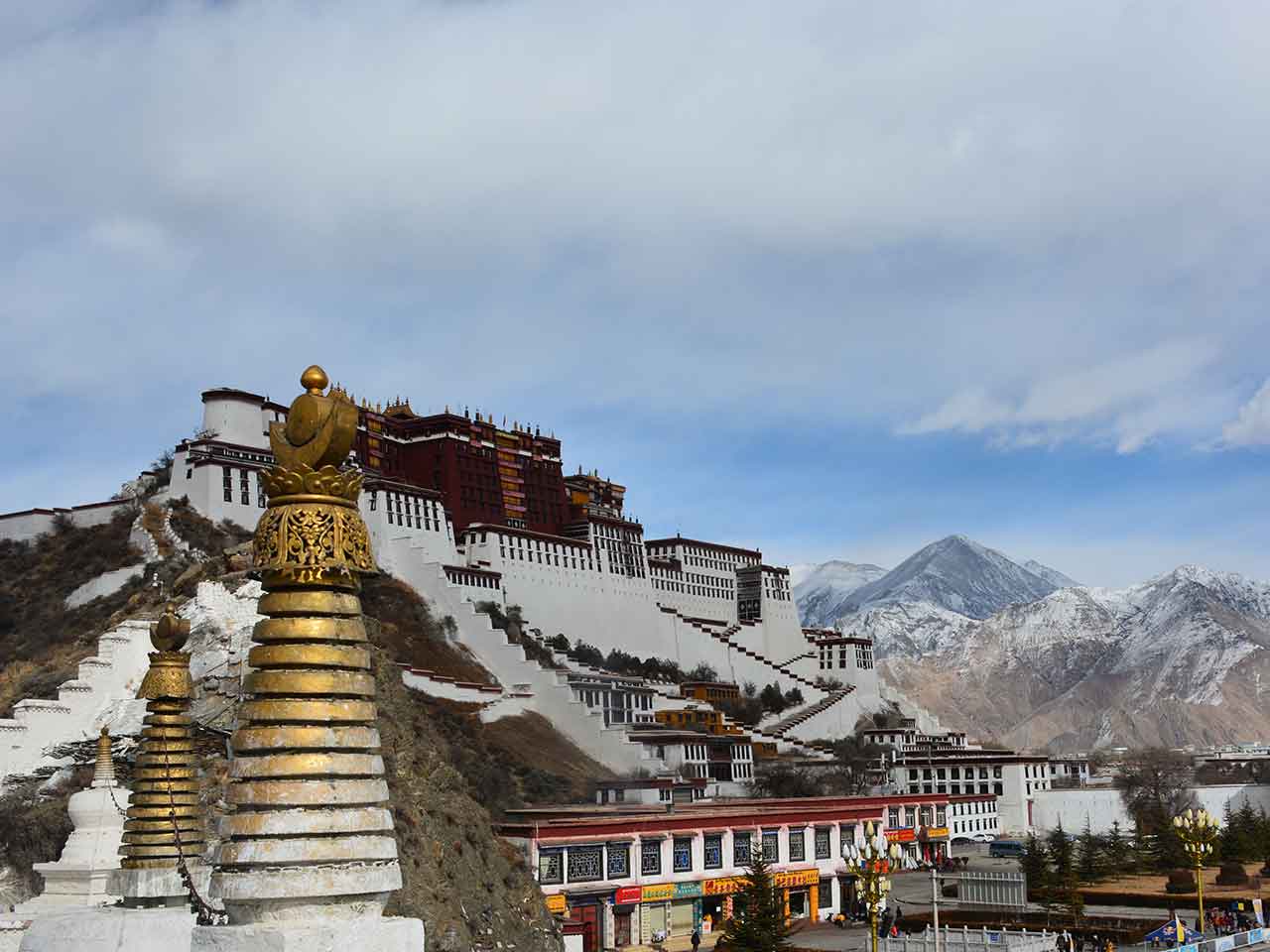 In the Tibetan language, Lhasa literally means "place of the gods". It is also famed as 'the Sunshine City' due to the fact that the city of Lhasa enjoys plentiful sunshine throughout the year. Notably, it is located in the southern part of the Tibetan high plateau at an altitude of 3650 meters above sea level. 
The valley in which it is situated is formed by the river Kyichu, which is a tributary of Brahmaputra river. The dominant peaks surrounding it are between 4400m and 5300 meters above sea level.
Lhasa as an important administrative center. It rose to prominence as an important administrative center in the 7th century AD, when King Songtsen Gampo (c 618-49) moved his capital from Yalong Valley to Lhasa and built a palace on the site now occupied by the Potala Palace. It was at this time that the temples of Ramoche and the Jokhang were founded to house the priceless first Buddha statues brought to Tibet as the dowries of Songtsen Gampo's Chinese and Nepali wives.
Due to its very high elevation, it has a very dry, frosty winters and wet, warm summer. The coldest month is January with an average temperature of −0.3 °C (31.5 °F), while the warmest month is June with a daily average of 16.5 °C (61.7 °F). Likewise, the driest month in December at 0.3 millimeters (0.01 in), and the wettest month is August at 133.5 millimeters (5.26 in).
In terms of demographics, the Tibetans constitute the main ethnic group, and there are also Han, Hui, and other ethnic groups. The total population of it Prefecture-level City is 521,500 (including known migrant population).
About Us:
Tibet Universal Tours and Travel is a fully officially licensed international tour operator based in Lhasa, owned and managed by 100% local Tibetans. One of the most respected, longest running and best-reviewed tour operators since 1997.
Over 20 years of experience in the Tibetan travel industry, our team consists of the best and experienced Tibet travel guides that will show you the best that this extraordinary place has to offer, unravel all the undiscovered beauty of Tibet unique culture and tradition in front of you.  Whether a guest is looking to join a Tibet group tour or take a private tailor-made journey, we are the best choice.
Other than the above services, we provide stop over tour services in Nepal, Bhutan, and cities in Mainland China, you can also be booking your Tibet Flight and Tibet Train tickets with us. So, what are you waiting for? Reach us to embark on a trip that will last for a lifetime with Tibet Universal Tours and Travel!!!