Drak Yerpa Hermitage, about 18km northeast of Lhasa

, on a hillside of the mountain at an elevation of 4885 meters. It is one of the holiest cave hermitage sites. It was build in the middle of the 7th century. The 33rd Emperor of Tibet Songtsan Gampo and his team built Drak-Yerpa for his wife.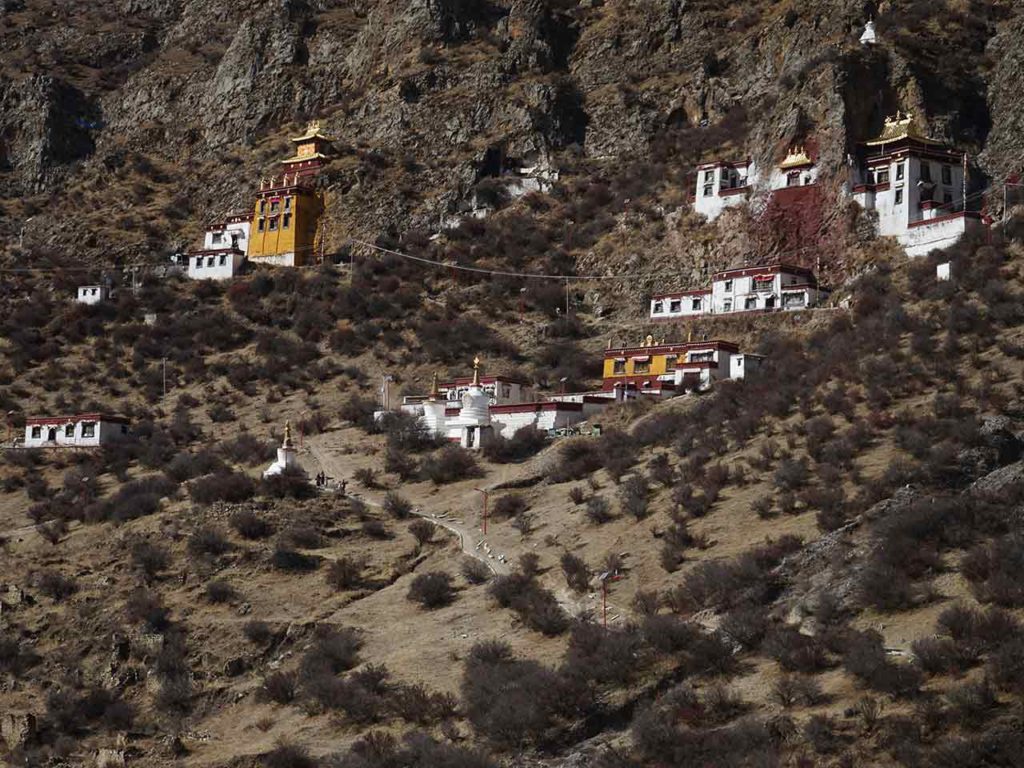 History says that 108 caves at Drak Yerpa, but only a handful now in existence. Among them, the cave of Songtsan Gampo is a significant one. Many individual temples built around the cave. Then after several expansions of the building, they consolidated forming the well-known temple. This site is very peaceful and has stunning views. To take a walk up to the King Songtsan Gampo's cave, which was also blessed by Padmasambhava or Guru Rinpoche (late 8th to early 9th century)  is really inspirational.
Drak Yerpa: Centres of meditation and retreat in Central Tibet
Yerpa became one of the three most important centers of meditation and retreat in Central Tibet. Several of Guru Rinpoche's disciples are also said to have meditated here. Atisha (982 – 1054 CE) preached extensively in the valley. Atisha's hermitage is in ruins but had 300 monks in the 19th century. Furthermore, it was the summer quarters for the Ramoche Monastery (the Upper Tantric College).
Later histories record that both Songtsen Gampo and Trisong Detsen (756–797) founded temples at Yerpa. Furthermore, Klu-mes Tshul-khrims did some refurbishing in the 11th century. Tradition says that after Songtsen Gampo's only son, Gungri Gungsten, was born to Mangza Tricham, Princess of Mang, one of his wives. "A shrine and a stupa dedicated to the tutelary deity of mother and son were built upon the lap of a rocky mountain. It resembled a seated image of the Holy Tara in the region of Yerpa."
It is said that Lhasa is the shrine of Tibet but Drak Yerpa is the shrine of Lhasa. Without paying a visit to Drak Yerpa on a Lhasa tour is just like making a dress without the collar.
Drak Yerpa pilgrimage sightseeing tour takes about 2 hours. In addition, we can arrange a half day leisure travel experience with some easy hiking. Our travel agency can arrange camping equipment, tour vehicle, and driver, guide for this short trip.
About Us:
Tibet Universal Tours and Travel is a fully officially licensed international tour operator based in Lhasa, owned and managed by 100% local Tibetans. One of the most respected, longest running and best-reviewed tour operators since 1997.
Over 20 years of experience in the Tibetan travel industry, our team consists of the best and experienced Tibet travel guides that will show you the best that this extraordinary place has to offer, unravel all the undiscovered beauty of Tibet unique culture and tradition in front of you.  Whether a guest is looking to join a Tibet group tour or take a private tailor-made journey, we are the best choice.
Other than the above services, we provide stop over tour services in Nepal, Bhutan, and cities in Mainland China, you can also be booking your Tibet Flight and Tibet Train tickets with us. So, what are you waiting for? Reach us to embark on a trip that will last for a lifetime with Tibet Universal Tours and Travel!!!