Drepung monastery is located on the slope of Gepel Utse ridge, 8 kilometers northwest of Lhasa. It is the biggest Gelugpa learning center and was founded in 1416 by Jamyang Choeje Tashi Palden who was one of the main disciples of master Tsongkhapa. There are four main Dratsang or colleges which are Deyang, Gomang, Loseling, and Ngakpa the tantric college.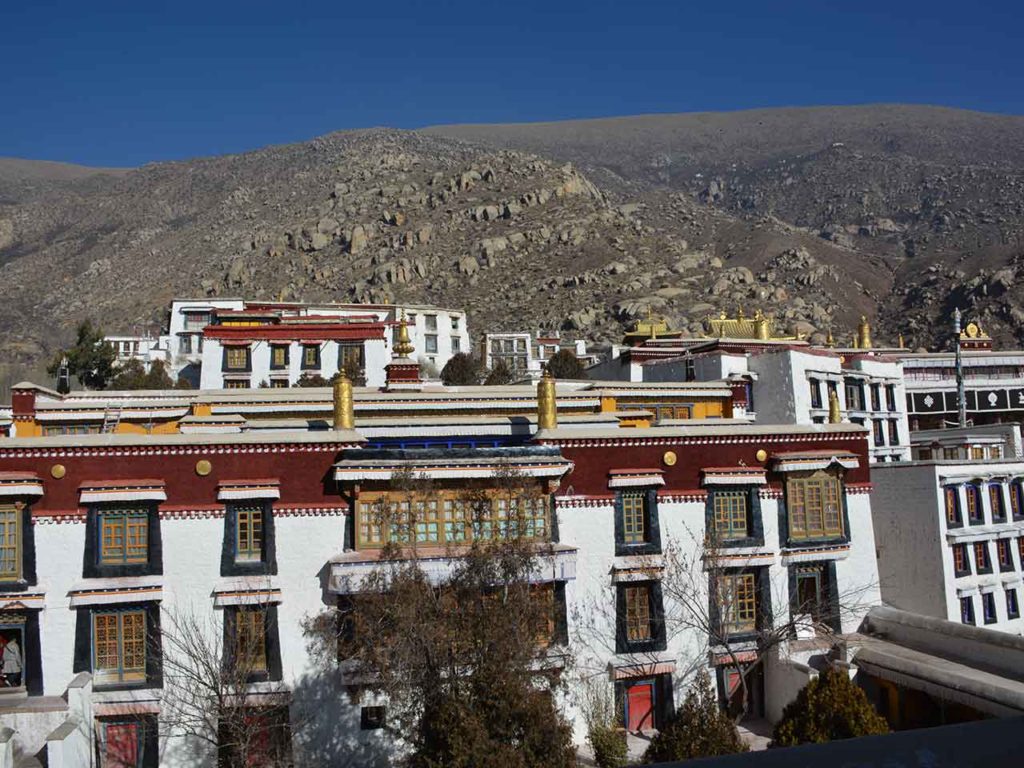 In the early year of the 16th century, Dalai Lama II took possession of the Ganden Podrang at Drepung. It was later to become an important center of political power in Tibet. At the time when Dalai Lama V assumed spiritual and temporal power in 1641, it had over 10,000 monks. It hailed from 321 different branch monasteries and lived according to nationality in 50-60 different houses. By considering it, the monastery qualifying as the largest monastery in the world.
The holy set of Kangyure
In terms of relics, there is a holy set of Kangyure or the translation of the Buddha's oral teaching. The written materials of the holy set of Kangyure is liquid gold. We can see Buddhas of the Past, Present, and Future seated together, representing the "Three Times." There are the eight Buddhisatvas and many other important statues, in the inner part of the assembly hall.
"Yoghurt Festival" is a famous festival in summer. Moreover, during that time a giant Thangkha or scroll-painting is displayed at Drepung Monastery on the mountain slope. As a result, thousands of local people and tourist gather here. They pay homage and make offerings to the Buddha image. Furthermore, pray for "Yoghurt Festival" world peace and the happiness of all the beings. 10 minutes' walk downhill from Drepung monastery is Nechung Monastery. It is worth to visit the monastery. Because, as it is the abode of the protector deity Pehar and the seat of the State Oracle of Tibet.
About Us:
Tibet Universal Tours and Travel is a fully officially licensed international tour operator based in Lhasa, owned and managed by 100% local Tibetans. One of the most respected, longest running and best-reviewed tour operators since 1997.
Over 20 years of experience in the Tibetan travel industry, our team consists of the best and experienced Tibet travel guides that will show you the best that this extraordinary place has to offer, unravel all the undiscovered beauty of Tibet unique culture and tradition in front of you.  Whether a guest is looking to join a Tibet group tour or take a private tailor-made journey, we are the best choice.
Other than the above services, we provide stop over tour services in Nepal, Bhutan, and cities in Mainland China, you can also be booking your Tibet Flight and Tibet Train tickets with us. So, what are you waiting for? Reach us to embark on a trip that will last for a lifetime with Tibet Universal Tours and Travel!!!