Drigung Til Monastery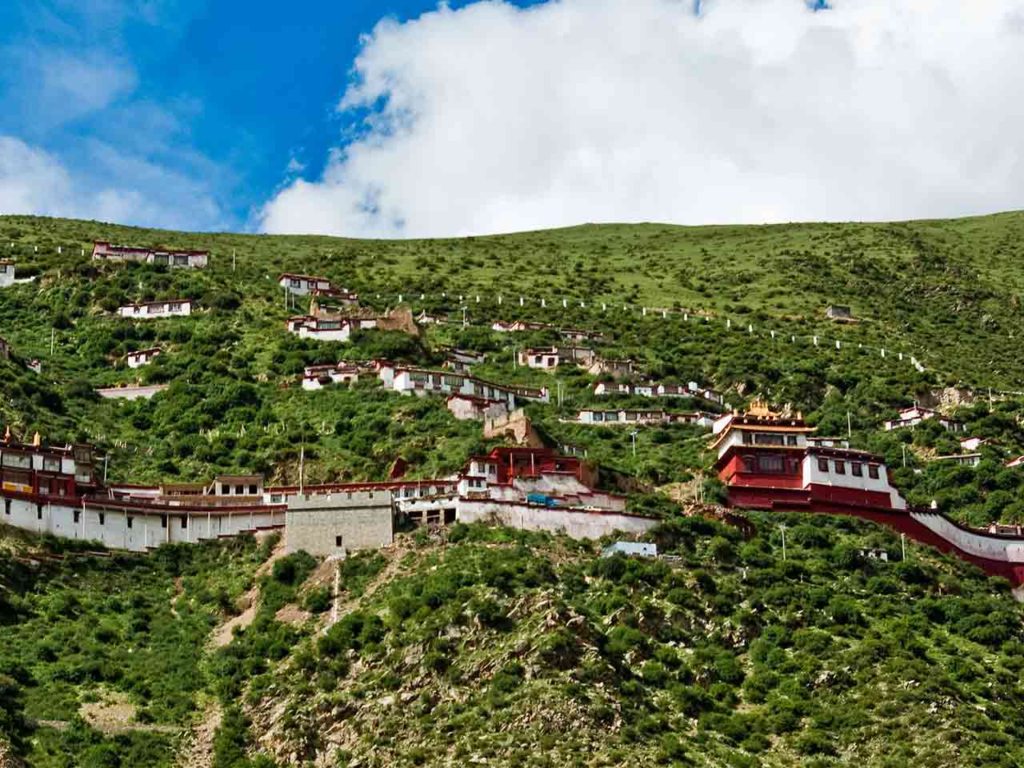 Drigung Til monastery is located some 130 km northeast of Lhasa valley at an approximate elevation of 4500 meters above the sea level. The monastery was established in 1167. It serves as the head monastery of the Drigungpa. Traditionally the monastery has been the main seat of the Drikung Kagyu tradition of Tibetan Buddhism. In its early years, the monastery played an important role in both religion and politics, but it was destroyed in 1290 by Mongol troops, who invaded Tibet. The monastery was rebuilt and regained some of its former strength but was primarily a center of meditative studies.
The monastery is located on a high, steep ridge, which overlooks the Zhorong-chu Valley. Following a steep thread of a path, one can make the way up into the monastic complex. However, there is also vehicle access from the eastern end of the valley. From the main courtyard, one can get 180-degree views of the scenery, which is impressive and full of serene stillness.
Description of Drigung Til monastery
The main assembly hall is the most impressive part of the buildings. The central figure of the hall is Jigten Sumgon, who is the founder of the monastery. The statues of Guru Rinpoche and Shakyamuni are to the left. Go upstairs, on the 1st-floor of Serkhang, you can see statues of Jigten Sumgon and his two successors, all wearing red hats. At the foot of the statue, in a slab of rock, there is Jigten's footprint. From here, you can keep going upstairs to a balcony and a circuit of prayer wheels. There are steps leading to the Chortens of two previous.
The monastery walkaround path or kora follows the hill, leading to the main dirt road to one of the holiest sky burial sites in Lhasa valley. People from remote corners of Tibet travel hundreds of kilometers here, bringing their deceased for sky-burial service. According to the tradition, tourists are not welcome to view the sky burials. However, the local monks say that it's fine to hike up to the site when no sky burials are taking place. It's possible to see the circular platform of stones, where the bodies fo the deceased are handled; and the adjacent buildings, where they store the shaved hair of the deceased. Be cautious if you see the birds are circling, for there may be a sky bury undergoing. It's better for you not to go there.