Nyetang Dolma Lhakhang Tara Temple
Nyetang Dolma Lhakhang Tara Temple is located 25 km southwest of Lhasa and it only takes 30 minutes' drive. The monastery survived the Cultural Revolution relatively undamaged. It is dedicated to Tara, a female bodhisattva, and contains many statues and paintings of Tara.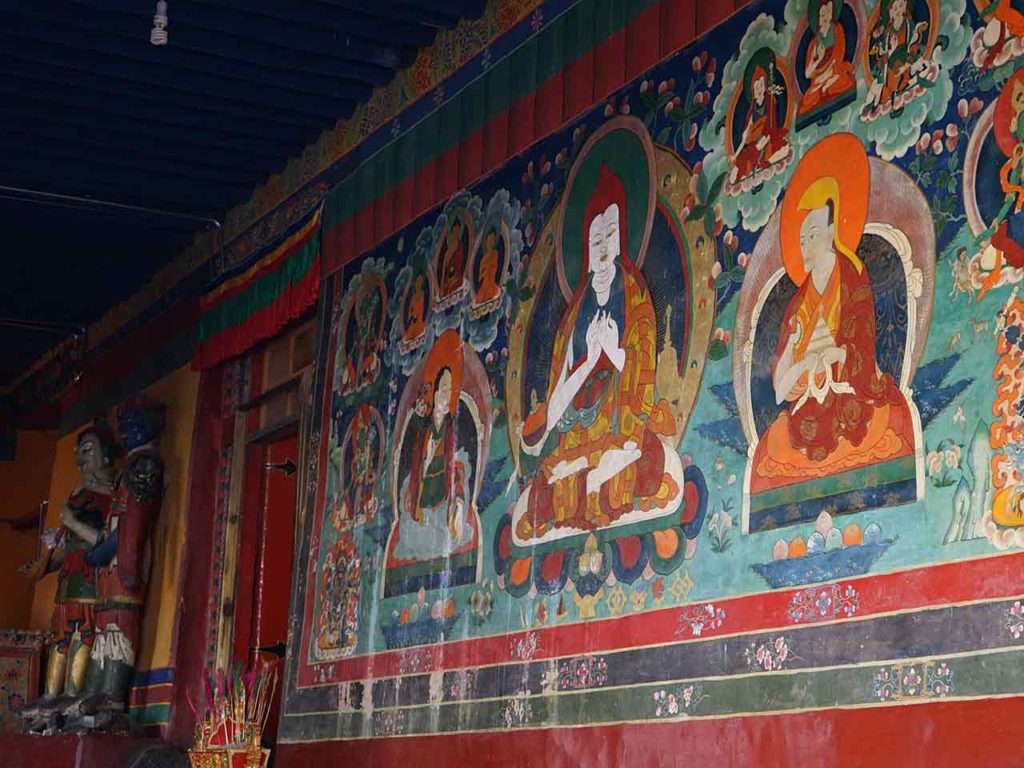 Nyetang Dolma Lhakhang Tara Temple is full of ancient relics and hidden treasures. So, it is worth to make a visit for those interested in Tibetan Buddhism. In addition, Dolma Lhakhang is associated with the Bengali scholar Atisha (982-1054). He came to Tibet at the age of 53 at the invitation of the king of Guge kingdom in Western Tibet. Atisha's teachings had a major instrumental role in advancing the so-called second diffusion of Buddhism. As a result, in the 11th century, Dolma Lhakhang established. One of Atisha's foremost disciples namely Dromtonpa established it. Moreover, Dromtonpa also founded the Kadampa order. It was here at Netang where Atisha died at the age of 72.
The temple is a small two-story building and it is a good example of 11th century Tibetan temple architecture. It has a long, open porch with regularly-spaced symmetrical windows. His Holiness the Dalai Lama used the second floor as a residence on his visit to the temple; it now has a library and some meditation rooms.
The temple houses have many historical and holy relics, including the Coffin Tower Hall of master Atisha. Furthermore, it has the black-metal Kadampa-style stupa, the skull of Atisha's teacher Naropa. Moreover, it also has the 21 life-size bronze statues of Tara. Close to the temple on the east side is a Shakyamuni rock carving chiselled on the face of rock? It is the biggest stone statue engraved on a rock face in Tibet. The Buddha statue is one of Shakyamuni sitting under a Bodhi tree to capture evil. The statue is 8 meters (about 26 feet) in width and 9.8 meters (around 32 feet) in height including the base around 1.3 meters (4.27 feet). The hand of the Buddha is 1.4 meters (about 4.6 feet) long. And, its leg is about 1.9 meters (about 6.2 feet) long.
About Us:
Tibet Universal Tours and Travel is a fully officially licensed international tour operator based in Lhasa, owned and managed by 100% local Tibetans. One of the most respected, longest running and best-reviewed tour operators since 1997.
Over 20 years of experience in the Tibetan travel industry, our team consists of the best and experienced Tibet travel guides that will show you the best that this extraordinary place has to offer, unravel all the undiscovered beauty of Tibet unique culture and tradition in front of you.  Whether a guest is looking to join a Tibet group tour or take a private tailor-made journey, we are the best choice.
Other than the above services, we provide stop over tour services in Nepal, Bhutan, and cities in Mainland China, you can also be booking your Tibet Flight and Tibet Train tickets with us. So, what are you waiting for? Reach us to embark on a trip that will last for a lifetime with Tibet Universal Tours and Travel!!!