The Ramoche temple was founded by Princess Wencheng, who was the at Chinese wife of the King Songtsen Gampo, at the same time as the Jokhang temple.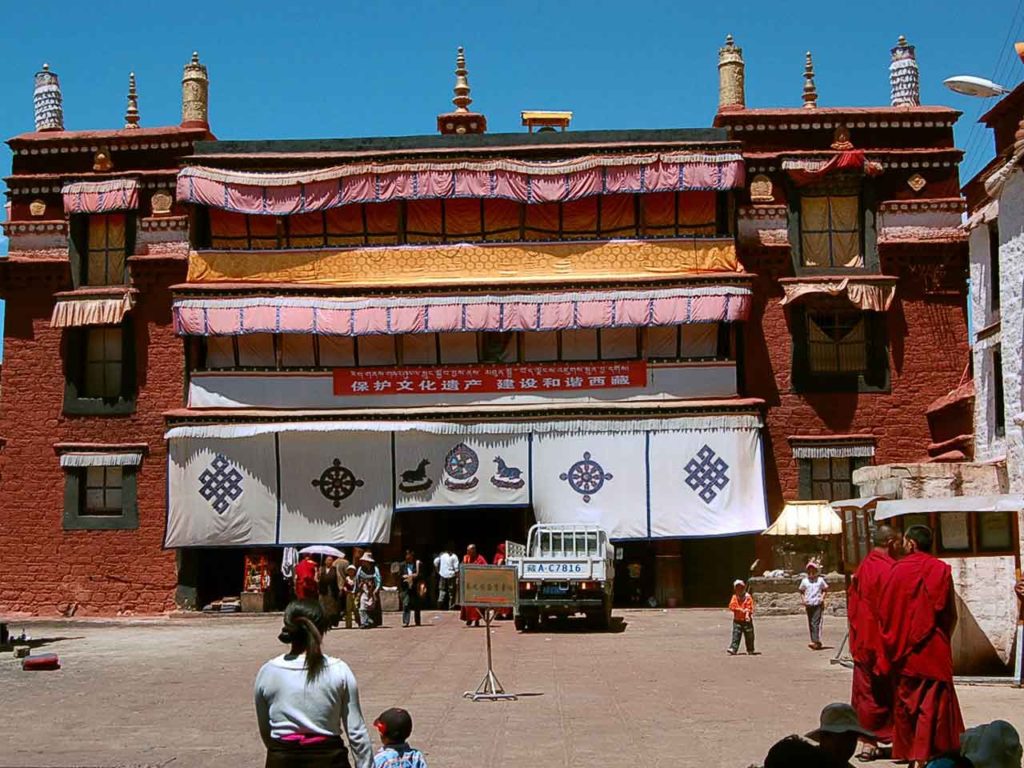 Ramoche is considered to be the sister temple to the Jokhang which was completed about the same time. Tradition says that it was built originally to house the much revered Jowo Rinpoche statue. It carried to Lhasa via Lhagang in a wooden cart, brought to Tibet when Princess Wencheng came to Lhasa. Unlike Jokhang temple, Ramoche was originally built in Chinese style. Furthermore, Princess Wencheng is said to have had the statue of Jowo Rinpoche hidden in a secret chamber in the Jokhang temple. Later, Princess Jincheng, married to King Tride Tsukten of Tibet, sometime after 710 CE, had it placed in the central chapel of Jokhang Temple. It was replaced at Ramoche by a statue of Jowo Mikyo Dorje, a small bronze statue of the Buddha when he was eight years old, crafted by Vishvakarman. In addition, it brought to Lhasa by the Nepalese queen, Bhrikuti.
It is said that Ramoche temple underwent two phases of devastating destruction. First of all during the Cultural Revolution and another during Mongol invasion much earlier. There is no certainty that the statue that remained in 1959 was the original one. The original temple was destroyed by fire. And, the present three-storied building was constructed in 1474.  Soon it became the Assembly Hall of the Gyuto Tratsang, or Upper Tantric College of Lhasa. So, it is one the temple that was home to 500 monks. There was a close connection with Yerpa which provided summer quarters for the monks.
About Us:
Tibet Universal Tours and Travel is a fully officially licensed international tour operator based in Lhasa, owned and managed by 100% local Tibetans. One of the most respected, longest running and best-reviewed tour operators since 1997.
Over 20 years of experience in the Tibetan travel industry, our team consists of the best and experienced Tibet travel guides that will show you the best that this extraordinary place has to offer, unravel all the undiscovered beauty of Tibet unique culture and tradition in front of you.  Whether a guest is looking to join a Tibet group tour or take a private tailor-made journey, we are the best choice.
Other than the above services, we provide stop over tour services in Nepal, Bhutan, and cities in Mainland China, you can also be booking your Tibet Flight and Tibet Train tickets with us. So, what are you waiting for? Reach us to embark on a trip that will last for a lifetime with Tibet Universal Tours and Travel!!!