Dorje Drak Monastery
Dorje Drak monastery lies on the northern bank of Yarlung Tsangpo at about 3550m above sea level. It is 18km east of the Gala mountain tunnel and bridge leading to the airport. Nowadays very few people still take the ferry across the Yarlung Tsangpo. However, it was the only way to reach the monastery until recently. Hard-core trekkers can approach Dorje Drak from Lhasa, which is a trek of around four days.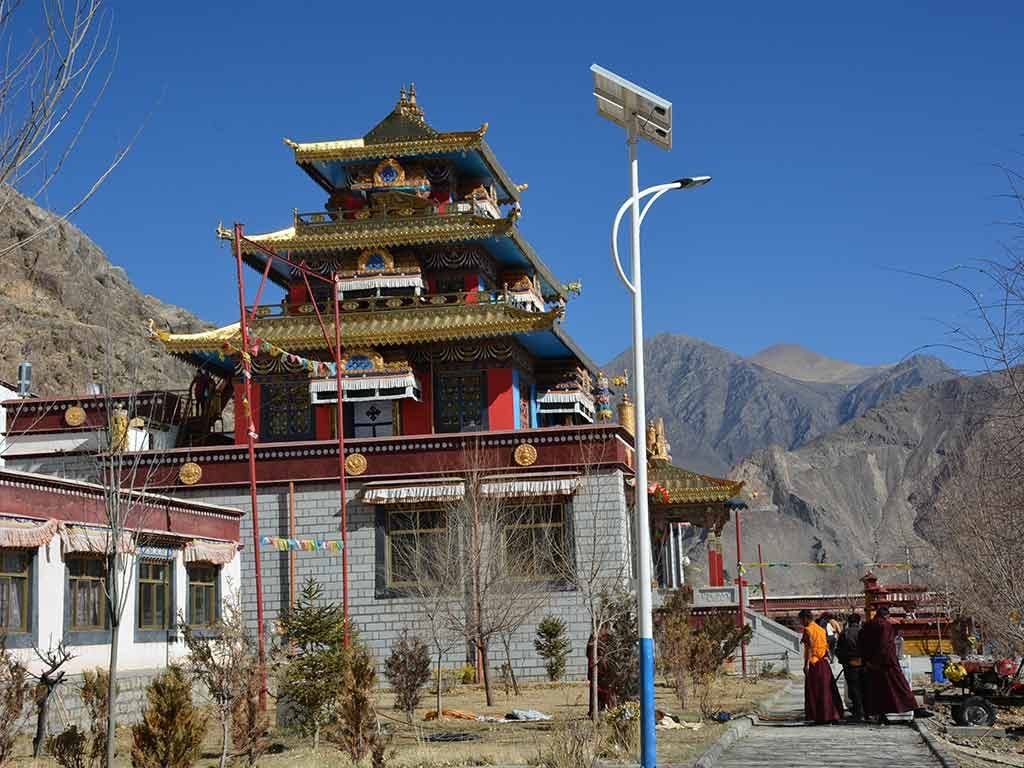 The Historical Events and the Monastery
Dorje Drak monastery maintains the Terma tradition of the Nyingma school known as the Northern Treasures, which drives from Rigdzin I Godemchen Ngodrub Gyeltsen (1337-1409). In 1632, the monastery was relocated to its present site from Tsang. It was the time when the young Rigdzin III Ngagiwangpo and his guardian Jangdak Tashi Topgyel were forced to flee the wrath of the kings of Tsang. Rigdzin IV Pema Trinle (1641-1717) developed the site. He finished the construction before his untimely death at the hands of the Dzungar Mongols. Thus, the monastery was sacked by the Dzungars in 1717 and again obliterated during the 1960s. None the less, the monastery has undergone major restorations in the recent years. Thanks to the efforts of the present incarnation of Dordrak Rigdzin. Especially who resides in Lhasa, and those of Kelzang Chojor and the local community.
Design of the Monastery
Dorje Drak's main assembly hall has statues of the first and second Rigdzins and the 5th Dalai Lama. On the other hand, the inner room features Pema Trinley, the fourth Rigdzin, next to Sakyamuni. An old black and white photo of the monastery at the entrance shows the size of the original monastery in its heyday. The Samsum Namgyel Gönkhang, to the right, has five 'butter sculptures' representing the chapel's five protectors. A cabinet holds the monastery's treasures, including a fragment of a staff belonging to Milarepa. However, it was badly smashed during the Cultural Revolution.