Yumbu Lhakhang Palace is located on the Tashi Tsere Hill, about 5 km to the southeast of Nedong County of Lhoka.  Female deer means Yumbu because the Tashi Tsere Hill appears like a female deer, and Lhakhang means holy palace.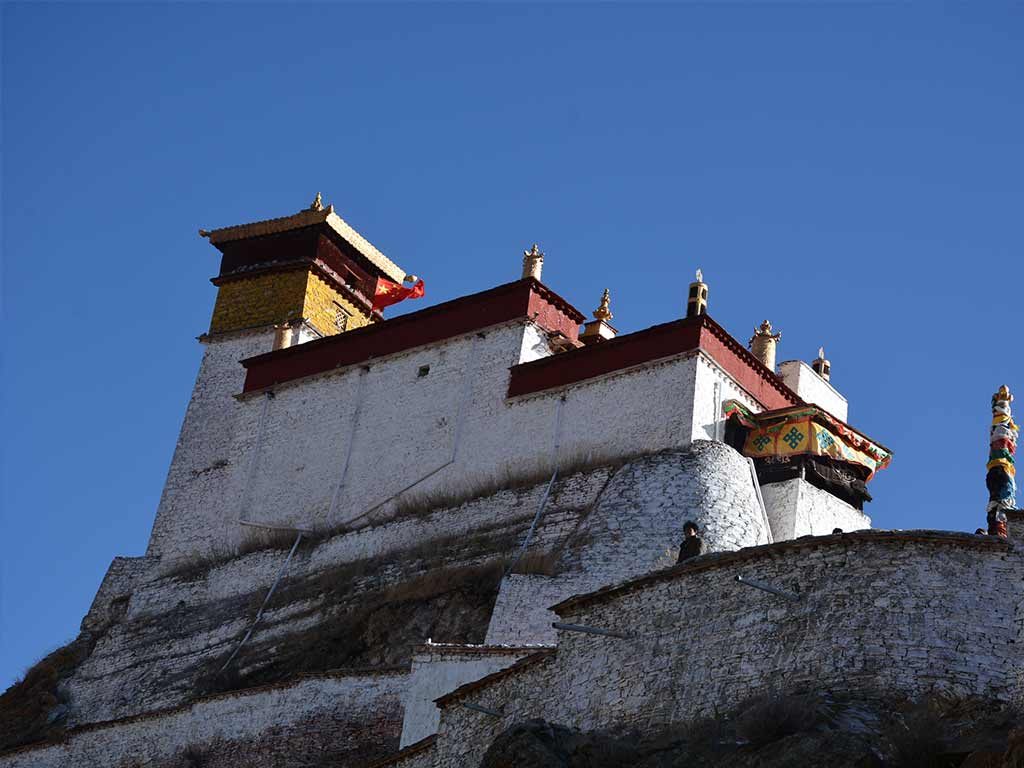 The palace built in the second century B.C. and it is the first palace in Tibet built for the first king of Tibet 'Nyatri Tsenpo'. The location of the palace is on the southern side of Tsetang, the prefecture seat of Lhoka. Originally, only the central building was built as a palace. However, the chapels we can see now were constructed later. In addition, the golden roof built during the time of the fifth Dalai Lama. It was the main palace from the first to the 28th king of Tibet.
As per the Buddhist History of Tibet. During the time of Lhatho Thori Nyentsen, the 28th king, the first Buddhist scripture was believed to have descended from the sky onto the rooftop of this palace. But other historians say that the scripture was brought to Tibet by two Indian masters. Moreover, it was hidden in the palace. As a result, nobody could understand the scripture. However, it was translated into the Tibetan language in the 7th century after Sambhota created the standard Tibetan script.
As we can see, the palace is built on a hill. So, it is blessed with a beautiful view over the fertile valley below. Enshrined inside the Palace are statues of the Buddhas of the Three Periods and  Avalokitesvara and Sambhota, and the images of successive kings such as Nyatri Tsenpo, Lhatho Thori Nyentsen, Songtsen Gambo and Trisong Detsen.
About Us:
Tibet Universal Tours and Travel is a fully officially licensed international tour operator based in Lhasa, owned and managed by 100% local Tibetans. One of the most respected, longest running and best-reviewed tour operators since 1997.
Over 20 years of experience in the Tibetan travel industry, our team consists of the best and experienced Tibet travel guides that will show you the best that this extraordinary place has to offer, unravel all the undiscovered beauty of Tibet unique culture and tradition in front of you.  Whether a guest is looking to join a Tibet group tour or take a private tailor-made journey, we are the best choice.
Other than the above services, we provide stop over tour services in Nepal, Bhutan, and cities in Mainland China, you can also be booking your Tibet Flight and Tibet Train tickets with us. So, what are you waiting for? Reach us to embark on a trip that will last for a lifetime with Tibet Universal Tours and Travel!!!