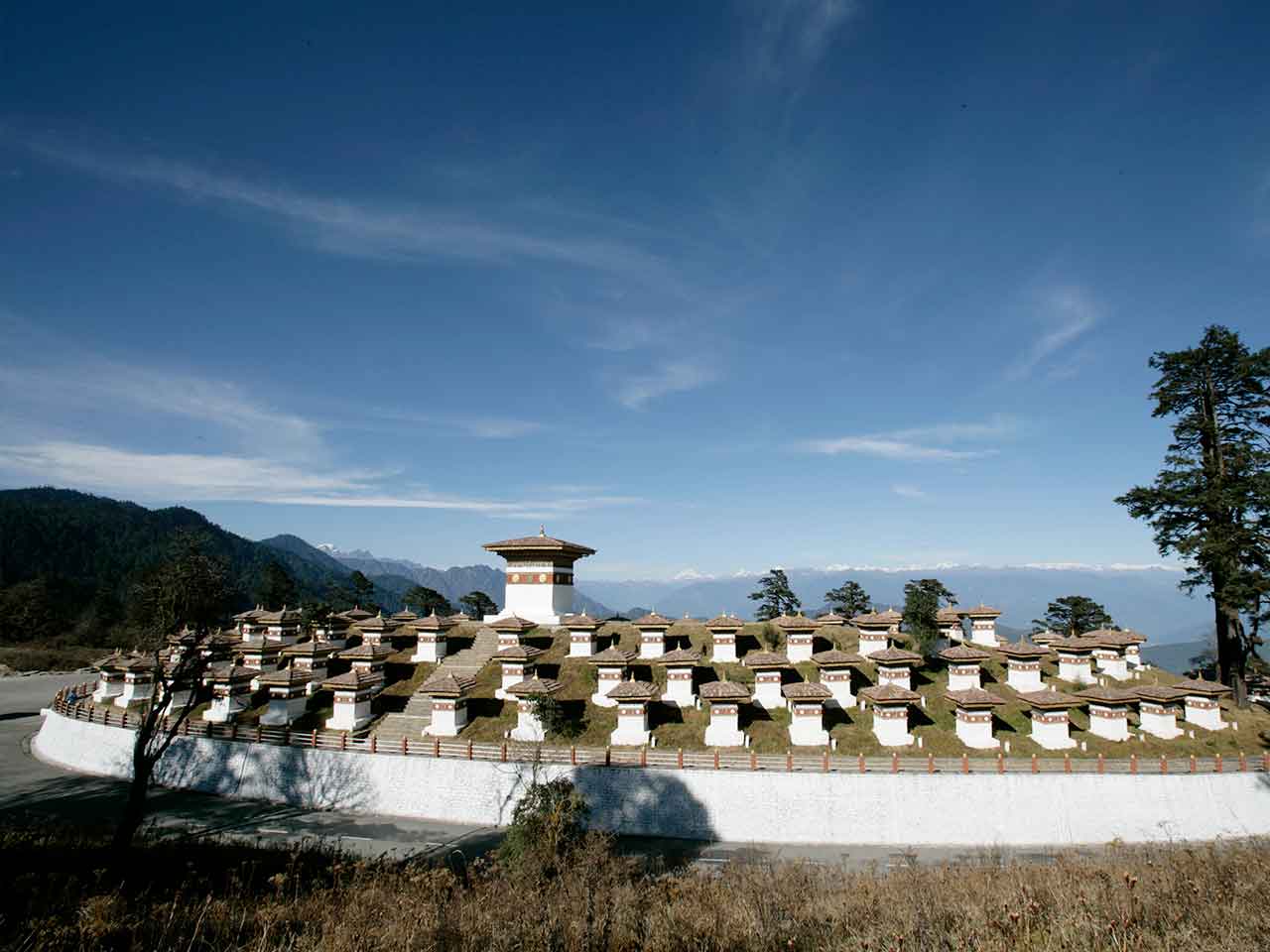 Tour Duration: 7 Days and 6 Nights
Best Time: April to Febuary
Brief Overview
Bhutan Spiritual Tour offers an amazing package that expose the spiritual facts of Bhutan. We will welcome you in Bhutanese traditional way, transfer to hotel by private vehicle. Relax few hours in the hotel. We will start the Bhutan Spiritual Tour based on your interest, you eat as you like, you travel as you love to travel. NO timing, this is your holiday, not ours. So under this Bhutan Spiritual Tour, we will include best of everything and make you feel comfortable as if Bhutan is your second home.
Detailed Itinerary
Day 01: Arrival in Paro to Thimphu (1.5 Hr)
Fly on the wings of Dragon to international airport in Paro, Bhutan. On a clear day, the panoramic views of the Himalaya are sensational, including Everest (if you are flying from Delhi and Kathmandu), but particularly exciting is the approach through the Bhutanese foothills and the landing, including a few steep turns to land at the tiny airstrip of Paro. On arrival in Paro you will be received by My Dragon Travels team and drive to Thimphu by private vehicle. Depending on arrival time, we can proceed for city sightseeing or relax in the hotel. Visit interesting weekend market (Thu-Sun). In the evening we will explore the city by walk or visit Tashichho Dzong, which houses throne room of His Majesty the King. Overnight in Thimphu, altitude 2400m
Day 02: Thimphu sightseeing
In the morning, we will visit handmade paper mill, School of Arts and crafts (closed on Sundays, government holidays) where students learn 13 different arts used predominantly in Bhutan. We will also visit to enjoy archery match and national library before lunch. After lunch, drive pass by memorial chorten built in memory of the 3rd King. Visit Buddha viewpoint, Changangkha Lhakhang, the oldest temple in the valley, enclosure where national animal, Takin are kept and Zilukha Nunnery. Overnight in Thimphu
Day 03: Thimphu to Punakha (3 Hrs)
After the breakfast, we will prepare to drive to warm valley of Punakha over the most beautiful pass in the country called Dochula pass at 3150m. 108 Druk Wangyel Chortens built over the pass by queen mother in 2003 marks the pass more important and beautiful thus the pass is one the must visit passes in Bhutan. If the weather permits, we can enjoy a spectacular view of the highest mountains of Bhutan at a sight that stretches almost 180 degrees. After a photo break, we will continue our drive downhill from the pass. En-route we will take awesome walk through the rice field of Mesina to Chimi Lhakhang, Temple of fertility. Afternoon, we will visit the most beautiful Punakha Dzong, which houses the most elaborated temple in the country. The Dzong, showcase the finest example of the arts and crafts of Bhutan. Overnight in Punakha, altitude 1350m
Day 04: Punakha to Phobjikha (3 Hrs)
We will enjoy the freshness of morning breeze from Punatsangchu river, morning walks are pleasant here. After the breakfast, we will escape to valley of black necked cranes and rhododendron called Phobjikha, often called as Gantey as well. We will stop over at Wangdue to see ruins of Wangdue fortress which is under construction. Our scenic drive through the belt of Wangdue into Phobjikha is under the project of highway widening. We need to cross the beautiful Pelela pass range to enter into the valley.
Visit between May to Jun is greeted with beautiful rhododendron and visit between Nov to Feb gives the chance to see the world rare bird black necked cranes. On arrival, we will visit Gangtey Gompa, the largest and the only monastery of the Nyingmapa sect in western Bhutan. Later in the evening we will take a beautiful gangtey trail which will take about2 hours one way, walk not recommended for rainy days. Overnight in Phobjikha, altitude 2900m
Day 05: Phobjikha to Paro (6 Hrs)
After the breakfast, we will check out from the hotel and retrace the drive to Paro. On arrival in Paro we will visit National Museum, the first of its kind which has a collection from natural history to religious paintings. Visit 17 century Paro Dzong (Fortress) on foot and continue walking through the oldest wooden bridge still in use. Evening stroll old Paro town and peep into some local handicraft stores or we will provide the options to enjoy other activities while in Paro. Overnight in Paro, altitude 2200m
Day 06: Paro sightseeing
After the breakfast, we will drive to Ramthangka from where we will hike to Taktsang Monastery or often called Tiger Nest Temple which is built around a cave in which Guru Rimpoche (also known as Guru Padmasambhava) meditated. The eighth century old monastery is perched on a rock overlooking a sheer drop and clings seemingly impossible to a cliff of rock at 900m above the valley floor. For entire Buddhist around the world, it is place of pilgrimage but for a tourist, it is one of the must visit place before we die.
Hike:
The hike is almost 2 hours walk, uphill at 30 to 40 degree inclined for an average hiker however we might take full day depending on your pace. First of half of the hike which we pull-up, up to cafeteria feels never ending however from the half way due to magical structure right inform us, we are all energized to push further and you actually feel very near. Finally you are done and filled with joys of happiness to be at Taktshang. For the return journey, we actually feel like walking down very fast. After the lovely hike, you need to have relaxing massage at the hotel/enjoy dipping yourself into the hot stone bath (both available on extra cost). Overnight in Paro
Day 07: End of the tour in Kingdom of Happiness
Responsible Tourism
Tibet Universal Tours and Travel puts great importance on the promotion of responsible and sustainable tourism practices. It incorporated into our day to day base tour service performances. So, we always strive to ensure that our tour service delivery will have a maximum quality. Furthermore, we also strive to the minimum level of negative social, economic, environmental and cultural impacts. Following outlined points are some of our representative measures undertaking in our routine job performances. In addition, these thoughts to be essential for a sustainable touristic development in Tibet. 
Social Responsibility:
Whenever and wherever possible, we extend charitable support to disadvantaged groups in remote Tibetan villages. For instance, utilizing the certain percentage of our annual company income we engage in social works. Therefore, we purchase and distribute warm winter clothes for children from rural Tibetan primary schools. As a result, they can keep them warm and happy during cold winter.
Moreover, we believe that every person deserves access to quality healthcare. So, we extend our help on medical expenses to those serious patients who are from remote and rural Tibetan villages. Because they cannot afford to pay their medical treatment when the treatment costs go beyond the local medical insurance coverage.
Economy Responsibility:
In support of contributing to the local economy and we give the local population a central role in the touristic economic development of their own territory.  Therefore, we always strive to ensure that the economic benefits of tourism should go for local communities. So, poverty alleviation by generating financial benefits for both local people and private industries. For instance, we always use locally owned ground transportation and accommodation (i.e. hotels, lodges, and guesthouses). Furthermore, we also recommend local eateries, restaurants, and stores to our guests.
In addition, we are an indigenous local Tibetan travel agency based in Lhasa, the capital city of Tibet. 100% of our travel company employees are staffed and escorted by professional local Tibetans including local tour guides and drivers.  So, this has created employment and job security opportunities for many educated and inspired Tibetans.
Environment Responsibility:
Tibetan Buddhist reality is profoundly ecological, and Buddhism itself is an ecological religion. It powerfully expresses human identification with nature. Buddhists believe that all things, including humans, exist by their interrelationship with all other parts of nature. Therefore, thinking of one's self as isolated from the rest of nature is being unrealistic.
Respect for life and the natural world
Giving the facts that Tibetans love and respect for life and the natural world. Therefore, to minimize the environmental impact created by tourists, we follow environment-friendly policies. So, we maintain the size of tour groups to have minimal impact on flora and fauna in an area. The necessary carbon emissions that we generate by our footprints of travel to the tour destinations cannot be overlooked. Therefore, we regularly actively participate in carbon reduction or offset activities such as tree planting. Our tour guides, drivers, and logistics staff are aware of waste management. Moreover, we advised them to dispose of all rubbish generated by themselves responsibly and recycle wherever feasible.
Other Safegurds for the Environment friendly tourism
Make the best use of the winter tourist low season, we deliver training workshops on environmental protection. Moreover, the training also includes the preservation and first aid training. So, we arrange it for all our company management staff, tour guides, and drivers in order to increase their knowledge. As a result, they can understand the importance of environmental protection and ecotourism.
Request to Visitors:
Be considerate of the communities and environment you visit.
Don't litter, try to carry your own shopping bag to avoid plastic garbage problem. Many Tibetan local villages do not have environmentally sound garbage disposal systems. Therefore, pack garbage out to a larger town where there is a facility.
Try to avoid excessive use of plastic bottles. Travelers are requested to bring a reusable water bottle. In addition, we will arrange and supply your drinking water in a bigger container.
Reduce energy consumption. Unplug your mobile phone charger, turn off the lights

More Requests

Conserve water. Take shorter showers.

Always ask before taking photographs. So, if someone says no, respect their wishes.
Educate yourself about the place you are visiting and the people.
Respect cultural differences. Moreover, learn from it! People in different places do things differently. So, don't try to change them. And, enjoy them.
Support the local economy. Therefore, buy locally made souvenirs, eat at local restaurants. Furthermore, enjoy the local culture.
Support responsible tourism organizations. Because those travel operators who publicly are aiming to make tourism more responsible.