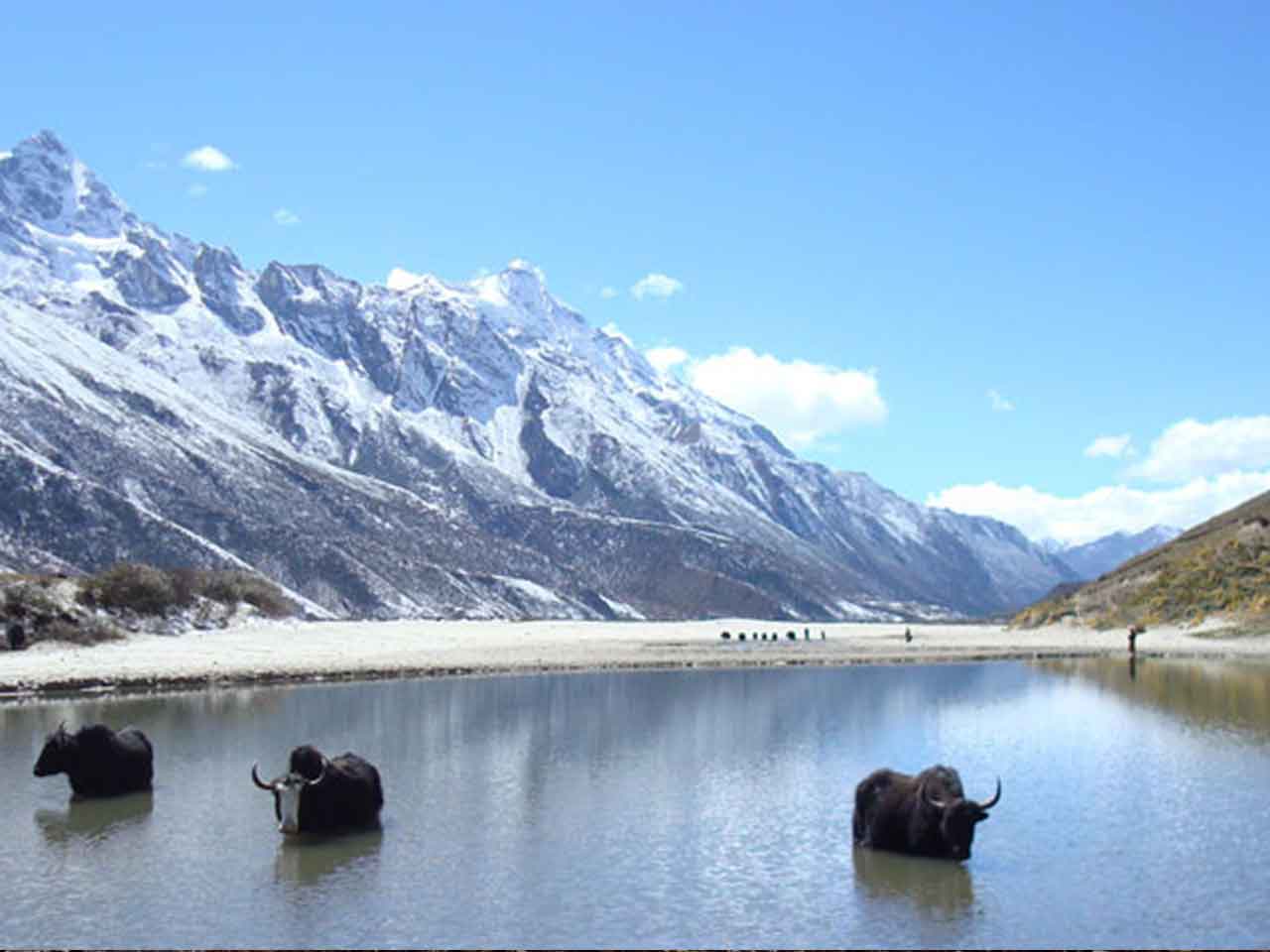 Tour Duration: 13 Days and 12 Nights
Best Time: April to June and September to October
Brief Overveiw
Dagala Thousand Lakes Trek: The Dagala Thousand Lakes Trek short trek near Thimphu passes through numerous picturesque high altitude lakes. Dagala Thousand Lakes Trek is a moderate trek with short trekking days but with few steep climbs.
Detailed Itinerary
Day 01: Arrive Paro
On arrival at Paro airport, you will met our representative and transferred to our hotel after completion of arrival formalities. Evening visit to Paro market and town. Overnight at the hotel in Paro.
Day 02: Paro
Morning drive up the valley to Drukgyel Dzong (1646), which once defended this valley from Tibetan invasions. Though largely destroyed by fire in 1951, its towering outer walls are still an imposing sight. On a fine day, there is a grand view of Mt.Chomoihari from the approach road to Drukgyel Dzong. Drive back along the valley to visit a traditional farm house and then the 7th Kyichu Lhakhang, one of Bhutan's oldest and most sacred shrines.
In the afternoon, visit Ta Dzong, built in 1651 as a watchtower and in 1968 inaugurated as Bhutan's National Museum. The collection includes art, relics, religious thangkha paintings, postage stamps, coins, and handicrafts, as well as a small natural history collection. Then walk down a short hillside trail to visit Rinpung Dzong (Paro Dzong), built in 1646, and now housing the offices of the district administration and Paro's monk body. Overnight at the hotel in Paro.
Day 03: Paro to Thimphu (55 km, 2 hours)
This morning drive down the valley following the Pa Chu (Paro river) to its confluence with the Wang Cnu Ulnimphu river). Turn lett up the valley leading to the nation's capital, Thimphu. n route visits Simtokha Dzong (1627), the kingdom's oldest fortress which now houses the Institute for Language and Culture Studies.
After lunch, visit the National Memorial Chorten, built as a memorial to Bhutanese third king (the father of modern Bhutan) and also as a monument to world peace. Then visit Tashichhodzong, Thimphu's most impressive building situated by the Wang Chu. It houses His Majesty's secretariat, some ministries, and also the central monk body during the summer months. In the evening, take a stroll through Thimphu market and town. Overnight at the hotel in Thimphu.
Day 04: Thimphu
After breakfast, visit the following as time permits: Institute for Zorig Chusum, where students learn the 13 traditional arts and crafts of Bhutan; the National Library, which houses an extensive collection of Buddhist literature, including some manuscripts dating back several hundred years; the National Institute of Traditional Medicine (outside only), where medicinal herbs are compounded and dispensed, and traditional medicine practitioners are trained; and the Folk Heritage and National Textile Museums, for fascinating insights into Bhutanese material culture and way of life.
After lunch, visit the government-run Handicrafts Emporium, which carries a wide range of hand-woven textiles and craft products, and browse in the bookshops and many smaller handicrafts shops around the town. Take an early evening drive up to a lookout festooned with prayer flags, for a fine view of Thimphu and the valley. Overnight at the hotel in Thimphu.
Day 05: Thimphu to Geynekha 14km, 4 hours
Drive for 45 minutes to reach the starting point for the trek. The first day's walk is along a mule path, passing by terraced fields and coniferous forest, and ending at the signboard of Genekha School. Overnight camp at Genekha (2,800m) alongside a stream.
Day 06: Geynekha to Gur 15km, 4 hours
On today's trek the true communion with nature begins, and you will see many varieties of alpine flora and also some animals and many birds. After two hours of walking gradually uphill, rest at a huge rock platform, from which there is a picturesque view of the valley below. After another two hours the trek ends for the day. Camp at Gur, where flowers are abundant in spring.
Day 07: Gur to Labatamba 12km, 5 hours
While trekking across the ridges, one enjoys the beauty of the rugged mountain vegetation. Today's trek takes us across meadows where wild asparagus and other small plants grow, and if taking this trek in the spring, you will feel you are walking over carpets of flowers. The first pass, marked by a large cairn gives a spectacular view of the whole Dagala range, alpine meadows and yak herder's camps. We will lunch at a nearby yak herder's camp. After lunch we will walk across hills and over meadows, ending the third day of our trek at Yutsho Lake, where golden trout abound. Overnight camp near the lake.
Day 08: Labatamba Halt
This day is for an excursion to any one of three lakes: Relitsho, Hentsho and Jamatsho. Your trekking leader will tell you mystical stories about these lakes. This would also be an ideal time and place for some trout fishing. Overnight camp.
Day 09: Labatamba Halt
Extension to Setsho and nearby lakes. The hike to Setsho lake is easy and interesting. You could spend the whole day trout fishing here, with packed lunch. Alternatively, after reaching Setsho you could then cross over a small ridge and go down to Jagetsho lake. Or you could try climbing Jomo, a 5,050m peak. Lunch at the summit, with spectacular views all around, can be a memorable experience. Return to camp by dusk and prepare for the next day.
Day 10: Labatama to Panka 8km, 4 hours
Walk for 20 minutes upwards before beginning the descent at around 4,460m. There will be splendid views of the Himalayas on the descent. Your escort will help you in identifying individual peaks such as Everest, Kanchenjunga, Chomolhari, Jichu Drake, Tserimgang, Khangbum, Masagang, Tsendegang and Gangchenta. Himalayan monal pheasants are a common sight, due to the vegetation in this area. Overnight camp on a grassy meadow at Panka.
Day 11: Panka to Talekha 8km, 4 hours
This day entails the crossing of several increasingly impressive passes. You will see several varieties of the blue poppy (if trekking June-July) and also many mountain birds along the way. Lunch at the point where the trail divides into two paths leading to Talekha and to Wangduephodrang respectively. After lunch, an hour's gradual climb brings us to the top of the last ridge on the Dagala range from where there is a spectacular view of Thimphu valley below. Another hour's walk and you are at the last camp, a little above Talekha monastery
Day 12: Talekha to Thimphu to Paro 6km, 2 hours
Passing through alpine and mixed vegetation (bamboo thickets and wild flowers) one reaches Talekha monastery and village and once again the view of Thimphu is superb. We walk through mixed vegetation and apple orchards, finally reaching the main motor able road to Thimphu where our transport is waiting for us. Drive to Thimphu in time for lunch, and in the evening drive back to Paro. Overnight at the hotel in Paro.
Day 13: Depart Paro
After early breakfast in the hotel, drive to the airport for flight to onward destination.
Responsible Tourism
Tibet Universal Tours and Travel puts great importance on the promotion of responsible and sustainable tourism practices. It incorporated into our day to day base tour service performances. So, we always strive to ensure that our tour service delivery will have a maximum quality. Furthermore, we also strive to the minimum level of negative social, economic, environmental and cultural impacts. Following outlined points are some of our representative measures undertaking in our routine job performances. In addition, these thoughts to be essential for a sustainable touristic development in Tibet. 
Social Responsibility:
Whenever and wherever possible, we extend charitable support to disadvantaged groups in remote Tibetan villages. For instance, utilizing the certain percentage of our annual company income we engage in social works. Therefore, we purchase and distribute warm winter clothes for children from rural Tibetan primary schools. As a result, they can keep them warm and happy during cold winter.
Moreover, we believe that every person deserves access to quality healthcare. So, we extend our help on medical expenses to those serious patients who are from remote and rural Tibetan villages. Because they cannot afford to pay their medical treatment when the treatment costs go beyond the local medical insurance coverage.
Economy Responsibility:
In support of contributing to the local economy and we give the local population a central role in the touristic economic development of their own territory.  Therefore, we always strive to ensure that the economic benefits of tourism should go for local communities. So, poverty alleviation by generating financial benefits for both local people and private industries. For instance, we always use locally owned ground transportation and accommodation (i.e. hotels, lodges, and guesthouses). Furthermore, we also recommend local eateries, restaurants, and stores to our guests.
In addition, we are an indigenous local Tibetan travel agency based in Lhasa, the capital city of Tibet. 100% of our travel company employees are staffed and escorted by professional local Tibetans including local tour guides and drivers.  So, this has created employment and job security opportunities for many educated and inspired Tibetans.
Environment Responsibility:
Tibetan Buddhist reality is profoundly ecological, and Buddhism itself is an ecological religion. It powerfully expresses human identification with nature. Buddhists believe that all things, including humans, exist by their interrelationship with all other parts of nature. Therefore, thinking of one's self as isolated from the rest of nature is being unrealistic.
Respect for life and the natural world
Giving the facts that Tibetans love and respect for life and the natural world. Therefore, to minimize the environmental impact created by tourists, we follow environment-friendly policies. So, we maintain the size of tour groups to have minimal impact on flora and fauna in an area. The necessary carbon emissions that we generate by our footprints of travel to the tour destinations cannot be overlooked. Therefore, we regularly actively participate in carbon reduction or offset activities such as tree planting. Our tour guides, drivers, and logistics staff are aware of waste management. Moreover, we advised them to dispose of all rubbish generated by themselves responsibly and recycle wherever feasible.
Other Safegurds for the Environment friendly tourism
Make the best use of the winter tourist low season, we deliver training workshops on environmental protection. Moreover, the training also includes the preservation and first aid training. So, we arrange it for all our company management staff, tour guides, and drivers in order to increase their knowledge. As a result, they can understand the importance of environmental protection and ecotourism.
Request to Visitors:
Be considerate of the communities and environment you visit.
Don't litter, try to carry your own shopping bag to avoid plastic garbage problem. Many Tibetan local villages do not have environmentally sound garbage disposal systems. Therefore, pack garbage out to a larger town where there is a facility.
Try to avoid excessive use of plastic bottles. Travelers are requested to bring a reusable water bottle. In addition, we will arrange and supply your drinking water in a bigger container.
Reduce energy consumption. Unplug your mobile phone charger, turn off the lights

More Requests

Conserve water. Take shorter showers.

Always ask before taking photographs. So, if someone says no, respect their wishes.
Educate yourself about the place you are visiting and the people.
Respect cultural differences. Moreover, learn from it! People in different places do things differently. So, don't try to change them. And, enjoy them.
Support the local economy. Therefore, buy locally made souvenirs, eat at local restaurants. Furthermore, enjoy the local culture.
Support responsible tourism organizations. Because those travel operators who publicly are aiming to make tourism more responsible.