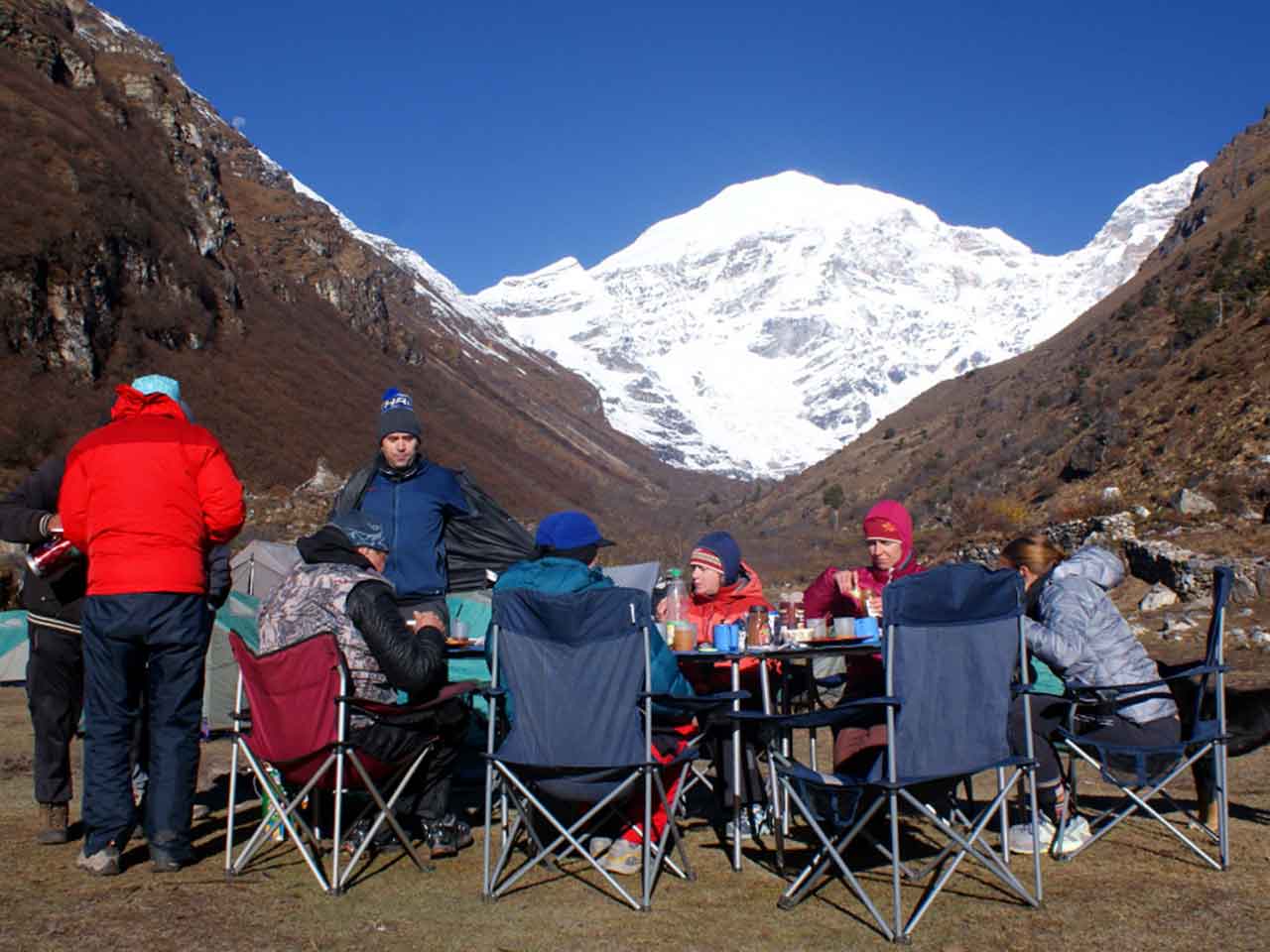 Tour Duration: 18 Days and 17 Nights
Best Time: April to October
Brief Overview on Laya Gasa Trek
Laya Gasa Trek offers interesting trekking conditions from picturesque farmland and forests to alpine pastureland and high passes. Spectacular campsites, beneath some of Bhutan's most impressive peaks are also the features of this trekking route. Various isolated places of cultural interest fen route further enhance its characteristics. Enjoy your the most precious leasure time through Laya Gasa Trek package of us.
Detailed Itinerary
Day 01: Arrive Paro
Druk Airways flight to Bhutan is one of the most spectacular in entire Himalayas. Whether flying along the Himalayan range from Kathmandu or over the foothills from Kolkata, each flight is a mesmerizing aeronautical feat and offers an exciting descent into the Kingdom.
On arrival at Paro airport, immigration and custom formalities then received by our representative and transfer to the hotel.
The evening takes a stroll around town's main street. Overnight at the hotel in Paro.
Day 02: Paro
Morning visit to Ta Dzong, built in 17th century, as watch tower to defend Paro Dzong and valley. This fortress was later converted into the National Museum in 1968 and is filled with antique thangkha paintings, textiles, weapons and Bhutan's renowned postage stamps. Below the Ta Dzong, is fascinating Rinpung Dzong meaning 'fortress of the heap of jewels', which has a long and interesting history.
Afternoon sees, Kyichu Lhakhang, one of the oldest and most sacred shrines of Bhutan. Overnight at the hotel in Paro.
Day 03: Paro to Shana, 17 km, 5 / 6 hours
The trek starts from Drukgyel Dzong at 2,580m with a short downhill walk on a wide trail. The trail climbs gently traversing through well maintained rice terraces and fields of millet. The route later enters an area of apple orchards and forests. Soon the valley widens and you reach the army post of Gunyitsawa at 2,810m. This is the last stop before Tibet. At 2,87m, just beyond Sharma Zampa, there are several good camping places in meadows surrounded by trees.
Day 04: Shana to Soi Thangthangkha, 20 km, 7 / 8 hours
The trail again follows Pa Chhu (Paro River), ascending and descending through pine, oak and spruce forests. Hot lunch will be served after crossing the bridge towards the left side of the river. After lunch, follow the river climbing up through rhododendron forests and finally crossing the bridge again, reaching to the campsite at the altitude of 3,750m.
Day 05: Soi Thangthangkha to Jangothang, 19 km, 7 / 8 hours
The path ascends for a while till you reach the army camp. Then follow the river above the tree line enjoying the stunning view of the surrounding peaks. Hot lunch will be served inside a yak herder's camp. A short walk into the valley will take you to the camp at Jangothang at an altitude of 4,040m. From here, the view of Mount. Chomolhari and Jichu Drake is superb.
Day 06: Jangothang to Lingshi, 18 km, 7 / 8 hours
The trail follows the stream for half an hour and crosses the bridge to the right side. Start the ascent up to the first ridge with a breathtaking view of Mount. Chomolhari, Jichu Drake and Tsrim Khang. Then walk towards the valley, almost flat for a while, until the climb to the Nyele La pass at an altitude of 4,700m. After the pass, it's a gradual descent to the Lingshi camp, enjoying the panormic view of the peaks and Lingshi Dzong. Campsite at an altitude of 4,000m.
Day 07: Lingshi to Chebisa, 10 km, 5/6 hours
Proceed further passing Lingshi Dzong, perched on hilltop with a commanding view of green hills, the winding roads and magnificent peaks. The actual name of Lingshi Dzong is Yugyel Dzong. Built in 17th century it played a role in controlling travel over Lingshi La (pass) between Tibet and Bhutan. Today's walk is easy and pleasant through villages and yak herders camp. Camp by the side of a stream at 3,860m.
Day 08: Chebisa to Shomuthang, 17 km, 6/7 hours
The day begins with stiff climb to Gomby La (4,450m) then it is a long descent to a stream at 4,170m. Later the trail again climbs over a small ridge through a cedar forest. It is a long climb over the ridge, then the trail descends on a muddy path into main Jholethang valley in a deep forest of fir and birch. Afternoon, the trail traverses high above the valley floor on stream right to Chachim, a yak pasture at 4,260m. The camp at 4,250m is in a cluster of brush beside a stream at the bottom of the valley.
Day 09: Shoumuthang to Robluthang, 18 km, 6/7 hours
The trek begins with a climb to Jari La pass at altitude 4,700m then descents to Tasharijathang valley, the summer residence of rare Himalayan Takin (Bhutan's National animal). Later after crossing the stream, the trail ascends till you reach Robluthang camp at altitude of 4,200m.
Day 10: Roluthang to Limithang, 19 km, 7/8 hours
This day is long as well as tough crossing Shinjela (4,900m), the last and highest pass en route. You may be able to spot Blue Sheep high on the slopes. From Shinjela, the descent is on a rough, rocky trail that follows moraine into another glacial valley. The last part of the trek is very interesting with fascinating view of Mt. Gangchey Ta. Campsite in a meadow at 4,140m.
Day 11: Limithang to Laya, 10 km, 4/5 hours
The walk to Laya is very pleasant with wonderful views. You will pass through a damp forest, filled with moss and singing birds. Arrive at Laya village, the second highest settlement in the country at a altitude of 3,800m.
Day 12: Laya to Chamsa, 19 km, 8/9 hours
Descend to army camp and join the Mo Chhu river. Follow the river till you cross the bridge. After the bridge it is up and down several times through juniper and fir forest until you reach the camp at Chamsa at an altitude of 3,500m.
Day 13: Chamsa to Gasa Tsachu, 14 km, 6/7 hours
Walk for about half an hour over flat land till the Bari La (3,900m). There is a small rock cairn and a few prayer flags at the pass. The route starts down again, sometimes steeply, through a bamboo forest to a stream. Later it is downhill all the way to Gasa Tsachu. Afternoon visit Gasa village and Dzong built in 17th century. Then descend to Gasa Tsachu (hot spring) for camp at an altitude of 2,200m.
Day 14: Gasa Tsachu to Damji, 18 km, 6 hours
The path continues ascending and descending through heavily forested areas and wild orchids. Overnight camp at an altitude of 2,400m.
Day 15: Damji to Tashithang, 16 km, 6 hours
Continue following the Mo Chhu river through heavily forested area till you reach Tashithang at an altitude of 1,620m. Picked up by our transport and transfer to the hotel in Punakha.
Day 16: Punakha to Thimphu (75 km, 2.1/2 hours)
Morning visit to Punakha Dzong and Khamsum Yulley Namgyal Chorten. Then drive to Wangduephodrang visiting Dzong and local market.
Afternoon drive to Thimphu for overnight stay. 
Day 17: Thimphu to Paro (55 km, 2hours)
Full day of sightseeing in Thimphu, visit Memorial Chorten, Trashichhodzong, National Library, Arts & Crafts School, Textile and Folk Heritage Museum, Handicrafts Emporium.
Evening drive to Paro for the overnight stay.
Day 18: Paro Depart
After breakfast transfer to Paro International Airport for flight to onward destination.
Responsible Tourism
Tibet Universal Tours and Travel puts great importance on the promotion of responsible and sustainable tourism practices. It incorporated into our day to day base tour service performances. So, we always strive to ensure that our tour service delivery will have a maximum quality. Furthermore, we also strive to the minimum level of negative social, economic, environmental and cultural impacts. Following outlined points are some of our representative measures undertaking in our routine job performances. In addition, these thoughts to be essential for a sustainable touristic development in Tibet. 
Social Responsibility:
Whenever and wherever possible, we extend charitable support to disadvantaged groups in remote Tibetan villages. For instance, utilizing the certain percentage of our annual company income we engage in social works. Therefore, we purchase and distribute warm winter clothes for children from rural Tibetan primary schools. As a result, they can keep them warm and happy during cold winter.
Moreover, we believe that every person deserves access to quality healthcare. So, we extend our help on medical expenses to those serious patients who are from remote and rural Tibetan villages. Because they cannot afford to pay their medical treatment when the treatment costs go beyond the local medical insurance coverage.
Economy Responsibility:
In support of contributing to the local economy and we give the local population a central role in the touristic economic development of their own territory.  Therefore, we always strive to ensure that the economic benefits of tourism should go for local communities. So, poverty alleviation by generating financial benefits for both local people and private industries. For instance, we always use locally owned ground transportation and accommodation (i.e. hotels, lodges, and guesthouses). Furthermore, we also recommend local eateries, restaurants, and stores to our guests.
In addition, we are an indigenous local Tibetan travel agency based in Lhasa, the capital city of Tibet. 100% of our travel company employees are staffed and escorted by professional local Tibetans including local tour guides and drivers.  So, this has created employment and job security opportunities for many educated and inspired Tibetans.
Environment Responsibility:
Tibetan Buddhist reality is profoundly ecological, and Buddhism itself is an ecological religion. It powerfully expresses human identification with nature. Buddhists believe that all things, including humans, exist by their interrelationship with all other parts of nature. Therefore, thinking of one's self as isolated from the rest of nature is being unrealistic.
Respect for life and the natural world
Giving the facts that Tibetans love and respect for life and the natural world. Therefore, to minimize the environmental impact created by tourists, we follow environment-friendly policies. So, we maintain the size of tour groups to have minimal impact on flora and fauna in an area. The necessary carbon emissions that we generate by our footprints of travel to the tour destinations cannot be overlooked. Therefore, we regularly actively participate in carbon reduction or offset activities such as tree planting. Our tour guides, drivers, and logistics staff are aware of waste management. Moreover, we advised them to dispose of all rubbish generated by themselves responsibly and recycle wherever feasible.
Other Safegurds for the Environment friendly tourism
Make the best use of the winter tourist low season, we deliver training workshops on environmental protection. Moreover, the training also includes the preservation and first aid training. So, we arrange it for all our company management staff, tour guides, and drivers in order to increase their knowledge. As a result, they can understand the importance of environmental protection and ecotourism.
Request to Visitors:
Be considerate of the communities and environment you visit.
Don't litter, try to carry your own shopping bag to avoid plastic garbage problem. Many Tibetan local villages do not have environmentally sound garbage disposal systems. Therefore, pack garbage out to a larger town where there is a facility.
Try to avoid excessive use of plastic bottles. Travelers are requested to bring a reusable water bottle. In addition, we will arrange and supply your drinking water in a bigger container.
Reduce energy consumption. Unplug your mobile phone charger, turn off the lights

More Requests

Conserve water. Take shorter showers.

Always ask before taking photographs. So, if someone says no, respect their wishes.
Educate yourself about the place you are visiting and the people.
Respect cultural differences. Moreover, learn from it! People in different places do things differently. So, don't try to change them. And, enjoy them.
Support the local economy. Therefore, buy locally made souvenirs, eat at local restaurants. Furthermore, enjoy the local culture.
Support responsible tourism organizations. Because those travel operators who publicly are aiming to make tourism more responsible.