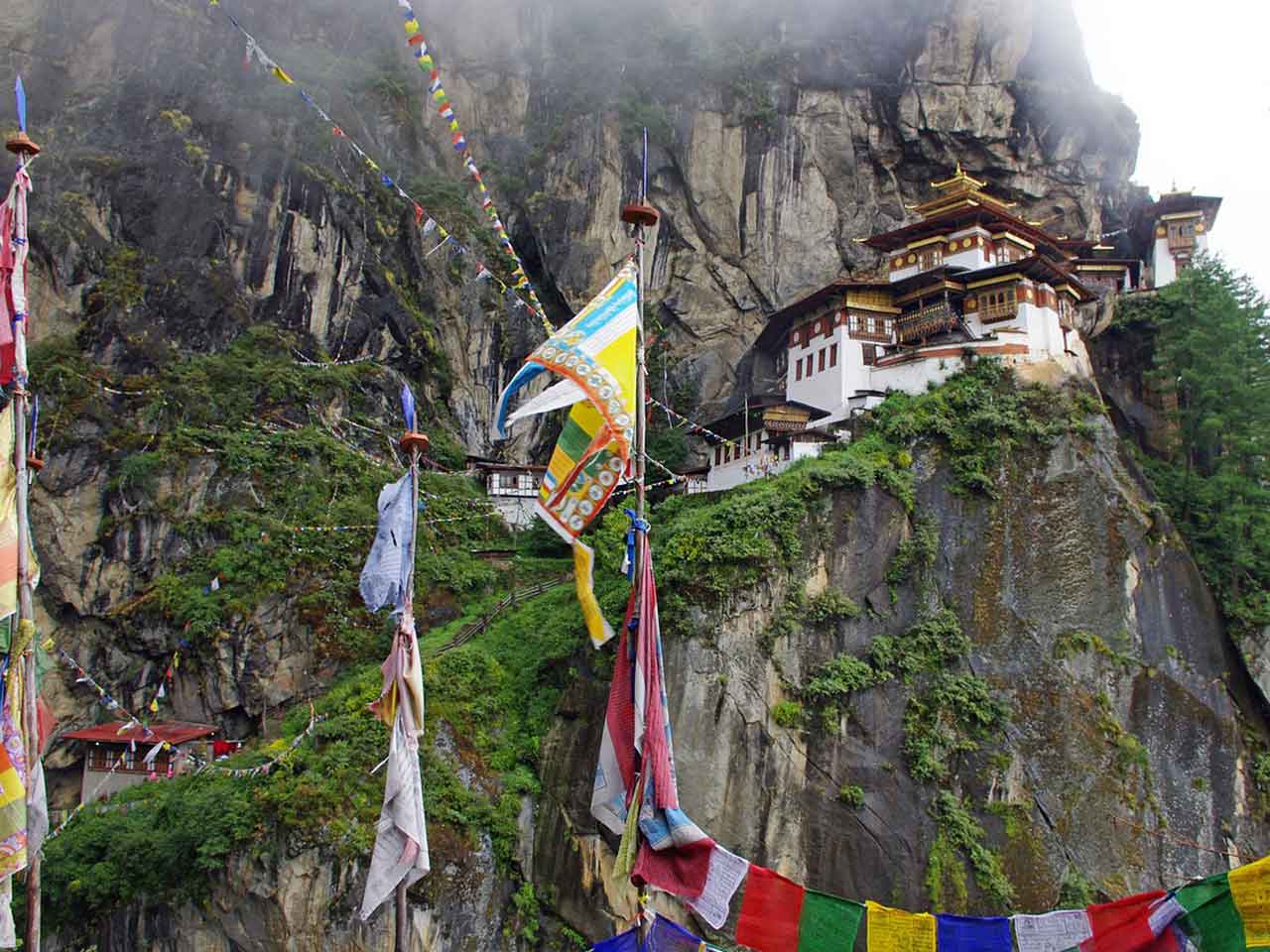 Tour Duration: 4 Days and 3 Nights
Brief Overview: Spotlights of the Dragon Tour
Spotlights of the Dragon Tour package is popular tour package for highest tourists satisfaction. Unlike other countries, Bhutan doesn't have concrete jungles, we hardly see any buildings up to four stories in other areas and up to seven stories in Thimphu, in fact, it is well painted, crafted and decorated. The program under panoramic views takes us through the beautiful buildings, roads, scenic drives, and comfortable ride to the countryside to enjoy the best greenery and landscapes of the country. Spotlights of the Dragon tour will ensure you the most amazing journeys in Bhutan.
Detailed Itinerary
Day 01: Bangkok– Paro – Thimphu
You will land at Paro International Airport, after having experienced one of the most thrilling journeys of your lifetime. The flight to Paro, during which you experience a breathtaking view of Mount Everest, Kanchenjunga and other famous Himalayan peaks. The peaks are including the sacred Jomolhari and Mount Jichu Drake. Furthermore, the landing at Paro, considered one of the most challenging and an enthralling experience.
At the airport, our company's representatives will receive you.
You will take a brief stopover in one of the local hotels. Then, you will be taken to see some of the standing treasures of Bhutan Paro houses. Visits to the National Museum of Bhutan and the grand Paro Rimpong Fortress will be the highlight of the morning. After lunch at a local hotel, you will visit Kyichu temple. In addition, it is one of the oldest temples in Bhutan built by King Songtsen Gyempo of Tibet in 659AD. Legend has it that the Buddhist King built 108 temples within a day, Kyichu being one.
In the evening, you will drive to Thimphu, Bhutan's capital and visit the majestic and historic Tashichho Dzong. Moreover, you also visit the main secretariat building, built in 1642. Today, this massive structure houses the office of the King. It contains the Throne Room, some government Ministries, and the State Monastic Body. Moreover, it is also the summer residence of the Chief Abbot and senior monks. Night halt will be at a hotel in Thimphu.
Day 02: Thimphu sightseeing – Punakha/Wangduephodrang
The morning will again be dedicated to sightseeing. You will visit the weaving centre, Memorial Chorten (a huge stupa) built in memory of the third King of Bhutan, Jigme Dorji Wangchuck. It also include the visiting of the Changangkha monastery, built in the 12th century, Takin zoo, Buddha Point. In the Buddha Point, the statue of the world's largest Buddha is being constructed. And, a Nunnery and the Arts and Craft school also in the visit list. You will also be taken to Sangaygang, a place from where you can have a bird's eye view of Thimphu town and the surroundings.
You will then be driving for about 3 hours to Punakha. About 45 minutes drive from Thimphu is the Dochula Pass (3,100m), from where visitors on a clear day can have a breathtaking glimpse of the eastern Himalayan range that consists of snow-capped peaks with elevations ranging from 6000m to 7554m. Apart from this, the 108 stupas (chortens) at Dochula pass add to the beauty of the pass.
The drive from the pass to Punakha is a gradual ascend through beautiful forests of rhododendron and fields of dwarf bamboo, green meadows, beautiful wildflowers, gushing waterfalls and constantly changing vegetation. Lunch will be served at Lamperi.
After about two hours drive from Lamperi, you will reach Punakha, which was Bhutan's capital until 1955 and still is home of the Chief Abbot during the winter months. Punakha Dzong (Fortress), built in 1637 by Shabdrung Ngawang Namgyal, stands like a giant ship on an ocean from afar. Build at the confluence of two rivers, Pho Chhu(male river) and Mo Chhu (female river), the Dzong was destroyed four times by fire and an earthquake in 1897. However, it has now been restored to its original splendor.
You can then visit the ruins of Wanduephodrang Dzong (Fortress), which was destroyed by a tragic fire in 2012. It was built in 1638 by the Zhabdrung.
Night halt will be at a hotel in Punakha.
It will be an early morning four-hour drive back to Paro. On the way, you will halt at Dochula Pass and have a last glimpse of the beautiful peaks and stupas.
Upon reaching Paro, you will have a break at a hotel and then drive to start the hike to one of Bhutan's most sacred and religious heritage, Taktshang Monastery or the "Tiger's Lair." Perched some 1000 meters on a hill overlooking a valley, it is believed that the great Indian Saint and Buddhist Master, Guru Padma Sambhava flew on a tigress in a wrathful form to this place in 746 AD, to subdue evil forces who were obstructing the spread of Buddhism.
The trek, which will take about five hours (up and down) is an unforgettable one and promises every visitor an enthralling experience.
In the evening, you will visit ruins of the Drugyel Dzong, "Castle of the Victorious Drukpa" located 16 Km. from the Paro town. The Dzong was built to celebrate the victory of the Bhutanese forces over the invading Tibetan troops. On a clear day, one can view Mount Jomolhari ("Mountain of the Goddess") standing at an altitude of 7,329m/24,029ft.
Take a leisurely walk through Paro town in the evening.
Day 04: Paro – Bangkok
After breakfast, you will be driven to Paro International Airport for your flight out of Bhutan.
Responsible Tourism
Tibet Universal Tours and Travel puts great importance on the promotion of responsible and sustainable tourism practices. It incorporated into our day to day base tour service performances. So, we always strive to ensure that our tour service delivery will have a maximum quality. Furthermore, we also strive to the minimum level of negative social, economic, environmental and cultural impacts. Following outlined points are some of our representative measures undertaking in our routine job performances. In addition, these thoughts to be essential for a sustainable touristic development in Tibet. 
Social Responsibility:
Whenever and wherever possible, we extend charitable support to disadvantaged groups in remote Tibetan villages. For instance, utilizing the certain percentage of our annual company income we engage in social works. Therefore, we purchase and distribute warm winter clothes for children from rural Tibetan primary schools. As a result, they can keep them warm and happy during cold winter.
Moreover, we believe that every person deserves access to quality healthcare. So, we extend our help on medical expenses to those serious patients who are from remote and rural Tibetan villages. Because they cannot afford to pay their medical treatment when the treatment costs go beyond the local medical insurance coverage.
Economy Responsibility:
In support of contributing to the local economy and we give the local population a central role in the touristic economic development of their own territory.  Therefore, we always strive to ensure that the economic benefits of tourism should go for local communities. So, poverty alleviation by generating financial benefits for both local people and private industries. For instance, we always use locally owned ground transportation and accommodation (i.e. hotels, lodges, and guesthouses). Furthermore, we also recommend local eateries, restaurants, and stores to our guests.
In addition, we are an indigenous local Tibetan travel agency based in Lhasa, the capital city of Tibet. 100% of our travel company employees are staffed and escorted by professional local Tibetans including local tour guides and drivers.  So, this has created employment and job security opportunities for many educated and inspired Tibetans.
Environment Responsibility:
Tibetan Buddhist reality is profoundly ecological, and Buddhism itself is an ecological religion. It powerfully expresses human identification with nature. Buddhists believe that all things, including humans, exist by their interrelationship with all other parts of nature. Therefore, thinking of one's self as isolated from the rest of nature is being unrealistic.
Respect for life and the natural world
Giving the facts that Tibetans love and respect for life and the natural world. Therefore, to minimize the environmental impact created by tourists, we follow environment-friendly policies. So, we maintain the size of tour groups to have minimal impact on flora and fauna in an area. The necessary carbon emissions that we generate by our footprints of travel to the tour destinations cannot be overlooked. Therefore, we regularly actively participate in carbon reduction or offset activities such as tree planting. Our tour guides, drivers, and logistics staff are aware of waste management. Moreover, we advised them to dispose of all rubbish generated by themselves responsibly and recycle wherever feasible.
Other Safegurds for the Environment friendly tourism
Make the best use of the winter tourist low season, we deliver training workshops on environmental protection. Moreover, the training also includes the preservation and first aid training. So, we arrange it for all our company management staff, tour guides, and drivers in order to increase their knowledge. As a result, they can understand the importance of environmental protection and ecotourism.
Request to Visitors:
Be considerate of the communities and environment you visit.
Don't litter, try to carry your own shopping bag to avoid plastic garbage problem. Many Tibetan local villages do not have environmentally sound garbage disposal systems. Therefore, pack garbage out to a larger town where there is a facility.
Try to avoid excessive use of plastic bottles. Travelers are requested to bring a reusable water bottle. In addition, we will arrange and supply your drinking water in a bigger container.
Reduce energy consumption. Unplug your mobile phone charger, turn off the lights

More Requests

Conserve water. Take shorter showers.

Always ask before taking photographs. So, if someone says no, respect their wishes.
Educate yourself about the place you are visiting and the people.
Respect cultural differences. Moreover, learn from it! People in different places do things differently. So, don't try to change them. And, enjoy them.
Support the local economy. Therefore, buy locally made souvenirs, eat at local restaurants. Furthermore, enjoy the local culture.
Support responsible tourism organizations. Because those travel operators who publicly are aiming to make tourism more responsible.