9 Day Nyenchen Thanglha - Namtso Trek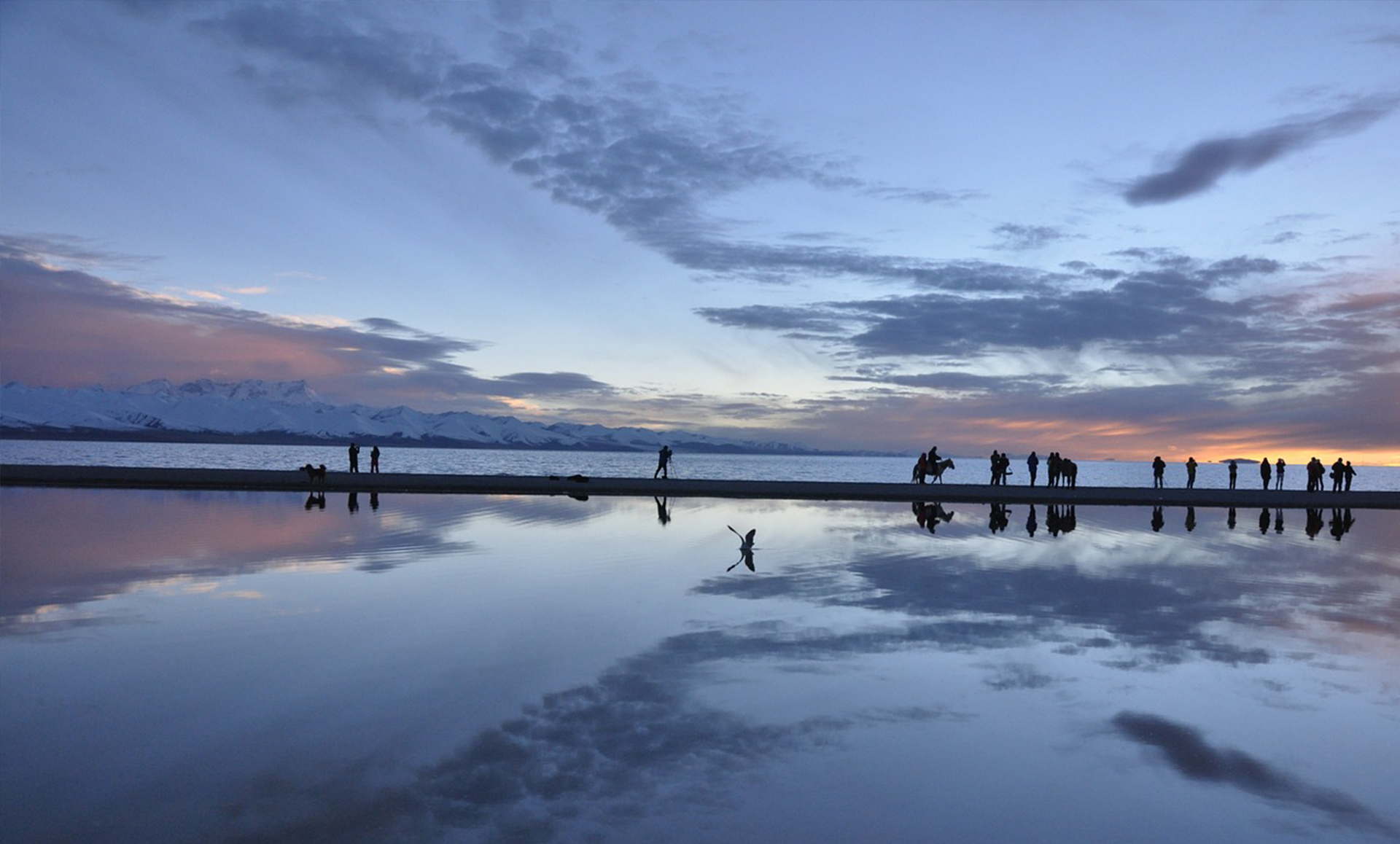 Tour Duration: 9 Days and 8 Nights
Best Time: April to October
Overview of Nyenchen Thanglha - Namtso Trek
Nyenchen Thanglha – Namtso Trek provides visitors amazing travel experiences. This tour begins in Lhasa with sightseeing visits to key must-see landmark buildings and sights such as the Potala Palace, the Jokhang Temple, Sera Monastery and Drepung Monastery. Following the exploration in Lhasa, which is designed primarily for a gradual adjustment to the altitude, we then travel overland to as far as Kyang-rag Monastery just off the main road to Namtso in Dhamshung valley, which is 180 km northeast of Lhasa.
As we set on foot on this fabulous journey, we transit through a series of gorges, hill slopes, alpine meadows, the giant turquoise lakes, and the northern vast high altitude plateau. Throughout the journey, we will be amazed to see the array of the pattern of ecology and geology of northern Tibet. Indeed, close encounters with local villagers with their ancient customs and traditions will make the tour even more unforgettable and will enliven the trail. No doubt the trekking component in the whole adventure is a major highlight depicting a fine balance between cultural and wilderness trekking activities.
Tour Map of Nyenchen Thanglha - Namtso Trek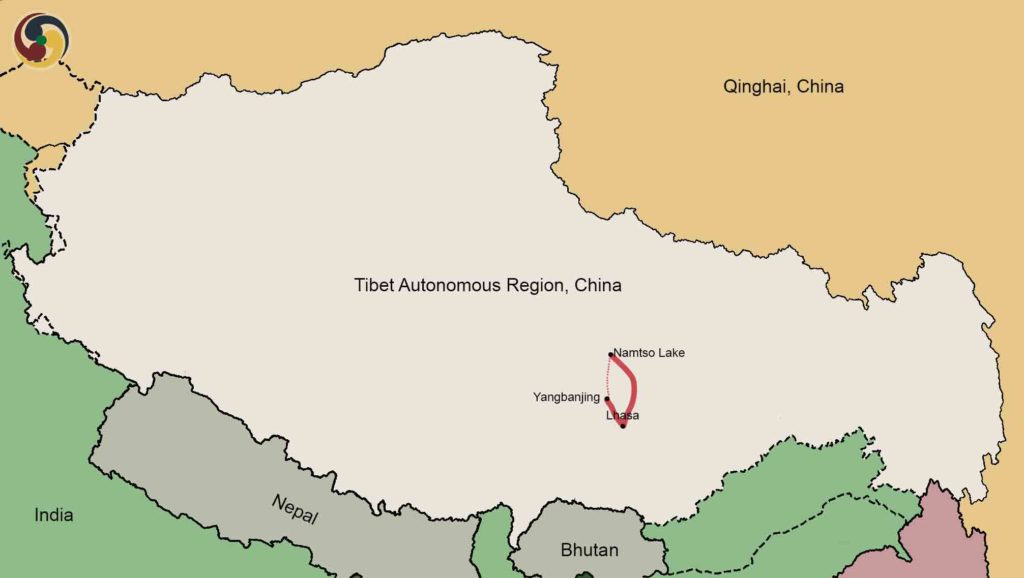 Detailed Itinerary of Nyenchen Thanglha - Namtso Trek
Day 1: Arrive in Lhasa Elevation 3590 meters
AM: Arrive in Lhasa & Acclimatization

PM: Self-paced exploration around the Barkhor street
Day 2: In and Around Lhasa Elevation 3590 meters
Visit the Potala Palace, the Buddhist iconic building and a World Heritage Site

Explore the Jokhang Temple, the "spiritual heart" of Lhasa city, and the surrounding old quarters
Day 3: Around Lhasa Elevation 3590 meters
Visit Drepung Monastery, one of the "Great Three' Buddhist monasteries in Tibet

Afterward, visit Nechung temple just below Drepung monastery

Visit Sera Monastery, one of the "Great Three" Buddhist monasteries noted for their Buddhist dialectic debate session usually held in the afternoons
Day 4: Lhasa –Damxung valley – Kyang-ra Monastery in Distance: 180 kms Elevation: 4370 meters
Drive to Dhamshung valley

Explore Kyang-ra Monastery and Rest (acclimatization)

Overnight camp at Kyang-ra monastery
Day 5: Kyang-ra monastery to the Treeline Campsite Distance: 18 kms Elevation: 4680m
Stage 1: Leave Kyang-ra Monastery through Kyang valley

Trek through the valley – in close proximaty of the mighty Nyenchen Thangla

Enjoy the amazing sights of the surrounding landscape

Overnight stop at Treeline campsite
Day 6: Treeline to Kyang Do Distance: 25 kms Elevation: 5220 meters
Stage 2: Continue trek to Kyang Do

Be amazed at the towering Nyechen Thangla above this line of travel

Cross over Kyang-La pass (5330m) and descend to the valley floor

Continue traversing – the glorious view of great Namtso Lake in distance

Overnight camping stop in the Kyang Do valley
Day 7: Kyang Do to Tashi Dor Distance: 17 kms Elevation: 4650 meters
Stage 3: Leave the Kyang Do valley

Head west side of the valley by walking across the plain

Roll on the swampy ground further down

Reach Tashi Dor peninsula – visit the small monastery and hermit caves

Camp on the peninsula for overnight stay
Day 8: Namtso Lake to Lhasa: Distance: 250kms
Rise early and walk around the Tashi Dor peninsula, and explore the meditation caves

Enjoy the stunning view of the Namtso lake and Nyenchen Thangla

Drive back to Lhasa

Stop over in Yangpacheng for its famous hot spring

Reach Lhasa and Rest
Day 9: Tour concludes and Depart Lhasa
Transfer to Lhasa airport or airport or train station,

Depart Lhasa
Good to Know about Nyenchen Thanglha - Namtso Trek
Dates & Costs
The trekking journey from Lhasa – Nyenchen Thanglha – Namtso Trek can be done anytime from mid-April to mid-October. We can arrange this journey for groups of two to ten people. Discount available for groups of 3 or more. For a specific price, please contact us at losal@tibetuniversaltravel.com
Travel Gear:
Upon joining, each participant will be sent a list of required and recommended gear for this journey that they will be responsible for.
Accommodation:
In Lhasa, you will be staying in a comfortable and pleasant boutique or highly-rated 3-star Tibetan-owned hotels. Accommodation on the trekking route will be in tents.
Eligibility:
Participants must be in good health and physically fit to be able to spend each day walking around towns, villages, and monasteries. Most of this tour will take place in mountainous terrain between 3600 meters and 5200 meters (11,800 feet to 17,000 feet) above sea level. The trek route is beautiful but is quite demanding as there are a couple of passes that are above 5000 meters. You will spend 3 nights in Lhasa for altitude acclimatization before going above 3600 meters. Trekking and ascent will be slow and gradual, and every care will be taken to make the journey safe and well attended to.
This is the primary document required in order to visit Tibet after the Passport and Chinese Visa. The permit can only be applied at the Tibet Tourism Bureau, Only a travel agency registered with the Bureau can apply it for. We can make your permit and we will need 25 days for the entire process of the permit.
Other Important Information:
Inclusion and Exclusion of this tour
Price includes
All accommodations (double occupancy, unless otherwise requested)
Breakfast each morning while in Tibet
Welcome dinner in Lhasa
All ground transportation in Tibet
All entrance fees for the itinerary listed
Local Tibetan guide fees
All Tibet travel permits
Lhasa Airport or train station pick up and transfer
Price excludes:
Passport and Chinese visa fees
International airfare to/from Lhasa, Tibet
Yak, horse or porter fees (available for an extra cost)
Lunch and dinner
Travel vaccinations
Insurance (travel, medical, etc)
Souvenirs or personal items such as laundry, snacks, alcohol drinks, etc
Photography fees inside temples and monasteries
Gratuities to the Tibetan guide and driver
Read our booking Terms and Condition in this link
Responsible Tourism
Tibet Universal Tours and Travel puts great importance on the promotion of responsible and sustainable tourism practices. It incorporated into our day to day base tour service performances. So, we always strive to ensure that our tour service delivery will have maximum quality. Furthermore, we also strive to the minimum level of negative social, economic, environmental and cultural impacts. Following outlined points are some of our representative measures undertaking in our routine job performances. In addition, these thoughts to be essential for sustainable touristic development in Tibet.
Social Responsibility:
Whenever and wherever possible, we extend charitable support to disadvantaged groups in remote Tibetan villages. For instance, utilizing the certain percentage of our annual company income we engage in social works. Therefore, we purchase and distribute warm winter clothes for children from rural Tibetan primary schools. As a result, they can keep them warm and happy during cold winter.
Moreover, we believe that every person deserves access to quality healthcare. So, we extend our help on medical expenses to those serious patients who are from remote and rural Tibetan villages. Because they cannot afford to pay their medical treatment when the treatment costs go beyond the local medical insurance coverage.
Economy Responsibility:
In support of contributing to the local economy and we give the local population a central role in the touristic economic development of their own territory. Therefore, we always strive to ensure that the economic benefits of tourism should go for local communities. So, poverty alleviation by generating financial benefits for both local people and private industries. For instance, we always use locally owned ground transportation and accommodation (i.e. hotels, lodges, and guesthouses). Furthermore, we also recommend local eateries, restaurants, and stores to our guests.
In addition, we are an indigenous local Tibetan travel agency based in Lhasa, the capital city of Tibet. 100% of our travel company employees are staffed and escorted by professional local Tibetans including local tour guides and drivers. So, this has created employment and job security opportunities for many educated and inspired Tibetans.
Environment Responsibility:
Tibetan Buddhist reality is profoundly ecological, and Buddhism itself is an ecological religion. It powerfully expresses human identification with nature. Buddhists believe that all things, including humans, exist by their interrelationship with all other parts of nature. Therefore, thinking of one's self as isolated from the rest of nature is being unrealistic.
Respect for life and the natural world
Giving the facts that Tibetans love and respect for life and the natural world. Therefore, to minimize the environmental impact created by tourists, we follow environment-friendly policies. So, we maintain the size of tour groups to have minimal impact on flora and fauna in an area. The necessary carbon emissions that we generate by our footprints of travel to the tour destinations cannot be overlooked. Therefore, we regularly actively participate in carbon reduction or offset activities such as tree planting. Our tour guides, drivers, and logistics staff are aware of waste management. Moreover, we advised them to dispose of all rubbish generated by themselves responsibly and recycle wherever feasible.
Other Safegurds for the Environment friendly tourism
Make the best use of the winter tourist low season, we deliver training workshops on environmental protection. Moreover, the training also includes the preservation and first aid training. So, we arrange it for all our company management staff, tour guides, and drivers in order to increase their knowledge. As a result, they can understand the importance of environmental protection and ecotourism.
Request to Visitors:
Be considerate of the communities and environment you visit.
Don't litter, try to carry your own shopping bag to avoid plastic garbage problem. Many Tibetan local villages do not have environmentally sound garbage disposal systems. Therefore, pack garbage out to a larger town where there is a facility.
Try to avoid excessive use of plastic bottles. Travelers are requested to bring a reusable water bottle. In addition, we will arrange and supply your drinking water in a bigger container.
Reduce energy consumption. Unplug your mobile phone charger, turn off the lights

More Requests

Conserve water. Take shorter showers.

Always ask before taking photographs. So, if someone says no, respect their wishes.
Educate yourself about the place you are visiting and the people.
Respect cultural differences. Moreover, learn from it! People in different places do things differently. So, don't try to change them. And, enjoy them.
Support the local economy. Therefore, buy locally made souvenirs, eat at local restaurants. Furthermore, enjoy the local culture.
Support responsible tourism organizations. Because those travel operators who publicly are aiming to make tourism more responsible.
About Us:
Tibet Universal Tours and Travel is a fully officially licensed international tour operator based in Lhasa, owned and managed by 100% local Tibetans. One of the most respected, longest running and best-reviewed tour operators since 1997.
Over 20 years of experience in the Tibetan travel industry, our team consists of the best and experienced Tibet travel guides that will show you the best that this extraordinary place has to offer, unravel all the undiscovered beauty of Tibet unique culture and tradition in front of you.  Whether a guest is looking to join a Tibet group tour or take a private tailor-made journey, we are the best choice.
Other than the above services, we provide stop over tour services in Nepal, Bhutan, and cities in Mainland China, you can also be booking your Tibet Flight and Tibet Train tickets with us. So, what are you waiting for? Reach us to embark on a trip that will last for a lifetime with Tibet Universal Tours and Travel!!!