Tibet Environment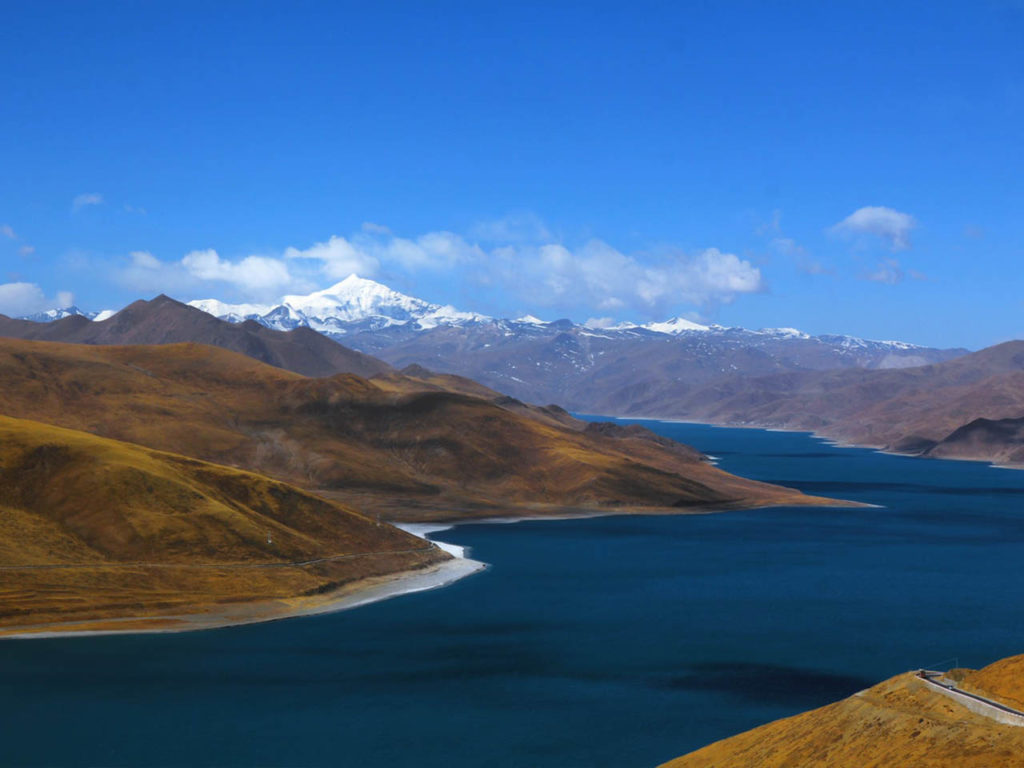 Overview of Tibetan Enviroment 
The Tibetan Plateau is the largest and highest plateau in the world. It sustains a unique, yet fragile high altitude eco-system much of which remains unspoiled due to its remoteness and inaccessibility. However, human impact is now taking an unprecedented and devastating toll on the natural resources – the wildlife, forests, grazing lands, rivers and mineral resources are now at a point where they may never recover.
Tibet was ecologically stable, and conservation of the environment was an essential component of Tibetans' daily lives. Tibetans lived in harmony with nature guided by their Buddhist belief in the interdependence of both living and non-living elements of the earth. Since Buddhism prohibits the killing of animals and advocates loving compassion for living beings and the environment, this belief is further strengthened by the Tibetan Buddhist traditional adherence to the principle of self-contentment, that the environment should be used to fulfill one's need and not greed.
Plants in Tibet
Over more than 100,000 species, of which more than 1,000 are of economic value—is found mainly in the river valleys and in the lower, wetter regions of the south and southeast. The plant species also include about 2,000 varieties of medicinal plants used in the traditional medical systems of Tibet, China, and India. Rhododendron, saffron, bottle-brush, high mountain rhubarb, Himalayan alpine Serratula, falconer tree, and helleborine are among the many plants found in Tibet.
Common plants include willows, poplars, several types of conifers, teak, rhododendrons, oaks, birches, elms, bamboo, sugarcane, babul trees, thorn trees, tea bushes, gro-ba (small white trees that grow mainly in hilly regions), 'om-bu (bushlike trees with red flowers that grow near water), khres-pa (strong durable forest trees used to make food containers), glang-ma (a willow tree used for basketry), and rtsi-shings (the seeds of which are used for making varnish). Fruit-bearing trees and certain roots are used for food, as are the leaves of the lca-wa, khumag, and sre-ral, all of which grow in the low, wet regions. Both wild and domestic flowers flourish in Tibet. Among the wildflowers are blue poppies, lotuses, wild pansies, oleanders, orchids, tsi-tog (light pink flowers that grow at high elevations), shang-drils (bell-shaped flowers, either white, yellow, or maroon, that also grow at high elevations), and ogchu(red flowers that grow in sandy regions). According to Wu and Feng (1992), the Tibetan Plateau consisted of over 12,000 species of 1,500 genera of vascular plants, accounting for over half of the total general found in China. 
Birds in Tibet
Tibet birding tour is a real adventure as we travel across "The Roof of the World". In Tibet, there are over 532 different species of birds in 57 families, which makes about 70.37 percent of the total families found in China.  Among the many kinds to be seen are the stork, wild swan, Blyth's Kingfisher, goose, jungle flycatcher, redstart, finch, grey-dided thrush, Przewalski's parrotbill, wagtail, chickadee, large-billed bush warbler, bearded vulture, woodpecker, and beautiful nuthatch.
The most famous and rare bird is the black-necked crane. Tibet is the largest winter home for black-necked cranes, least known of the 15-crane species, nests above 3000m altitude on the Tibetan plateau. Due to its limited distribution and small population, this crane has considered a vulnerable species and is under China's First Order of Protection for endangered and rare species.
The lammergeier is the largest of the old-world vultures and traditionally revered as the sacred bird of Tibet. Corpses are offered up to these vultures through a Sky Burial in the belief that the magnificent and elusive birds are Dakinis ('sky-dancers' or angels). Tibetan legend teaches that the Dakinis carry the spirits of the deceased into the heavenly realm where they will await their reincarnation.
The lammergeier is loved and respected throughout the Himalayans. This is due to how the vulture consumes carrion that would otherwise pollute the rivers that provide drinking water to numerous Tibetans at the roof of the world and the multitudes downstream. Donations of human flesh to the lammergeier are celebrated. Drigung Thil Monastery in Medrogonga County, Lhasa, is renowned for its Sky Burial site and abundance of lammergeiers.
Wild Animals in Tibet
Tibet has more than 100 species of mammals, 40 species of reptiles, and 50 species of amphibians. Mammal life in the forest regions includes tigers, leopards, bears, wild boars, wild goats, stone martens (a kind of cat), golden monkey, lynx, jackals, pha-ra (small members of the jackal family), and gsa's (spotted cats that are smaller than leopards). In the high grasslands and dry bush areas there are brown bears, wild and bighorn sheep, mountain antelope, musk deer, wild asses, wild yaks, giant panda, red panda, snakes, scorpions, lizards, and dre-tse (members of the wolf family). Aquatic life includes various types of fishes, frogs, crabs, otters, and turtles.
Rivers in Tibet
Tibet is the source of many of the Asia's major rivers, including the Yarlung Tsangpo (Brahmaputra), Senge Khabab (Indus), the Langchen Khabab (Sutlej), the Macha Khabab (Karnali), Arun (Phongchu), the Gyalmo Ngulchu (Salween), the Zachu (Mekong), the Drichu (Yangtse) and Machu (Huang He or Yellow River), these rivers flow into China, India, Pakistan, Nepal Bhutan, Bangladesh, Burma, Thailand, Vietnam, Laos, and Cambodia. These rivers system and their tributaries are the lifeblood of millions of people in the continent of Asia.
More than 15,000 natural lakes are also found in Tibet and some of the prominent lakes are Tso Ngonpo (Kokonor lake) being the largest, Mapham Yumtso (Mansarovar)' Namtso and Yamdrok Tso. Research figure shows that rivers originating from Tibet sustains the lives of 47% of the world population and 85% of Asia's total population.
Forest in Tibet
The Tibetan Plateau not only contains the world's highest mountains and a vast arid plateau, but also fertile river valleys and ancient forests. The forests of Tibet are mainly made up of spruces, fir trees, pines, larches, cypress, birches and of oaks. They are generally old, certain trees are more than two hundred years old. Tibet's forest cover totaled 25.2 million hectares. Most forests grow on the step, isolated sloped of above 35 degrees in the river valleys of Tibet's low lying southeastern region.
The major forested areas on the Tibetan Plateau are in the south (Dram, Kyirong, Pema Koe, Kongpo, Nyingtri, Tawu, Metog and Monyul), the east (Chamdo, Drayab, Zogong, Kandze, Potramo, Dartsedo, Nyarong and Ngaba), and the southeast (Dechen, Balung, Gyalthang, Mili, Lithang, Zayul, Markham and Dzogang).
Minerals in Tibet
Tibet also had rich and untapped mineral resources. It has deposits of about 126 different minerals accounting for a significant share of the entire world's reserves of gold, chromite, lithium, copper, gypsum, boron, magnesite, barite, arsenic, mica, peat, kaolin, salt, natural soda, mirabilite, Sulphur, phosphorus, potassium, diatomaceous earth, Iceland spar, corundum, rock quartz and agate.
Tibet is also rich in water, geothermal, solar and wind energy. It produces approximately 200 million kilowatts of natural hydro-energy annually, about 30 percent of the nation's total. It has 354.8 billion cubic meters of surface water resources, 13.5 percent of the nation's total; and 330 billion cubic meters of glacial water resources. Tibet has about 56. 59 million kilowatts exploitable hydro-energy resources, 15 percent of the nation's total. Tibet also leads China in geothermal energy. The Yangbachen geothermal field in Damshung County, Lhasa, is China's largest high-temperature steam geothermal field, and one of the largest geothermal fields in the world.
About Us:
Tibet Universal Tours and Travel is a fully officially licensed international tour operator based in Lhasa, owned and managed by 100% local Tibetans. One of the most respected, longest running and best-reviewed tour operators since 1997.
Over 20 years of experience in the Tibet travel industry, our team consists of the best and experienced Tibet travel guides that will show you the best that this extraordinary place has to offer, unravel all the undiscovered beauty of Tibet unique culture and tradition in front of you.  Whether a guest is looking to join a Tibet group tour or take a private tailor-made journey, we are the best choice.
Other than the above services, we provide stop over tour services in Nepal, Bhutan, and cities in Mainland China, you can also be booking your Tibet Flight and Tibet Train tickets with us. So, what are you waiting for? Reach us to embark on a trip that will last for a lifetime with Tibet Universal Tours and Travel!!!