Tibet Tourism Resources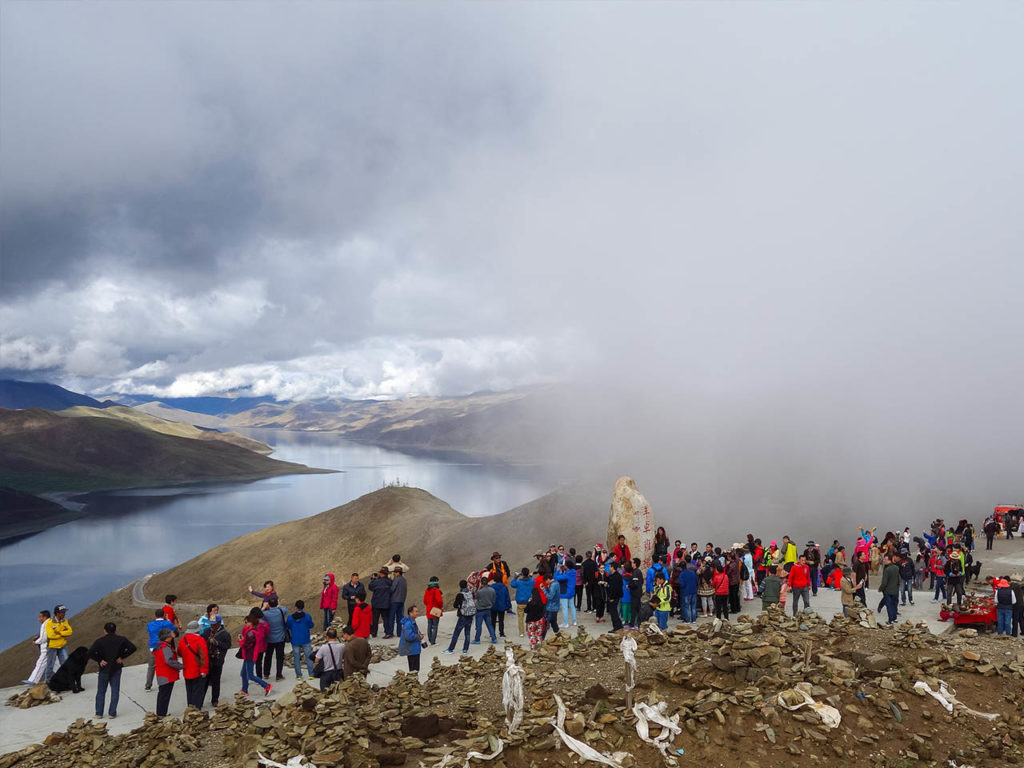 Tourism is a pillar industry in Tibet. The Local government reports that 23 million visitors entered the Tibetan Autonomous Region in year 2018, an 11-fold increase in a decade since it opened a train route across the high-altitude plateau. It is projecting arrivals to rise to 35 million visitors by 2020; tourism already makes up one-fifth of the economy of the Tibetan Autonomous Region.
Central Tibet is Lhasa the 1300-year-old capital seat of Tibet is largely a city of wonders. Not only is it Tibet's political, economic, cultural and transportation center, but also the center of Tibetan Buddhism. The city has with its rich, long history, unique culture, and still a million miles from the modern world, from the traditionally dressed pilgrims making their round at the sacred Jokhang temple and to the Potala Palace. Outside of Lhasa city in the valleys that follow the parallel rivers of Kyichu and Yarlung Tsampo, sit traditional farming villages and nomads that have existed for centuries.
Western Tibet is Ngari Prefecture, the so-called "rooftop atop the world's rooftop". The area draws visitors because of its great religious significance. Many tourists and pilgrims from Nepal and India come into Tibet through the Burang port of entry to visit the area's sacred mountains and lakes.
The southwest Tibet tourist district is a place for mountaineers, many of whom are Nepalese who come to Tibet through the Kyirong entry/exit port to enjoy the mountain scenery or do some climbing.
In southern Tibet, centered around Nyingchi, one can pass through the four seasons of the year in a single day. There are snow-capped mountains, dense primeval forests, surging rivers, and azalea-covered mountainsides. This beautiful scenery is easy to enjoy given the pleasantly humid and mild climate.
TOP 4 REASONS TO VISIT TIBET:
Awe-inspiring Plateau Landscape
In many respects, Tibet is synonymous with the image of Shangri-La. And, the exoticism of a mystical land gifted with remarkable natural landscapes and beauty. Over one-fifth of world's top 100 independent summits is situated in Tibet. They include the Mt. Everest (alt. 8844.43m), "the world's summit"; the Mt. Cho Oyu (alt. 8201m), the sixth highest mountain on the planet and the Mt. Shishapangma (alt. 8013m), the fourteenth highest mountain in the world. Moreover, the Mt. Kailash, one of the most sacred spots on earth, and is also a holy pilgrimage site for many religious believers in South Asia including the Hindu, Buddhist, Jain and Bon faiths.
There are numerous gorgeous and beautiful lakes in Tibet. These are Yamdrok Lake, Namtso Lake, Manasarovar Lake, and Lhamo La-tso Lake. In addition, there are many other natural beauties like deep canyons, grand glaciers, bare stones, Gobi desert, lush forest, wild species, and vast prairie in Tibet. It shows a good reason to visit Tibet and experience with a unique land and culture.
The Overwhelming Devoted Religion
Religion is extremely important to the Tibetans and has a strong influence on every aspect of their lives. Tibetan Bon religion is the indigenous spiritual tradition of Tibet. It rooted before the arrival of Buddhism in the 7th century AD. But nowadays Tibetan Buddhism is the most widely practiced religion. It is evident when you set your eyes on many things around you. Even on the attractive key chains that you buy from the smallest street shops. There has a depiction of Buddhism in some form or another. Tibetan people take their religion, beliefs, and values very seriously.
If you visit Tibet, you can visit many ancient monasteries, temples, and palaces. These are dotted around the land of Tibet. You can explore many best-loved religious sites, which would enable you to familiarize with the biographies of the renowned spiritual masters and scholars of the past. You can observe the unique landscapes and the buildings that represent Bon and Buddhist architectures. They include such sites as the Potala Palace, which was built in the 7th century by the Tibetan King Songtsen Gambo. Jokhang and Ramoche temples, which are two of the holiest Buddhist temples in Tibet. These were built in the 7th century. The Yumbu Lhagang Palace, which was built in the second century B.C. by the first king of Tibet, 'Nyatri Tsenpo'.  Ganden, Sera and Drepung Monasteries, which are the biggest learning centers of Gelugpa tradition of Tibetan Buddhism. All are attracting you to visit Tibet.
The Welcoming and Friendly Tibetan People
Tibet has a rich cultural heritage as well as a deep unique societal tradition and values. Wisdom, knowledge about life, compassion, tolerance and peace of mind are some of the key values that underpin the Tibetan culture. The simplicity of life and the spirituality of minds of the people in this land are always distinct in many senses. Even a few days of stay and travel in and around Tibet will leave you with a strong impression. The simple traditional courtesies and values in the life of people. You also impressed by the ways in which one can attain some of the desirable qualities such as compassion and empathy for others.
The Long-standing Customs and Tradition
As many cultures around the world, Tibet has formed its own unique customs and traditions over thousands of years. They include traditional beliefs and practices. These are much related to everyday lives (i.e. clothing, food, housing, festival, folklore, wedding, funeral, customs and social taboos). Furthermore, the special sectors such as animal husbandry, astronomy, calendric system, medicine, architecture, hardware, textiles, literature, paintings, and sculptures. The music, dance, and local operas are great assets to enjoy as tourists.
About Us:
Tibet Universal Tours and Travel is a fully officially licensed international tour operator based in Lhasa, owned and managed by 100% local Tibetans. One of the most respected, longest running and best-reviewed tour operators since 1997.
Over 20 years of experience in the Tibetan travel industry, our team consists of the best and experienced Tibet travel guides that will show you the best that this extraordinary place has to offer, unravel all the undiscovered beauty of Tibet unique culture and tradition in front of you.  Whether a guest is looking to join a Tibet group tour or take a private tailor-made journey, we are the best choice.
Other than the above services, we provide stop over tour services in Nepal, Bhutan, and cities in Mainland China, you can also be booking your Tibet Flight and Tibet Train tickets with us. So, what are you waiting for? Reach us to embark on a trip that will last for a lifetime with Tibet Universal Tours and Travel!!!