Tibetan Jewelry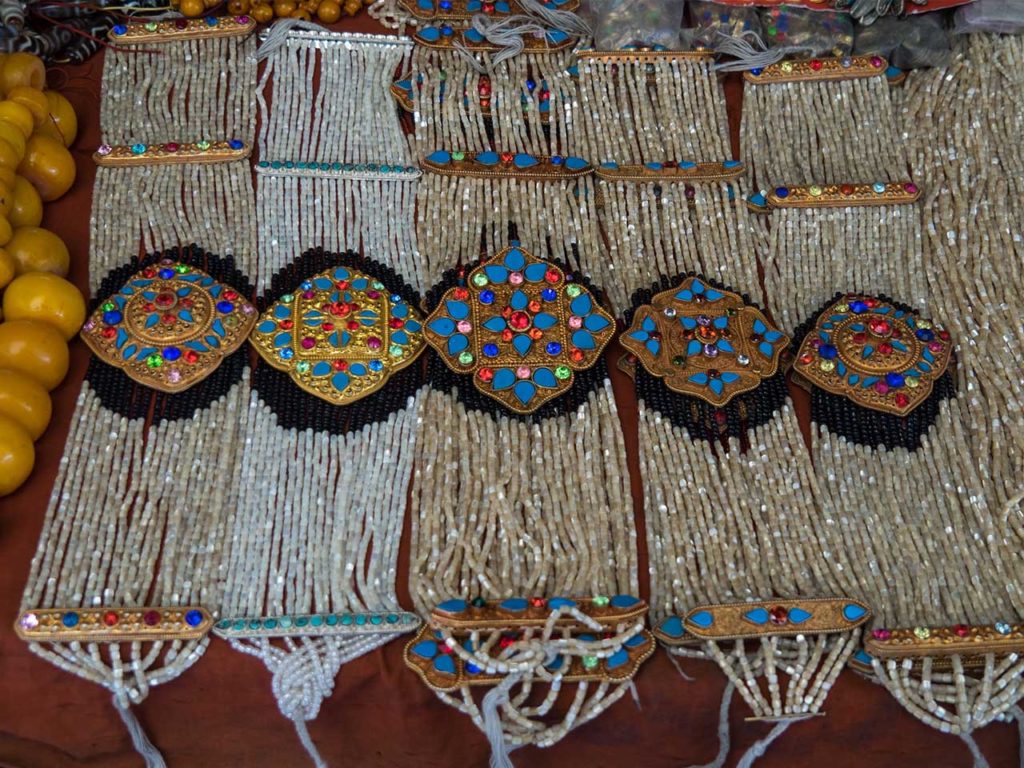 Tibetan jewelry and ornaments include as rings, bracelets, necklaces, made of red and yellow coral, Tibetan carnelian, yak bones, Tibetan silver, Tibetan copper, turquoise, and other natural materials joined together with yak-hide string. The most common Tibetan ornaments are broad and delicately designed silver bracelets, peacock-blue yak-boned necklaces inlaid with turquoise, and dangling earrings made of red coral and Tibetan silver.
Among the Tibetan, crafting techniques are encasing, inlaying, and making wire drawing. The techniques used decorate jewelry are also used on religious articles and everyday objects such as snuff bottles with hollowed-out designs; prayer wheels; barrels to hold rice for offering before Buddha images; and sea-snail-shaped ritual horns. The designs are mostly driven by religious beliefs and the lifestyle of the Tibetan people, often featuring symbols that convey special meaning. and the deeply-hued Tibetan silver is a mysterious temptation.
Tibetan silver products are handmade by Tibetan silversmiths are especially famous. Many the Tibetan silver bracelets are carved with the six-syllable mantra ("Om Mani Padme Hum"), which in Tibetan Buddhism is believed to have the ability to eliminate disease, fear of death, prolong life and increase wealth. Some pendants are in the design of Vajra, which in Buddhism is a ritual instrument for subduing demons, believed to dispel all sins and bring people power, courage, and intelligence. Amulets are often silver or bronze small boxes inlaid with pearls or precious stones and are used to contain clay or metal images of Buddha, Tibetan pills, Buddhist paintings or photos of a living Buddha. Tibetan opals fall into 12 categories according to the number of cat's eyes one contains, each representing a particular meaning. For example, a one-eye opal represents brightness and wisdom, and a two-eye opal represents a harmonious marital relationship and happy family life.
Many handicrafts and jewelry items feature Dzi beads. Dzi beads literally mean "heaven pearls" and are regarded as gifts given by gods. Such beads are etched black-and-white or brown-and-white, with symbols comprised of circles, ovals, square, waves stripes, lines and various other symbolic patterns. Sometimes the beads look like an eye, so some people think that they have magic power. To Tibetans, each symbol on a Dzi bead has a specific meaning. They are the precious possession to the Tibetan, with so many fascinating stories of its mystical power attributed to it. A true natural Dzi bead is very expensive. Most Dzi beads found in markets are man or machine-made.
About Us:
Tibet Universal Tours and Travel is a fully officially licensed international tour operator based in Lhasa, owned and managed by 100% local Tibetans. One of the most respected, longest running and best-reviewed tour operators since 1997.
Over 20 years of experience in the Tibetan travel industry, our team consists of the best and experienced Tibet travel guides that will show you the best that this extraordinary place has to offer, unravel all the undiscovered beauty of Tibet unique culture and tradition in front of you.  Whether a guest is looking to join a Tibet group tour or take a private tailor-made journey, we are the best choice.
Other than the above services, we provide stop over tour services in Nepal, Bhutan, and cities in Mainland China, you can also be booking your Tibet Flight and Tibet Train tickets with us. So, what are you waiting for? Reach us to embark on a trip that will last for a lifetime with Tibet Universal Tours and Travel!!!