Tibetan Stone and Rock Carvings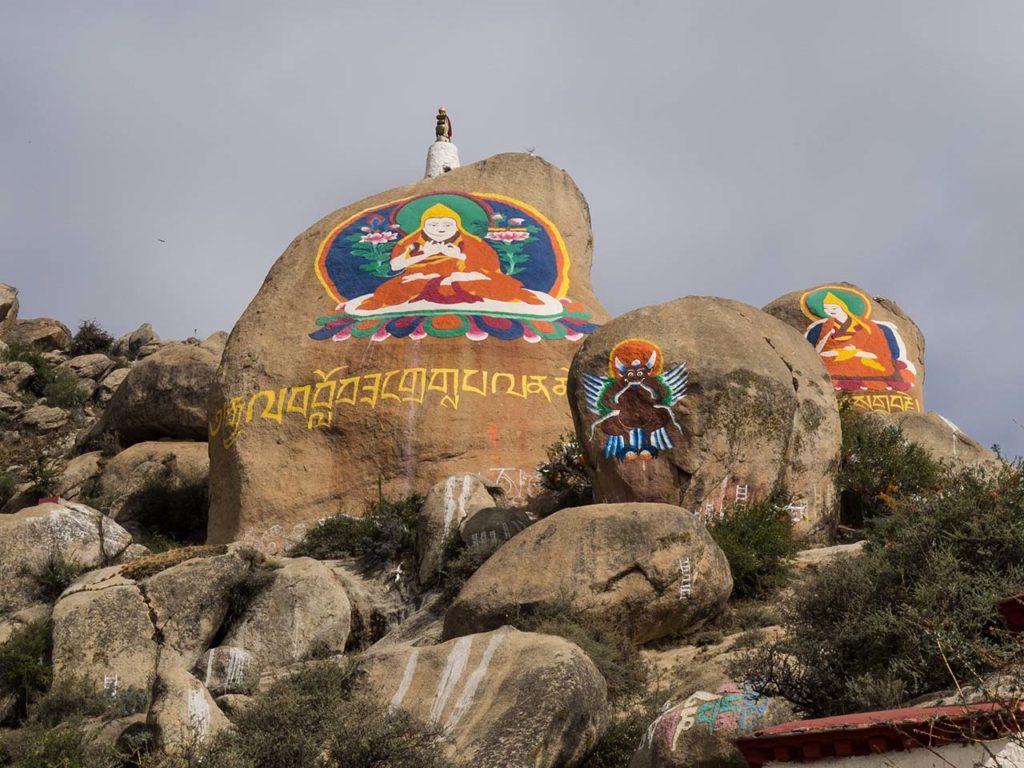 Tibetan Stone and Rock Carvings: Tibet is in rich repositories of culturally significant stone and rock carvings. When you are traveling in Tibet, you will find stone and rock carvings everywhere. Such images include those of animals, human figures, gods, plants, utensils, buildings, symbols, and natural objects. About 80 percent of old rock carvings of animals and hunting scenes and the daily life of the nomadic people.
Ritu Rock Carving Site, Yaowangshan Rock Carving Site, and Zaxi Cave Rock Carving Site are three Tibetan rock carvings sites. Ritu Rock Carvings site in the Ngari area boasts hundreds of rock carvings, whose contents include hunting activities, war and fighting, religious ceremonies, and dancing scenes. The major color there is red. The style is characterized by simple compositions drawn using simple techniques. Yaoshanwang Rock Carvings site is in the Yaowangshan Mountains near Lhasa. The rock carvings have been produced mostly in modern times. The images are mostly religious figures. Zaxi Cave Rock Carvings are found on the east side of Namtso Lake in the Nagqu area. These carvings are found in eight natural caves. Most of the carvings are colored in red. There are images of animals, human, sun, and pagodas.
Black stone can be found in the homes of many ordinary Tibetans because it is seen as a propitious stone capable of driving away evil and attracting good fortune. Such stones are not very expensive as they are carved by machine. The most common rock carvings are Mani stones. The subjects of Mani stone carvings are usually sutras, designs, Buddhas, and Bodhisattvas. Sometimes the images are carved at the request of the relatives of the dead people to release souls from purgatory. Usually, the contents are decided by a Shaman. Mani stone carving differs significantly from place to place. Those from western Tibet are said to have an elegant flavor, while those in eastern Tibet have an air of antiquity.
About Us:
Tibet Universal Tours and Travel is a fully officially licensed international tour operator based in Lhasa, owned and managed by 100% local Tibetans. One of the most respected, longest running and best-reviewed tour operators since 1997.
Over 20 years of experience in the Tibetan travel industry, our team consists of the best and experienced Tibet travel guides that will show you the best that this extraordinary place has to offer, unravel all the undiscovered beauty of Tibet unique culture and tradition in front of you.  Whether a guest is looking to join a Tibet group tour or take a private tailor-made journey, we are the best choice.
Other than the above services, we provide stop over tour services in Nepal, Bhutan, and cities in Mainland China, you can also be booking your Tibet Flight and Tibet Train tickets with us. So, what are you waiting for? Reach us to embark on a trip that will last for a lifetime with Tibet Universal Tours and Travel!!!