Shanghai to Lhasa Train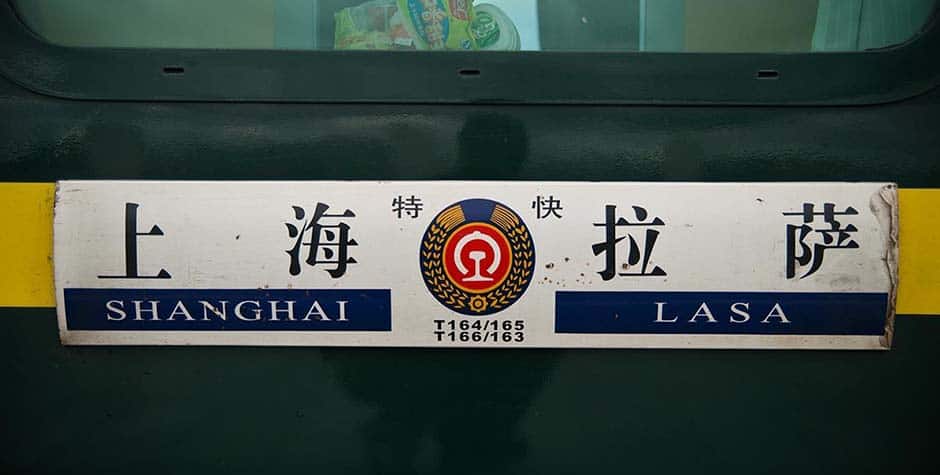 Traveling from Shanghai to Lhasa is another Tibet scenic train ride and crosses over eight provinces across China, before climbing up to the Qinghai-Tibet Plateau. The trip covers a total distance of 4,373km and takes around 47 hours to reach to Lhasa. The train available every day from Shanghai to Lhasa and the return train is Z166
| Route | Train # | Depart | Arrival | Travel Time | Distance |  Fare/ Soft Sleeper |  Fare/ Hard Sleeper |
| --- | --- | --- | --- | --- | --- | --- | --- |
| Shanghai to Lhasa |  Z164 | 20:10 | 18:25 (+2 Day) | 46Hr 15M | 4373 Km | 219 USD per Seat | 138 USD Per Person |
| Lhasa to Shanghai | Z166 | 11:25 | 11:51 (+2 Day) | 48Hr 26M | 4373 Km | 219 USD per Seat | 138 USD Per Person |
Shanghai to Lhasa Train Time Table
Xining to Lhasa Train Time Table
| No | Train Sations | Station in Madarin | Arrival Time | Departure Time | Hault Time |
| --- | --- | --- | --- | --- | --- |
| 1 | Shanghai | 上海 | — | 20:10 | — |
| 2 | Suzhou | 苏州 | 20:55 | 20:58 | 3 Minutes |
| 3 | Nanjing(JiangSu) | 南京 | 22:56 | 23:05 | 9 Minutes |
| 4 | Bengbu | 蚌埠 | 0:37 | 0:40 | 3 Minutes |
| 5 | Xuzhou | 徐州 | 2:09 | 2:15 | 6 Minutes |
| 6 | Zhengzhou | 郑州 | 5:07 | 5:14 | 7 Minutes |
| 7 | Xi'an | 西安 | 11:14 | 11:24 | 10 Minutes |
| 8 | Lanzhou | 兰州 | 18:17 | 18:34 | 7 Minutes |
| 9 | Xining | 西宁 | 21:12 | 21:32 | 20 Minutes |
| 10 | Delingha | 德令哈 | 1:34 | 1:36 | 2 Minutes |
| 11 | Golmud | 格尔木 | 4:26 | 4:51 | 25 Minutes |
| 12 | Nagqu | 那曲 | 14:42 | 14:51 | 9 Minutes |
| 13 | Lhasa | 拉萨 | 19:17 | — |  — |
Lhasa to Shanghai Train Time Table
| No | Train Sations | Station in Madarin | Arrival Time | Departure Time | Hault Time |
| --- | --- | --- | --- | --- | --- |
| 1 | Lhasa | 拉萨 | — | 11:15 | — |
| 2 | Nagqu | 那曲 | 14:49 | 14:55 | 6 Minutes |
| 3 | Golmud | 格尔木 | 1:23 | 1:48 | 25 Minutes |
| 4 | Delingha | 德令哈 | 4:15 | 4:17 | 2 Minutes |
| 5 | Xining | 西宁 | 8:55 | 9:15 | 20 Minutes |
| 6 | Lanzhou | 兰州 | 12:11 | 12:26 | 15 Minutes |
| 7 | Xi'an | 西安 | 20:34 | 20:44 | 10 Minutes |
| 8 | Zhengzhou | 郑州 | 2:50 | 2:58 | 8 Minutes |
| 9 | Xuzhou | 徐州 | 5:43 | 5:58 | 15 Minutes |
| 10 | Bengbu | 蚌埠 | 7:17 | 7:22 | 5 Minutes |
| 11 | Nanjing(Jiangsu) | 南京 | 8:54 | 9:00 | 6 Minutes |
| 12 | Wuxi | 无锡 | 10:26 | 10:30 | 4 Minutes |
| 13 | Suzhou | 苏州 | 10:56 | 11:01 | 5 Minutes |
| 14 | Shanghai | 上海 | — | 11:51 | —- |
Shanghai Train Station Information
From Shanghai to Lhasa train departs from Shanghai (Hongqiao)Train Station (上海火车站).
From Terminal 2: If you will land on Terminal 2, there are essentially two travel options to Hongqiao railway station: one by walk; the other by metro. Hongqiao railway station is nearly 1km to Terminal 2. If you prefer to walk there, you should first get to the B1 floor of Terminal 2. Then following the Train signs, you will arrive at the railway station. The path to the railway station is carefully designed and friendly for foreigners. 
Please make sure that you have a copy of your Tibet Travel Permits in order to board the train.
About Us:
Tibet Universal Tours and Travel is a fully officially licensed international tour operator based in Lhasa, owned and managed by 100% local Tibetans. One of the most respected, longest running and best-reviewed tour operators since 1997.
Over 20 years of experience in the Tibetan travel industry, our team consists of the best and experienced Tibet travel guides that will show you the best that this extraordinary place has to offer, unravel all the undiscovered beauty of Tibet unique culture and tradition in front of you.  Whether a guest is looking to join a Tibet group tour or take a private tailor-made journey, we are the best choice.
Other than the above services, we provide stop over tour services in Nepal, Bhutan, and cities in Mainland China, you can also be booking your Tibet Flight and Tibet Train tickets with us. So, what are you waiting for? Reach us to embark on a trip that will last for a lifetime with Tibet Universal Tours and Travel!!!