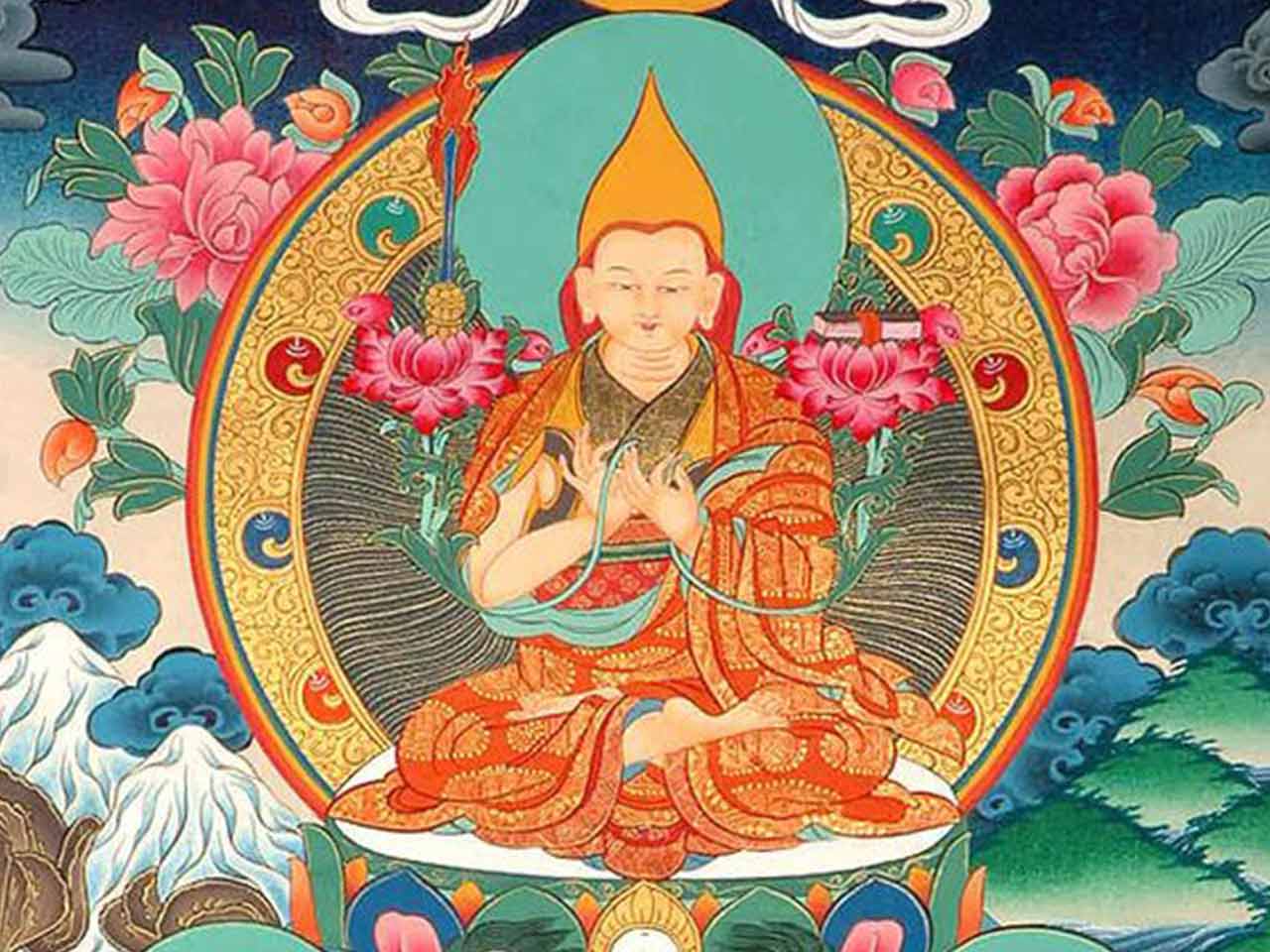 Tour Type: Private group tour
Tour Duration: 10 days and 9 nights
Best Time: April to October 
Group size: 4 – 16 people
A Glimpse into Gelug School of Tibetan Buddhism:
The Gelugpa order was founded by Tsong Khapa Lobsang Drakpa (1357 – 1419), one of the great figures of Tibetan religious history. He was a renowned scholar, meditator, and philosopher, his written work contains a comprehensive view of Buddhist philosophy. Moreover, his written works include practice that integrates sutra and tantra, analytical reasoning, and yogic meditation. He was also life to revitalizing Tibetan Buddhism. Furthermore, he was also recapturing the essence of Buddha's teachings as he understood them.
More About Tsong Khapa
Tsong Khapa was born in the Tsongkha valley in the Amdo province of eastern Tibet. According to traditional biographies, his birth was the culmination of a process of spiritual development. So, the spiritual development began during a previous life, at the time of Shakyamuni Buddha. As a young boy, he offered a crystal rosary to Buddha. Who presented him with a conch shell and told his attendant Ananda that in a future life the young boy would be born in Tibet. There he would found a great monastery. Moreover, he becomes one of the most influential figures in the spread of the Dharma in the "Land of Snows". The Buddha then predicted that in his future life the young boy would be named Sumatikirti. The Sumatikirti means the Sanskrit Equivalent of Lobsang Drakpa.
The beginning of his order can be traced to his founding of Ganden Monastery in 1410. This monastery was in which monks would strictly adhere to the rules of Vinaya. And, also sharpen their intellects in philosophical debate, and engage in the high-level tantric practice. The school he founded was originally referred to as Gandenpa. After its first monastery, and later became known as Gelugpa or "System of Virtue" in accordance with its reformist orientation.
Thematic Tour Overview:
Your key focus of this authentic private group tour programme aims to trace back in time. Therefore, visit some of the must-see sights of Tibetan Gelugpa monasteries, temples and meditation sites. The primary objective to explore and learn the mythic and inspirational stories of The Great Gelugpa Masters.
As part of the key focus of your thematic tour in "Following the Footsteps of the Gelugpa Masters", the tour covers the following key sacred seats of Gelugpa Buddhist tradition. They reflect rich history in teachings from past and present of Gelugpa masters of Tibetan Buddhism in Tibet.
The mother monastery of the Gelugpa school of Tibetan Buddhism founded by reverent Master Tsongkhapa
The second biggest Gelugpa learning center founded by Chamchen Choeje Shakya an important student of reverent master Tsongkhapa
the biggest Gelugpa learning center founded by Jamyang Choeje Tashi Palden one of the main disciples of master Tsongkhapa
The biggest Gelugpa learning center in the Tsang region or the present Shigatse prefecture. It is the primary seat of successive Panchen Lamas, the second highest ranking lama in Geluk lineage of Tibetan Buddhism
Olka Cholung monastery where master Tsongkhapa spent five years in retreat based on advice from the Dakinis. In addition, where he gained some of his deepest realizations into the nature of reality
Pabonka Hermitage
The first buildings established in the Lhasa area and the historical hermitage site founded by the 32nd king Songtsan Gampo in the 7th century
The trip will also take us through a classic route in central western Tibet. As a result, through the tour visitors can witness marvelous landscapes. Furthermore, visitors also witness some of the key stunning sites of historic and religious significance. For example, the gorgeous sight of Yamdrok and Sechen Lhatso Lakes, the Karo La Glacier. Furthermore, the trip will give a wonderful experience to dip in a natural Olka Cholung hot spring.
In addition, during your tour in Lhasa, you will be exploring some of the major best-loved sights of religious and historic significance in the city. It including the Potala Palace and the Jokhang Temple. Get an ample chance to visit and observe the traditional life of the indigenous Tibetan rural communities. Furthermore, the handicraft center to see and learn the extraordinary array of authentic Tibetan traditional and contemporary works of crafts and arts.
Detailed Itinerary
Day 1: Arrive in Lhasa Elevation 3590 meters
Arrive in Lhasa – collection from Lhasa airport or train station
Escort to hotel for rest and acclimatization
Freshen up
Itinerary run-through with tour guide
Day 2: Explorations around Lhasa
Explore the Jokhang temple, the "spiritual heart" of Lhasa, and the surrounding old quarters
Visit Sera Monastery, one of the "Great Three" Buddhist monasteries. Noted for their Buddhist dialectic debate session usually held in the afternoons
Day 3: Explorations around Lhasa
Take a walk up and visit the Potala Palace, the fascinating landmark building in Lhasa, the winter residence of every Dalai Lama from the fifth to the current 14th
Trip to and tour around a premier park of horticulture – the Norbulingka Palace. Which also served as the traditional summer residence of the successive Dalai Lamas
Day 4: Explorations around Lhasa
Visit Drepung Monastery, one of the "Great Three" Buddhist monasteries in Tibet
Thereafter, visit Nechung temple, the seat of the State Oracle of Tibet – 15 minutes' walk down from Drepung Monastery
Visit Pabonka the historical hermitage site founded by the 32nd king Songtsan Gampo in the 7th century
Day 5: Lhasa – Ganden Monastery – Olka Cholung Monastery Distance 230kms Elevation 4300m
Drive out northeast of Lhasa, to visit Ganden Monastery one of the "Great Three" monasteries founded by reverent Master Tsongkhapa. Moreover, it is the mother monastery of the Gelugpa school of Tibetan Buddhism
Afterward, head to Olka Cholung monastery and stay overnight at Cholung village, enjoy hot spring dipping blessed by master Tsongkhapa. In addition, it is believed to be rich in minerals, high content of sulfureted hydrogen in particular. As a result, it is therapeutic to many chronic diseases
Day 6: Olka Cholung Monastery – Lhasa Distance 190kms Elevation 4300m
Visit Olka Cholung monastery it is the place where master Tsongkhapa spent five years in retreat based on advice from the Dakinis, and where he gained some of his deepest realizations into the nature of reality
Then, drive and head back to Lhasa, on the way back turn-off for Sechen Lhatso Lake one of the most beautiful salt lake in Tibet. Furthermore, it throw yourself into the incredible landscape surrounding the lake
Arrive Lhasa and rest
Day 7: Lhasa to Yamdrok Lake – Karo La Glacier-Gyantse – Shigatse Distance 360kms Elevation 3840m
Depart Lhasa early in the morning, all day overland drive
Cross over Kamba-la pass (4700m)
Descend and drive by the Yamdrok Lake – a freshwater lake stunningly gorgeous
Drive up another pass –the Karo La – for an amazing view of the Mt. Nyenchen Kangsar glacier
Arrive in Gyantse, a small, but prominent town in Tibet
Visit the Pelkor Chode Monastery, and the Gyantse Kumbum – a 32 Metres (105 ft.) high structure, a nine-tier building with 108 gates
Drive a short distance to Shigatse, the second largest city in Tibet
Overnight stop in Shigatse
Day 8: Shigatse – Lhasa Distance 280kms Elevation 4300m
Take a detour and visit Tashi Lhunpo monastery the biggest Gelugpa learning center in the Tsang region
Leave Shigatse for Lhasa, taking the northern tarred surfaced road
Arrive Lhasa and Rest
Day 9: Visit Traditional Tibetan Farmer's Village or Nomad Tent and Tibetan Handicraft Centre
To visit either to a traditional Tibetan Farmer's Village or Green Grasslands Nomad Tent to experience first-hand the lifestyle of indigenous Tibetan rural communities. You can gain the experiences by joining them herding yaks and sheep, making chesses, yoghurt and butter. Taste locally made snacks
Visit Show Dhenpa Handicraft center to see and learn the extraordinary array of authentic Tibetan traditional and contemporary works of crafts and arts, like Tibetan pottery wares, Thangka painting, sewing work and Buddhist statue fabrications.
Drive back to Lhasa and rest
Day 10: Depart Lhasa
Transfer to the Lhasa airport or train station
Depart Tibet
Responsible Tourism
Tibet Universal Tours and Travel puts great importance on the promotion of responsible and sustainable tourism practices. It incorporated into our day to day base tour service performances. So, we always strive to ensure that our tour service delivery will have maximum quality. Furthermore, we also strive to the minimum level of negative social, economic, environmental and cultural impacts. Following outlined points are some of our representative measures undertaking in our routine job performances. In addition, these thoughts to be essential for sustainable touristic development in Tibet.
Social Responsibility:
Whenever and wherever possible, we extend charitable support to disadvantaged groups in remote Tibetan villages. For instance, utilizing the certain percentage of our annual company income we engage in social works. Therefore, we purchase and distribute warm winter clothes for children from rural Tibetan primary schools. As a result, they can keep them warm and happy during cold winter.
Moreover, we believe that every person deserves access to quality healthcare. So, we extend our help on medical expenses to those serious patients who are from remote and rural Tibetan villages. Because they cannot afford to pay their medical treatment when the treatment costs go beyond the local medical insurance coverage.
Economy Responsibility:
In support of contributing to the local economy and we give the local population a central role in the touristic economic development of their own territory. Therefore, we always strive to ensure that the economic benefits of tourism should go for local communities. So, poverty alleviation by generating financial benefits for both local people and private industries. For instance, we always use locally owned ground transportation and accommodation (i.e. hotels, lodges, and guesthouses). Furthermore, we also recommend local eateries, restaurants, and stores to our guests.
In addition, we are an indigenous local Tibetan travel agency based in Lhasa, the capital city of Tibet. 100% of our travel company employees are staffed and escorted by professional local Tibetans including local tour guides and drivers. So, this has created employment and job security opportunities for many educated and inspired Tibetans.
Environment Responsibility:
Tibetan Buddhist reality is profoundly ecological, and Buddhism itself is an ecological religion. It powerfully expresses human identification with nature. Buddhists believe that all things, including humans, exist by their interrelationship with all other parts of nature. Therefore, thinking of one's self as isolated from the rest of nature is being unrealistic.
Respect for life and the natural world
Giving the facts that Tibetans love and respect for life and the natural world. Therefore, to minimize the environmental impact created by tourists, we follow environment-friendly policies. So, we maintain the size of tour groups to have minimal impact on flora and fauna in an area. The necessary carbon emissions that we generate by our footprints of travel to the tour destinations cannot be overlooked. Therefore, we regularly actively participate in carbon reduction or offset activities such as tree planting. Our tour guides, drivers, and logistics staff are aware of waste management. Moreover, we advised them to dispose of all rubbish generated by themselves responsibly and recycle wherever feasible.
Other Safegurds for the Environment friendly tourism
Make the best use of the winter tourist low season, we deliver training workshops on environmental protection. Moreover, the training also includes the preservation and first aid training. So, we arrange it for all our company management staff, tour guides, and drivers in order to increase their knowledge. As a result, they can understand the importance of environmental protection and ecotourism.
Request to Visitors:
Be considerate of the communities and environment you visit.
Don't litter, try to carry your own shopping bag to avoid plastic garbage problem. Many Tibetan local villages do not have environmentally sound garbage disposal systems. Therefore, pack garbage out to a larger town where there is a facility.
Try to avoid excessive use of plastic bottles. Travelers are requested to bring a reusable water bottle. In addition, we will arrange and supply your drinking water in a bigger container.
Reduce energy consumption. Unplug your mobile phone charger, turn off the lights

More Requests

Conserve water. Take shorter showers.

Always ask before taking photographs. So, if someone says no, respect their wishes.
Educate yourself about the place you are visiting and the people.
Respect cultural differences. Moreover, learn from it! People in different places do things differently. So, don't try to change them. And, enjoy them.
Support the local economy. Therefore, buy locally made souvenirs, eat at local restaurants. Furthermore, enjoy the local culture.
Support responsible tourism organizations. Because those travel operators who publicly are aiming to make tourism more responsible.
About Us:
Tibet Universal Tours and Travel is a fully officially licensed international tour operator based in Lhasa, owned and managed by 100% local Tibetans. One of the most respected, longest running and best-reviewed tour operators since 1997.
Over 20 years of experience in the Tibetan travel industry, our team consists of the best and experienced Tibet travel guides that will show you the best that this extraordinary place has to offer, unravel all the undiscovered beauty of Tibet unique culture and tradition in front of you.  Whether a guest is looking to join a Tibet group tour or take a private tailor-made journey, we are the best choice.
Other than the above services, we provide stop over tour services in Nepal, Bhutan, and cities in Mainland China, you can also be booking your Tibet Flight and Tibet Train tickets with us. So, what are you waiting for? Reach us to embark on a trip that will last for a lifetime with Tibet Universal Tours and Travel!!!