Tibet Weather and Packing Checklist
Tibet weather and packing checklist is an essential information required by all the travelers visiting Tibet. Unique alleviation and the unique geographical landscape of Tibet makes it a little different than the rest of the world. Hence the packing list is must get from Your travel agency.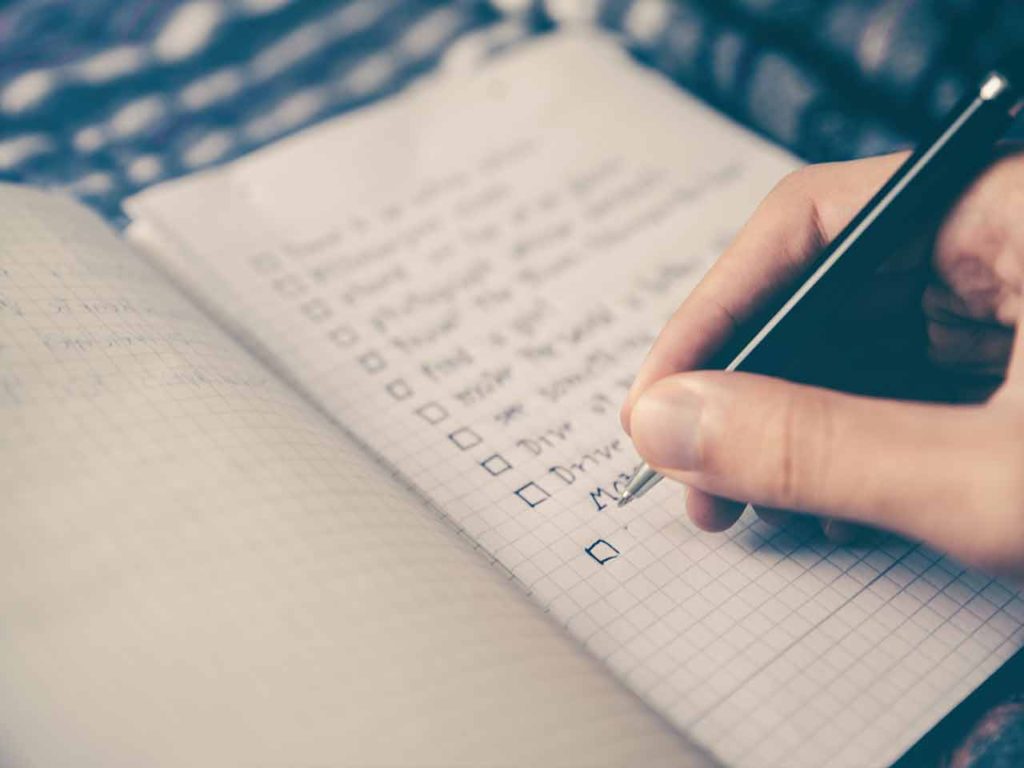 Weather
Tibet is a high-altitude plateau set amid high mountain ranges. The mountain ranges catch the rainfall before it reaches the plateau. So, most of Tibet, except for the south-east, is desert steppe, tundra, or permafrost. Most of Tibet experiences frost at least six months of the year. And, the highest lakes have ice from October to March. The weather varies a lot from region to region.
Main Features of Tibet's climate
Strong sunshine
Cold and dry
Large day/night temperature difference
The high altitude results in:
Thin air
Less oxygen content
Lower boiling point
Lhasa (elevation 3,650 meters (11,899 ft.) is perfect for tourists to the region for acclimatization. Because it is in a lower elevation valley in the warmer and wetter southeastern part of the region. The annual precipitation in Lhasa is relatively high for Tibet at 500 millimeters (20 inches). Although the annual precipitation across the region averages around 200 millimeters (4 and 12 inches).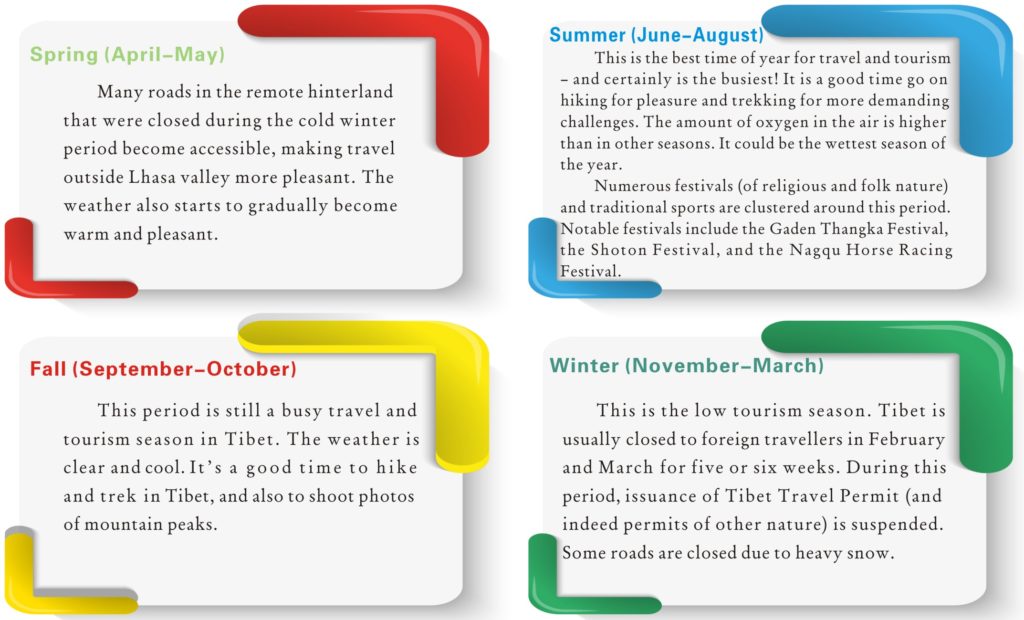 Best Time of Visit
May to October is the best for tourism travel to Tibet.  July and August are the rainy seasons in Tibet; however, rain is not such a threat apart from the southeast region. The best months for camping are May and September.
If you plan to travel to Mt. Everest region, then plan for travel in April, May, September, or October. When you are more likely to see the peak more clearly.
Travelers who are interested in Tibetan festivals are recommended to visit Tibet in August. bECAUSE  a number of local festivals are concentrated during the period. For instance, Shoton Festival, Nagqu Horse Racing Festival, and Ganden Thangka Festival are fall during this period. Do expect to see huge crowds though on these festival occasions.
The temperature of Key Tourist Cities in Tibet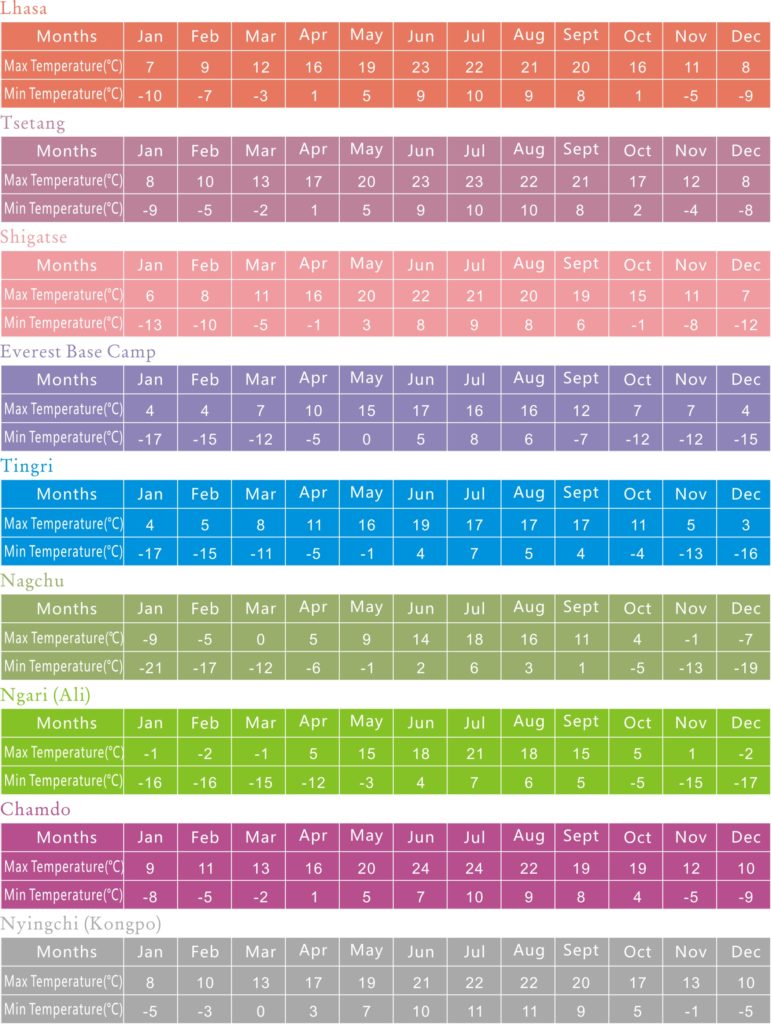 Suggested Equipment and Packing Checklist
Deciding what to pack is not always easy, but do remember the simple principle: Pack the Minimum and Travel Light. One medium-large rucksack or rolling duffel bag and a day backpack should be enough for a two to three week trip to Tibet.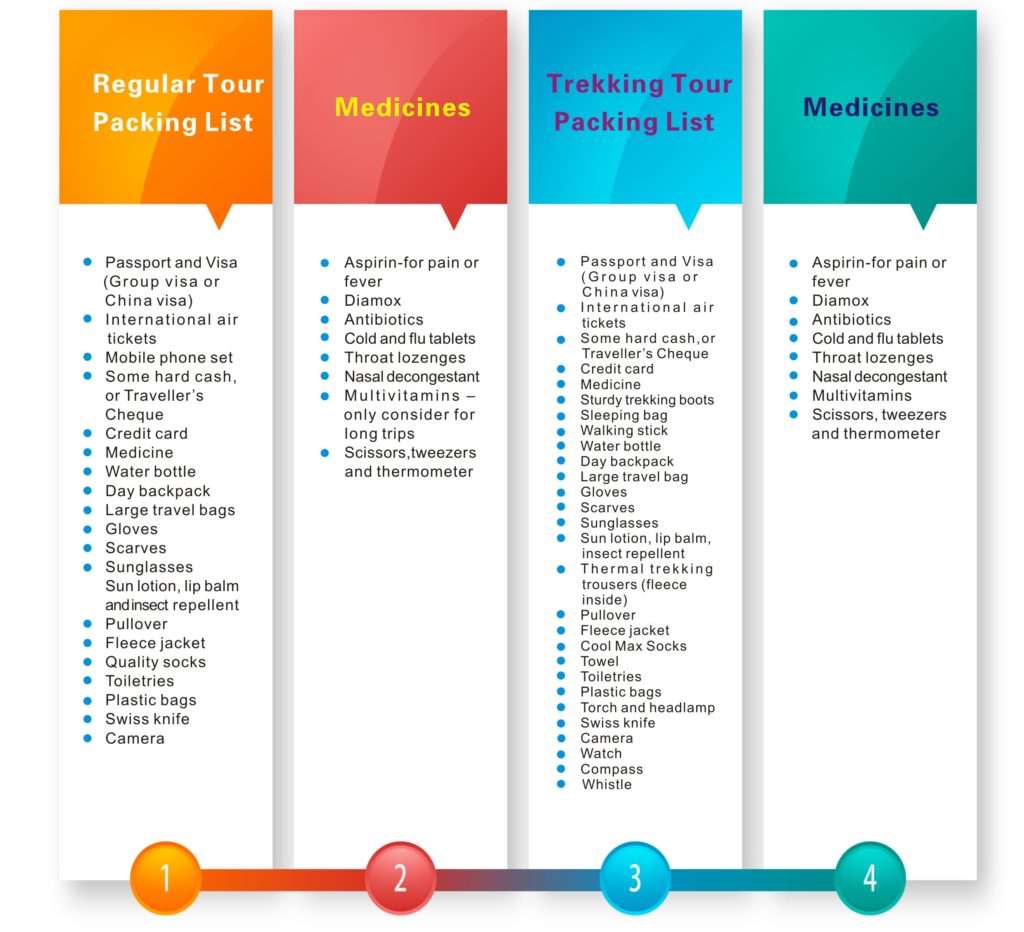 Electric pin plugs
It is very important to bring along the right pin plugs because most often, the power socket type in Tibet is not the same type as in your own country. For Class 1 appliances, a Type 1 3-pin plug and socket is being used.  In Tibet, plugs are rated as 220V 50Hrtz.
If you can't get these items in your own country, you can buy the right socket as soon as you land in China. You are also recommended to bring a 2-pin adaptor socket to fit nicely into either a wall socket or shave socket. This type of adaptor and socket should be available at your local electrical or travel shop. Please check the socket type pictures as below.