Christianity in early Tibet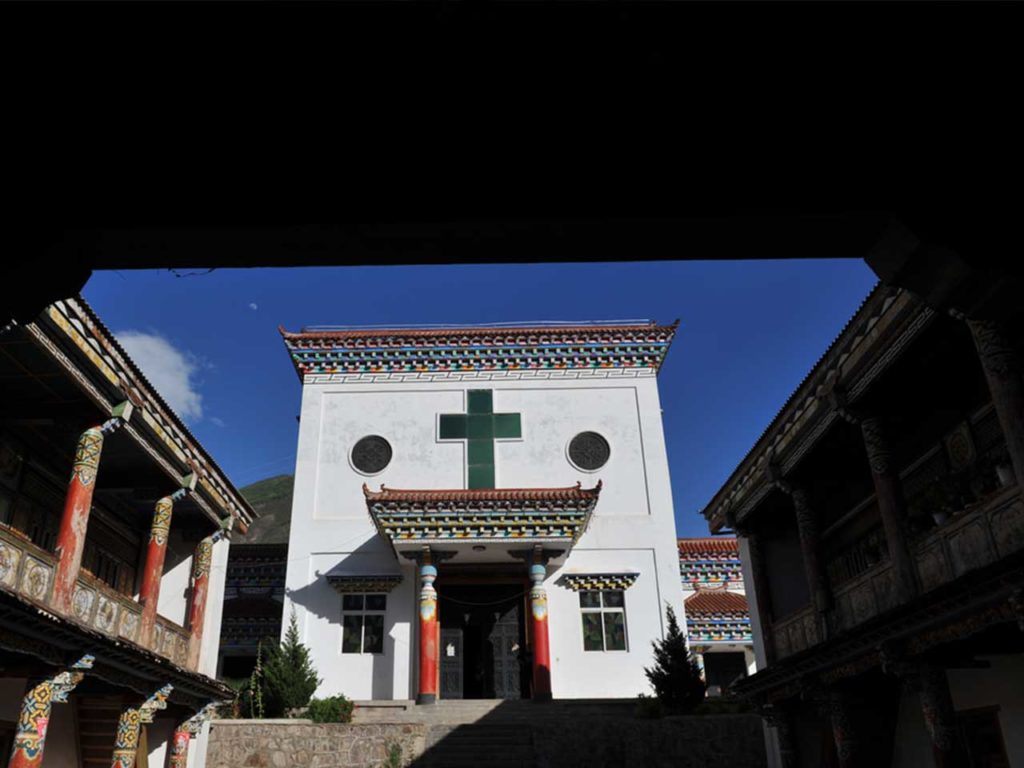 Perhaps it was a foregone conclusion that Tibet would become a Buddhist region, surrounded as it was by the Buddhist kingdoms of India, China, and Central Asia. Nevertheless, Tibet was subject to other influences of religions during its formative period, and among those influences, Christianity is one visible example.
Historical evidence reveals that Christian missionaries in early Tibet comes in the letters of Timothy I (one of three letters in the new testament of the Bible), who was Patriarch of the Nestorian Church between 780 and 823, overlapping with the reigns of three of Tibet's great Buddhist emperors, Trisong Detsen, Senaleg or Trade Songtsen and Tri Ralpachen. Timothy I's letters contain a couple of references to Tibet. In one letter, he lists the lands in which the Trisagion, one of the oldest Christian prayers, is recited. This list includes Tibet. In another letter, Timothy relates that he has recently appointed a metropolitan bishop for the Turks and is about to do the same for the Tibetans. These references both date to the early 790s, during the ruling period of Tibet king Trisong Detsen
Another kind of evidence is the many examples of crosses carved onto rocks in Western Tibet and its neighboring regions. Some examples were recorded by A.H. Francke in the early 20th century. The first of these crosses have a Tibetan inscription, "…in the year of the pig."
In early years, there used to be a Catholic Church on the height of the city in Lhasa also called the Lhasa Chapel, was the first Catholic Church in Tibet, it was founded in 1725 and disappeared in 1745. Italian Capuchin priests Francesco Della Penna and Domenico da Fano arrived in Lhasa in 1719 with some Capuchin Friars.  This was followed by a contest of competition with the Jesuit missionary Ippolito Desideri, the holy see decided in 1721 in favor of the Capuchins who had already obtained the authorization of the Tibetan authorities to build a chapel.
The Catholic Church in Yanjing township Markam county in Chamdo prefecture is the only Catholic church still in use in the region, established in 1865. Its architecture features a Tibetan exterior design combined with a Gothic one in the interior. The church has one priest and two sisters and holds masses on Christmas and Easter besides weekly services in the Tibetan language for its 559 Catholic practitioners.
We can organize a thematic tour to Tibetan Christain village. If you are interested contact us for the tour
About Us:
Tibet Universal Tours and Travel is a fully officially licensed international tour operator based in Lhasa, owned and managed by 100% local Tibetans. One of the most respected, longest running and best-reviewed tour operators since 1997.
Over 20 years of experience in the Tibetan travel industry, our team consists of the best and experienced Tibet travel guides that will show you the best that this extraordinary place has to offer, unravel all the undiscovered beauty of Tibet unique culture and tradition in front of you.  Whether a guest is looking to join a Tibet group tour or take a private tailor-made journey, we are the best choice.
Other than the above services, we provide stop over tour services in Nepal, Bhutan, and cities in Mainland China, you can also be booking your Tibet Flight and Tibet Train tickets with us. So, what are you waiting for? Reach us to embark on a trip that will last for a lifetime with Tibet Universal Tours and Travel!!!