Tibetan Bon Religion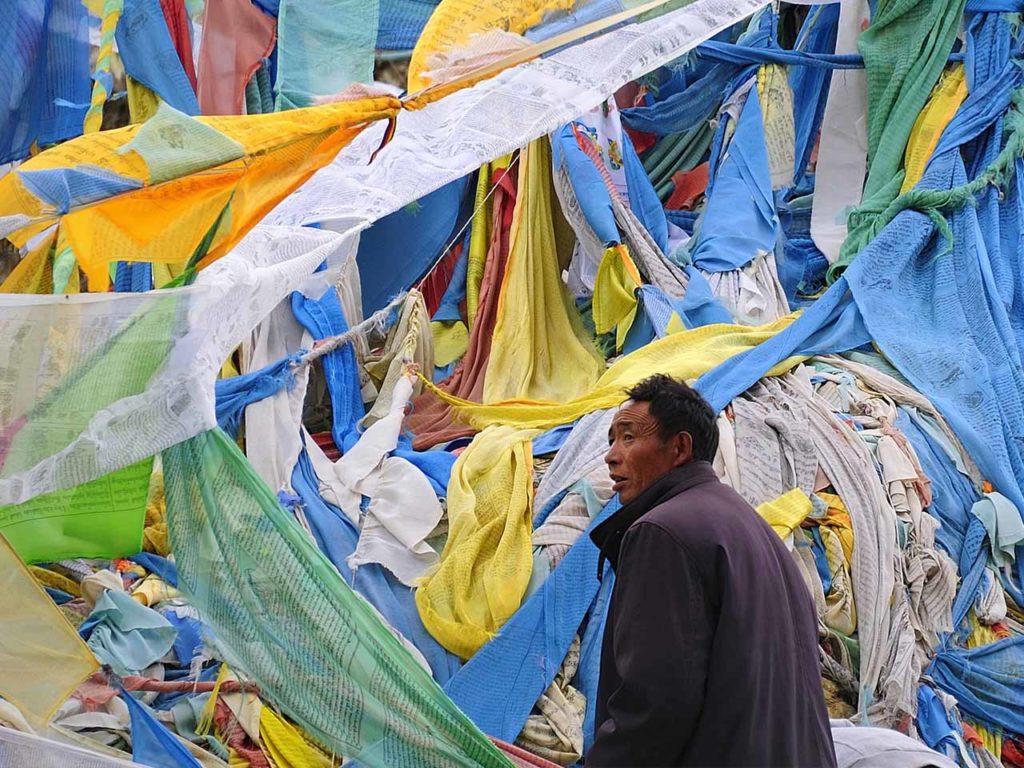 Tibetan Bon religion is the indigenous spiritual tradition of Tibet rooted before the arrival of Buddhism in the 7th century AD and it was founded by Tonpa Shenrab Miwoche, whose name means "Supreme Holy Man". He is considered by Bonpos to be a fully awakened Buddha who took physical form in order to teach others the true path to awakening. His biography bears some similarities to that Sakyamuni. Like Sakyamuni Buddha, Tonpa Shenrab began his reaching career after deciding to descend from a heavenly realm and take rebirth among humans in order to teach them a path to salvation.
Tonpa Shenrab's birth was accompanied by miraculous signs and auspicious events. His mother conceived him after a magical cuckoo perched on her head, flapped its wings three times and beamed a white and red light from its genitals into her head, following which she became pregnant. After taking rebirth in Shangshung as a prince, Tonpa Shenrab encountered opposition by demonic forces and like Padmasambhava, he subdued them and converted them to Bon, after which they became guardians of the religion.  As with Sakyamuni's legends, stages of awakening, Tonpa Shenrab set out on a program of conversion, first successfully bringing Bon to China, and then traveling to Tibet and converting its inhabitants. His entry into final nirvana closely parallels the story of Sakyamuni's death.
According to Bon sources, the tradition came to Tibet from Taksik (which appears to roughly refer to the area a Persia). Tonpa Shenrab expounded his teachings in the land of Olmo Lungring. "Ol" symbolizes the unborn, "mo" the undiminishing, "lung" the prophetic words of Tonpa Shenrab and "ring" his everlasting compassion. Some modern scholars have identified Olmo Lungring with Shangshung, the country surrounding Mount Kailash in western Tibet and the cradle of Tibetan civilization.
Early Bon texts are said to have been written in a language called the language of Shangshung, which appears to be an archaic Tibetan dialect. Unfortunately, it is difficult to speculate on the nature of this language, since it only exists in the titles of early Bonpo works and some mantras.
In terms of Bon teaching and practices, Bon views their tradition as distinct from Buddhism, although it clearly contains many Buddhist elements. The term Bon for Bonpos (practitioners on Bon) signifies "truth", "reality", and "the true doctrine", which provides a path to liberation. For Bonpos, Bon has roughly the same range of meaning that the term Cho (Dharma) has for Tibetan Buddhist: it refers to their religion as a whole teaching, practices and so on which are believed to have been revealed by awakened beings who took rebirth in order to lead others to salvation. Bon today has absorbed many Buddhist elements, and many of its teachings are strikingly similar to those of Tibetan Buddhism. It includes teachings and practices applicable to all parts of life, including our relationship with the elemental qualities of nature; our ethical and moral behavior; the development of love, compassion, joy, and equanimity; and Bon's highest teachings of the "Great Perfection," Dzogchen.
The special focus of Bon priests is the propitiation and manipulation of the indigenous spirits and deities of Tibet, but Bon has also developed a monastic system based on the Buddhist model. According to Bon histories, the first Bon monastery was Yeru Ensa, founded by Druchen Yungdrung Lama near the end of the eleventh century in Tsang region, about thirty miles east of Shigatse. The most important Bon monastery in Menri, built in 1405 in Tsang region. Bon monastic establishments, like Buddhist ones, have both novices and fully ordained monks. Bon monks, like their Buddhist counterparts, are bound by vows of celibacy, and they undergo an intensive training programme that includes the study of scripture, oral philosophical debate, and ritual practices.
Today many Tibetans still believe Bon is their religion. According to a recent survey, there are 264 active Bon monasteries, convents, and hermitages in Tibet. Many current ongoing Tibetan traditional festival practices are also closely associated with Bon, for instance, the celebration of Tibetan New Year (Losar) and the typical Tibetan religious flags on hills are to control the spirits in the mountains etc.
Important Bon Monasteries in Tibet
Tharding (Ri Gyal) Bonpo monastery in Thongmon County, the monastery was used to be a small temple of the Shen family and the 15th successor of Shen lineage expanded the temple in 1360, in the 15th century, the monastery became renowned for its statues, scriptures and stupas of the Bon religion.
Menri Bonpo monastery in Namling County established in 1405 by Nya-me Sherab Gyeltsen, for centuries Menri functioned as the most important Bon teaching center in Tibet.
Rala Yungdrung Ling Bonpo monastery in Namling County one of the most influential Bonpo monasteries in recent Tibetan history, and it was founded during the 19th century by Nangton Dawa Gyeltsen on the ridge of the holy Bonpo Mountain, Olha Gyel.
Zangri Bonpo monastery in Nyemo County, founded in 1096 by master Tshul khrims dpal chen. It became a great center for studies in metaphysics, where, over the years, hundreds of monks studied. It was also a place where tantric meditation and rituals were commonly practiced.
We can organize a thematic tour of following the footsteps of Bönpo in Tibet. If you are interested please read more about the tour in the link below. We can give a special discount for the Bönpo centers abroad.
About Us:
Tibet Universal Tours and Travel is a fully officially licensed international tour operator based in Lhasa, owned and managed by 100% local Tibetans. One of the most respected, longest running and best-reviewed tour operators since 1997.
Over 20 years of experience in the Tibetan travel industry, our team consists of the best and experienced Tibet travel guides that will show you the best that this extraordinary place has to offer, unravel all the undiscovered beauty of Tibet unique culture and tradition in front of you.  Whether a guest is looking to join a Tibet group tour or take a private tailor-made journey, we are the best choice.
Other than the above services, we provide stop over tour services in Nepal, Bhutan, and cities in Mainland China, you can also be booking your Tibet Flight and Tibet Train tickets with us. So, what are you waiting for? Reach us to embark on a trip that will last for a lifetime with Tibet Universal Tours and Travel!!!