Tibetan Language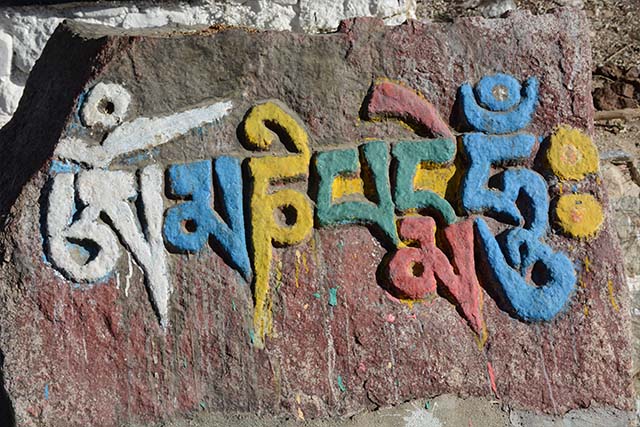 Tibetan Language: Language is considered a very important aspect of Tibetan culture & custom. Tibetan language belongs to the Tibeto-Burman group of languages and is spoken by around six million people, mainly in Tibet but also within Tibetan communities in Nepal, India, Bhutan, and Pakistan. Historically Tibet was divided into three cultural provinces called U-Tsang, Kham, and Amdo. Each one of these three provinces has developed its own distinct dialect of Tibetan. The most widely spoken language is the Lhasa dialect, also called standard Tibetan, which is spoken in central Tibet.
Tibetan is written in a very conservative syllabary script based on the writing system of the ancient Sanskrit language of India. Used in its present form since the 9th century, it was developed as a means of translating sacred Buddhist texts that were being brought into Tibet from India. The writing system derived from the pronunciation of the language as it was in about the 7th century, and varies in many ways from colloquial Tibetan as it is spoken today. The task is said to have been completed by a master named Thonmi Sambhota. The northern India script, in turn, was derived from Sanskrit. Written Tibet has 30 letters and looks sort of like Sanskrit or Indian writing. Unlike Japanese or Korean, it doesn't have any Chinese characters in it.
Beginning in the 8th century, Buddhist texts written in Sanskrit were carried over the Himalayas and were carefully translated into Tibetan by meditator scholars who had studied the true meaning of the teachings with Indian masters. The flow of texts and teachings ended during the 11th century when the Indian originals were mostly lost or destroyed in the Muslim suppression of Buddhism in India. Fortunately, by that time the transmission of Buddhist textual, artistic, meditative, and philosophical traditions into Tibet had been largely completed. Over the years Tibetan scholars added commentaries and further teachings to this body of literature.
The language as it is actually spoken today is called Colloquial Tibetan by Western scholars. There are four major dialects, and people from widely separated regions may have trouble understanding each other. The "standard" dialect is that of the region around the capital, Lhasa. Another form of the language, found in current writing, is called Modern Literary Tibetan.
Tibetan Grammar and Pronunciation
Tibetan uses conjugated verbs and tenses, complicated prepositions and subject-object-verb word order. It has no articles and possesses an entirely different set of nouns, adjectives, and verbs that are reserved only for addressing kings and high ranking monks. Tibetan is tonal but the tones are far less important in terms of conveying word meaning than is the case with Chinese.
Tibetan is classified as an ergative-absolutive language. Nouns are generally unmarked for grammatical number but are marked for case. Adjectives are never marked and appear after the noun. Demonstratives also come after the noun but these are marked for number. Verbs are possibly the most complicated part of Tibetan grammar in terms of morphology. The dialect described here is the colloquial language of Central Tibet, especially Lhasa and the surrounding area, but the spelling used reflects classical Tibetan, not the colloquial pronunciation.
Word Order: Simple Tibetan sentences are constructed as follows: Subject –Object –Verb. The verb is always last. Verb Tenses: Tibetan verbs are composed of two parts: the root, which carries the meaning of the verb, and the ending, which indicates the tense (past, present or future). The simplest and most common verb form, consisting of the root plus the ending-ge ray, can be used for the present and future tenses. The root is strongly accented in speech. In order to form the past tense, substitute the ending -song. Only the verb roots are given in this glossary and please remember to add the appropriate endings.
Pronunciation: The vowel "a" must be pronounced like the "a" in father-soft and long, unless it appears as ay, in which cast it is pronounced as in say or day. Note that words beginning with either b or p, d or t and g or k are pronounced halfway between the normal pronunciation of these constant pairs (e.g., b or p), and they are aspirated, like words starting with an h. A slash through a letter indicates the neural vowel sound uh.
About Us:
Tibet Universal Tours and Travel is a fully officially licensed international tour operator based in Lhasa, owned and managed by 100% local Tibetans. One of the most respected, longest running and best-reviewed tour operators since 1997.
Over 20 years of experience in the Tibetan travel industry, our team consists of the best and experienced Tibet travel guides that will show you the best that this extraordinary place has to offer, unravel all the undiscovered beauty of Tibet unique culture and tradition in front of you.  Whether a guest is looking to join a Tibet group tour or take a private tailor-made journey, we are the best choice.
Other than the above services, we provide stop over tour services in Nepal, Bhutan, and cities in Mainland China, you can also be booking your Tibet Flight and Tibet Train tickets with us. So, what are you waiting for? Reach us to embark on a trip that will last for a lifetime with Tibet Universal Tours and Travel!!!