Tibetan Opera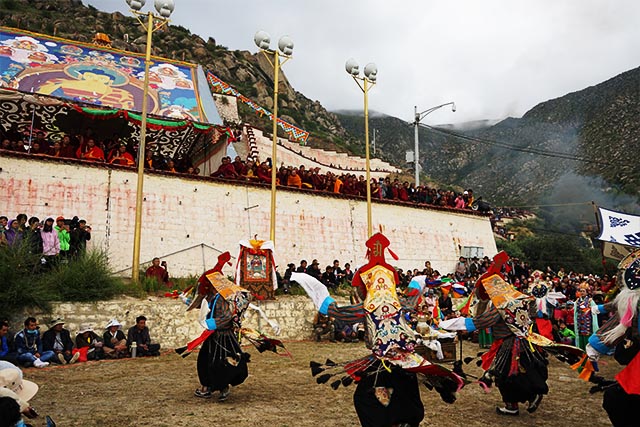 Tibetan opera, Ache Lhamo, which means Fairy in Tibetan, is the traditional opera of Tibet. The first opera troupe in Tibet was founded in the Ngamring area during the 15th century by Thangtong Gyalpo.
Thangtong Gyalpo was born in Olpa Lhatse in upper Tsang or Lato in the 14th century, his birth place also called Renchen Ding located in Shigatse prefecture, between Lhastse and Nyamring county. He is believed to be a manifestation of both Avalokitesvara and Haryagriva.
Thangthong Gyalpo was an important Shangpa Kagyu master and he was also a famous civil engineer, architect, philosopher, doctor and artist. Initially, he had organized seven girls to perform Tibetan opera for fund raising purpose in support to build iron chain bridges and stupas in Tibet, the opera became a very important part of Tibetan folk art. Starting from the beginning of 15th century he began to build iron chains bridges and stupas in Tibet, Bhutan and Ladakh. In the meantime he also travelled all around Tibet to study and teach the Buddha's teaching in many important monasteries like Samye, Sakya, Ngamring Choede, Chuwori and Dege Gonchen which were his own monasteries.  He has built more than 100 bridges, ferries and stupas to avoid natural disasters and create peace and happiness for all beings.
Tibetan opera or Ache Lhamo, originally  there are nine different stories which were adapted into Ache Lhamo performances, each exclusively staged by respective troupes. The Kyormulung troupe would only perform stories such as Sukyi Nyima, Pema Woebar and Drowa Sangmo.  Gyalkara with their monastic background perform only Prince Norsang as their core performance. The Chungpa troupe performs only the story Drimed Kunden. Then there is troupe from the Menru Monastery who perform only  Dhepa Tenpa in the Menru Ponsong tradition.
Nowadays, there are numerous troupes throughout the country, and the best time to see their performance is during the Shoton Festival in Norbulingka at Lhasa during the month of August.
About Us:
Tibet Universal Tours and Travel is a fully officially licensed international tour operator based in Lhasa, owned and managed by 100% local Tibetans. One of the most respected, longest running and best-reviewed tour operators since 1997.
Over 20 years of experience in the Tibetan travel industry, our team consists of the best and experienced Tibet travel guides that will show you the best that this extraordinary place has to offer, unravel all the undiscovered beauty of Tibet unique culture and tradition in front of you.  Whether a guest is looking to join a Tibet group tour or take a private tailor-made journey, we are the best choice.
Other than the above services, we provide stop over tour services in Nepal, Bhutan, and cities in Mainland China, you can also be booking your Tibet Flight and Tibet Train tickets with us. So, what are you waiting for? Reach us to embark on a trip that will last for a lifetime with Tibet Universal Tours and Travel!!!