Tibetan Song and Dance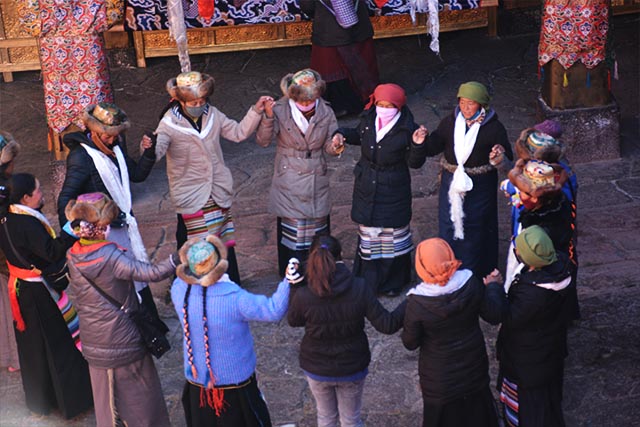 Tibetan song and dance: Singing and dancing are an integral part of every Tibetan's life. Tibetan people sing and dance for nearly every event: weddings, social gatherings, and just for fun. There are many different styles of dance; each area of Tibet has its own distinct style. Gorshey dance, in Tibetan Culture, is a group dance popular in rural Tibet. This dance is usually performed on the open ground and can go on for long. It consists of men and women dancing together in a circle.
This particular form of dance has two parts: singing, and dancing. It is an agile and vigorous dance. Men and women stand in two separate circles and sing in rotation while swaying and stamping their feet. The tempo, in the beginning, is slow and as the song progresses the tempo speeds up. They performers conclude their singing by shouting "Ya!" Shey (dance), in Tibetan Culture, is accompanied by a stringed instrument.
Dances Style
At festivals and outings, men and women dance the Shey face to face in two lines. They are usually directed by one person at the head of their formation who plays a stringed instrument. The participants sing to each other to express their feelings. This dance is graceful and natural characterized by slow steps. Cham(sorcerer's) dance, in Tibetan Culture, is a religious dance. It came to Tibet along with the introduction of Buddhism. It is used to subdue evil spirits in monasteries.
 Originally, the Cham dance was a mime dance where participants wore ceremonial masks.  At the end of the dance, the performers take an effigy of Dremo (the leading demon), made of butter and Tsampa into the wilderness to burn, which will drive away evil and bring good fortune in the coming year.
Song
Folk songs often have a thematic character: there are the wedding songs, labor songs, round dance songs, archery songs, drinking songs, love songs such as those composed by the Sixth Dalai Lama. Songs in the form of repartee or playful rejoinders. These generally use simple language, which evokes an immediate mood or imagery, and employs both metaphor and hidden analogy. Modern songs are always being written and performed in this traditional style, using the modern recording studio.
About Us:
Tibet Universal Tours and Travel is a fully officially licensed international tour operator based in Lhasa, owned and managed by 100% local Tibetans. One of the most respected, longest running and best-reviewed tour operators since 1997.
Over 20 years of experience in the Tibetan travel industry, our team consists of the best and experienced Tibet travel guides that will show you the best that this extraordinary place has to offer, unravel all the undiscovered beauty of Tibet unique culture and tradition in front of you.  Whether a guest is looking to join a Tibet group tour or take a private tailor-made journey, we are the best choice.
Other than the above services, we provide stop over tour services in Nepal, Bhutan, and cities in Mainland China, you can also be booking your Tibet Flight and Tibet Train tickets with us. So, what are you waiting for? Reach us to embark on a trip that will last for a lifetime with Tibet Universal Tours and Travel!!!