Tibetan New Year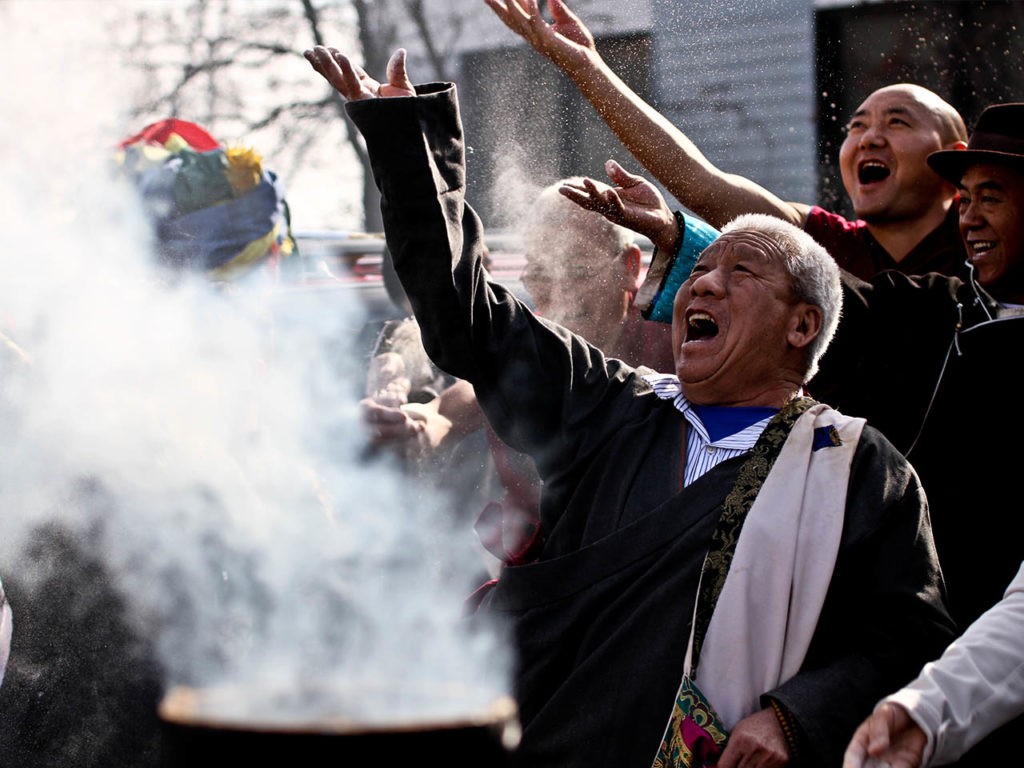 The Tibetan New Year – namely Losar in the Tibetan language – is based on Tibetan astrology, a synthesis of Indian and Chinese astrology so the New Year begins on a new moon. Losar usually falls in late January or February and lasts 15 days, but the first three days are most important. On the eve of Losar, monasteries hold special prayers in preparation for the Losar celebrations.
Basically, people get into busy for Tibetan New Year preparation about one month prior to kick off the actual celebration. People used to arrange their religion devotional offerings, buy new clothing, various food and drinks for the feasts. The feasts include a substantial amount of 'Dresi' a sweet buttered rice with added raisins, 'Droma', which is rice boiled with small potatoes, various meats, fruits, bread, Tibetan barley beer, butter tea among others. 'Kapse', a fried sweet that comes in different shapes and forms, is a must. Tibetans are supposed to see in the New Year with these sweets piled high on their tray.
A special noodle called Guthuk, which resembles a thick soup with little mini-dough balls, served as a family reunion dinner on the day prior to Losar's Eve, marks the informal start of the celebration. The soup has nine different ingredients added to it. People place various tokenistic items such as chilies, salt, wool, rice and coal in dough balls, which are then handed out. The ingredients that one finds hidden in one's mini-dough ball are supposed to be a light-hearted comment on one's character. For example, if a person finds chilies in his dough, that means he or she is sharp-tongued. If white-colored ingredients such as salt or rice are found in the dough balls, it is believed as a good benign sign. If someone finds coal in his dough, it has the same meaning as finding coal in the Christmas stocking; it means that one has a "black heart".
Following this everyone participates in the original purpose of 'Gutor', which is to dispel the evil spirits from the previous year by running around with a doll representing a fierce god, setting off fireworks, and hand-held firecrackers. On the 30th, New Year's Eve, Tibetans clean their houses and then wait in anticipation for the following day's festivities.
First Day of the Tibetan New Year:
Traditionally, on the first day of the New Year, the housewife will get up very early. After preparing a pot of barley wine for the family, she will sit beside the window awaiting the sunrise. As the first ray of sunshine of the New Year shoots the sky and the earth, the housewife takes a bucket and heads to a river, stream or a well, to fetch the year's first bucket of water, which is seen as the most sacred, the freshest water of the coming year. This first fetch of water is believed to be blessed with good luck for the coming year.
On the first day of Losar, the monasteries and temples hold religious celebrations, which include worshiping the god, chanting Buddhist scriptures and having a very elaborate meal. Taking the important spiritual opportunity, people visit local monasteries to pay homage and make offerings.
On the second day, people visit friends, relatives and neighbors to exchange greetings, each other's feasts and have parties with drinking and singing.  The third day of Losar is for visiting local monasteries, they replace the year-old Tar-choks and Dar-shings on the roof of their houses with new ones and burn thick bunches of 'Sang' (fragrant grasses). The dates for Losar celebration are slightly different from how central south Tibet. Losar is considered the most important Tibetan festival in the entire year.
About Us:
Tibet Universal Tours and Travel is a fully officially licensed international tour operator based in Lhasa, owned and managed by 100% local Tibetans. One of the most respected, longest running and best-reviewed tour operators since 1997.
Over 20 years of experience in the Tibetan travel industry, our team consists of the best and experienced Tibet travel guides that will show you the best that this extraordinary place has to offer, unravel all the undiscovered beauty of Tibet unique culture and tradition in front of you.  Whether a guest is looking to join a Tibet group tour or take a private tailor-made journey, we are the best choice.
Other than the above services, we provide stop over tour services in Nepal, Bhutan, and cities in Mainland China, you can also be booking your Tibet Flight and Tibet Train tickets with us. So, what are you waiting for? Reach us to embark on a trip that will last for a lifetime with Tibet Universal Tours and Travel!!!