Yamdrok lake (or Yamdrok Yusto in Tibetan)  is located at the Nangartse County of Lhoka Prefecture, some 110 km to the southwest of Lhasa. Yutso means "turquoise" in Tibetan language.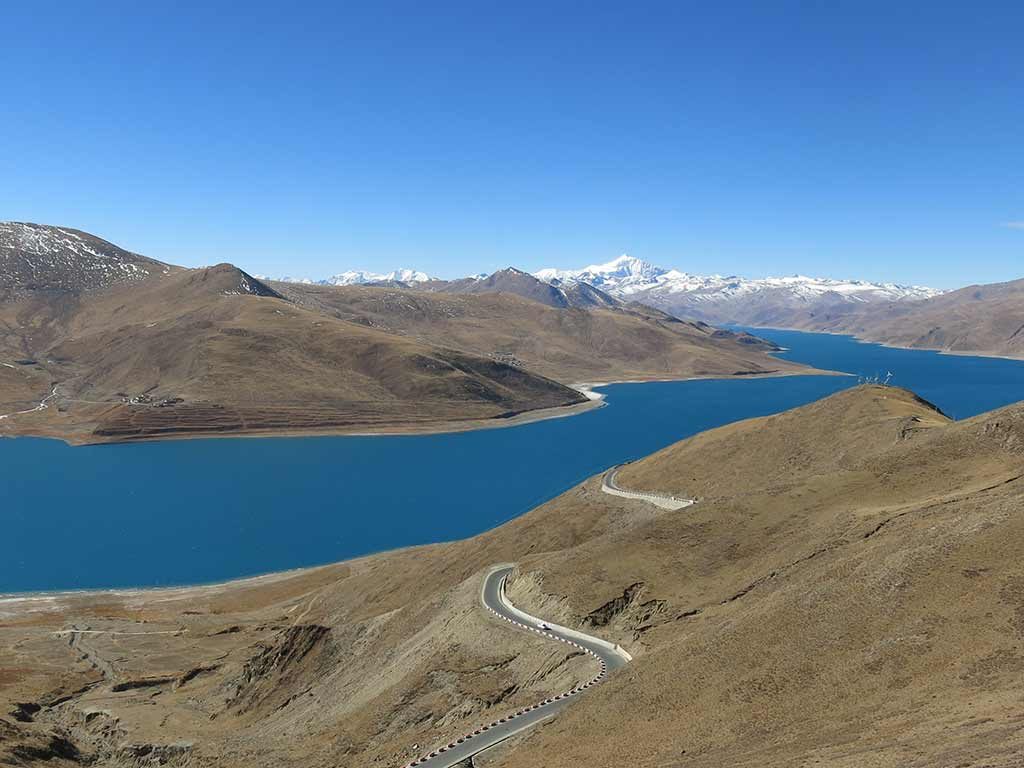 The lake is one of the three holy lakes in Tibet. The other holy lakes are Namtso Lake and Lake Manasarovar, respectively. Yamdrok lake is 130 km long from east to west and 70 km wide from north to south. The lake bank is 250 km long and its surface area is 638 square km. Standing at an elevation of 4,441 meters above sea level, the lake's average depth is 20 to 40 meters, with the deepest point at 60 meters. It is the largest inland lake on the northern range of the Himalayas with a low level of salinity.
Yamdrok Yutso lake is the largest habitat for migratory birds in southern Tibet. When the birds come, the lake bank and the islands appear especially lively with numerous birds taking care of their offsprings. The bank of the lake is a beautiful pasture. At the west of the lake, a large peninsula extends eastward, providing ample space for a village. Among the dozen islands in the lake, the smallest one is just over 100 square meters.
Yamdrok Lake is one of the most interesting tourist sites in Tibet and the majority of the travelers are amazed at the views of the lake from the top of the Kamba La pass and the snow peaks of Nojin Khangsang in the distance.
About Us:
Tibet Universal Tours and Travel is a fully officially licensed international tour operator based in Lhasa, owned and managed by 100% local Tibetans. One of the most respected, longest running and best-reviewed tour operators since 1997.
Over 20 years of experience in the Tibetan travel industry, our team consists of the best and experienced Tibet travel guides that will show you the best that this extraordinary place has to offer, unravel all the undiscovered beauty of Tibet unique culture and tradition in front of you.  Whether a guest is looking to join a Tibet group tour or take a private tailor-made journey, we are the best choice.
Other than the above services, we provide stop over tour services in Nepal, Bhutan, and cities in Mainland China, you can also be booking your Tibet Flight and Tibet Train tickets with us. So, what are you waiting for? Reach us to embark on a trip that will last for a lifetime with Tibet Universal Tours and Travel!!!