Train to Tibet brings together the most attractive panoramas into one unique travel experience!
Qinghai-Tibet Railway, the world's highest railway since its opening in 2006, covering 710 miles and reaching altitudes over 5000m from Qinghai to Lhasa, on which the train starts from mainland China: Beijing, Xining, Chengdu, Shanghai, Guangzhou, and Chongqing.
There is no better way to explore Tibet than on a scenic rail journey aboard the world highest rack railway where you can roll into view with the boundless grasslands dotted with black yaks, the prayer flags fluttering from gold-topped temples, the desolate, golden Gobi desert, Tanggula Glacier and the wildlife-rich Kekexili Nature Reserve where you can spot Tibetan antelope and wild yaks.
To protect passengers from high-altitude sickness, trains have an oxygen supply system that increases the oxygen in the cabin as the train ascends and cabins have private oxygen-dispensing outlets. The temperature in the train is regulated and pressurized and the windows are glazed with a UV coating to protect against the powerful high-altitude rays.
Seat classes on Tibet train:
Hard seat: Cushioned seats with five in a row, cheap but overcrowded and not recommendable for long-distance journeys.
Hard sleeper: Six beds in half-opened compartments, with luggage storage above the window. Mattresses are thin and liners are provided.
Soft sleeper: Four thick-cushioned beds in private, lockable, spacious compartments.
Tibet Universal Tours and Travel offers you easy and fast Tibet train ticket online reservation services. Therefore, you can book the train ticket to Tibet directly from our site https://tibetuniversaltravel.com/train-to-tibet/ or send us your booking reservation to tibetuniversaltravel@hotmail.com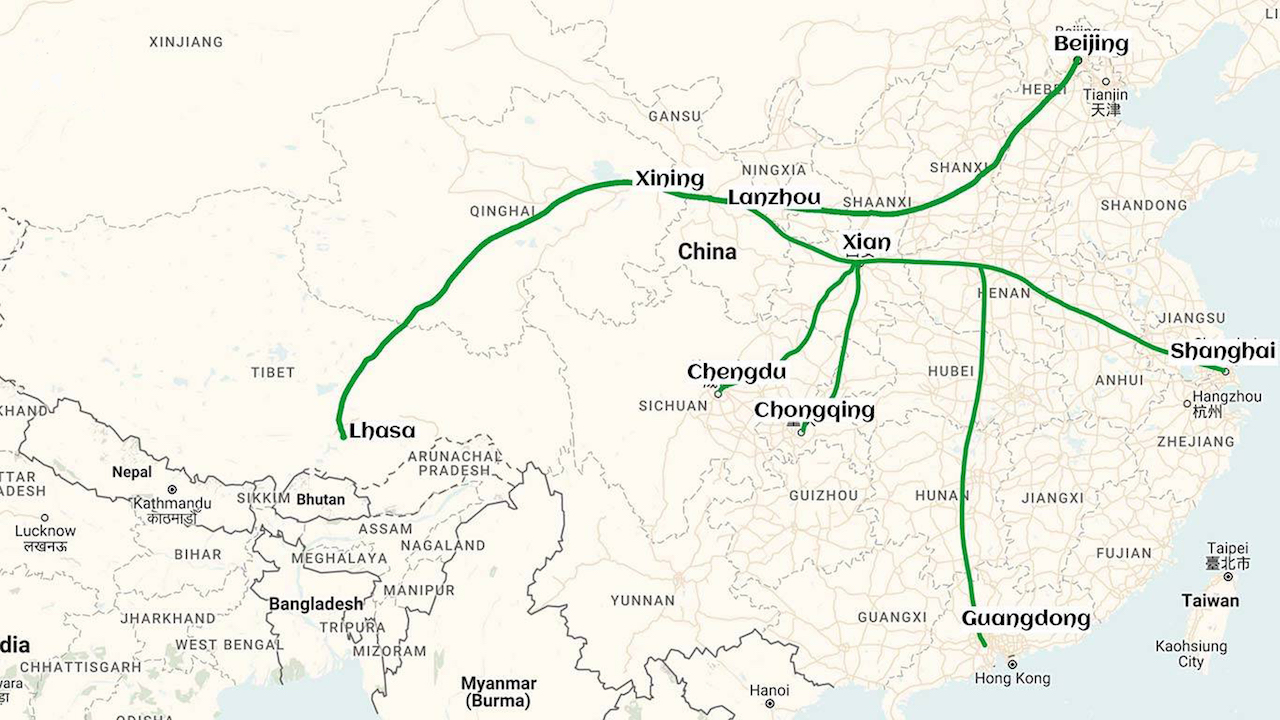 Xining to Lhasa Train 
| Frequency |  Distance | Duration |  Soft Sleeper | Hard Sleeper |
| --- | --- | --- | --- | --- |
| Everyday | 1972 km | 21hr 41m | 130 USD/Person | 83 USD/ Person |
Beijing to Lhasa Train 
| Frequency |  Distance | Duration |  Soft Sleeper | Hard Sleeper |
| --- | --- | --- | --- | --- |
| Everyday | 3753 km | 40Hr 20M | 198 USD/Person | 125USD/ Person |
Chengdu to Lhasa Train 
| Frequency |  Distance | Duration |  Soft Sleeper | Hard Sleeper |
| --- | --- | --- | --- | --- |
| Alternative day | 3360 km | 36Hr 30M | 173 USD/Person | 109 USD/ Person |
Chongqing to Lhasa Train 
| Frequency |  Distance | Duration |  Soft Sleeper | Hard Sleeper |
| --- | --- | --- | --- | --- |
| Everyday | 3030 Km | 35Hr 53M | 173 USD/Person | 109 USD/ Person |
| Frequency |  Distance | Duration |  Soft Sleeper | Hard Sleeper |
| --- | --- | --- | --- | --- |
| Everyday | 4980 km | 52Hr 34M | 254 USD/Person | 150 USD/ Person |
Lanzhou to Lhasa Train 
| Frequency |  Distance | Duration |  Soft Sleeper | Hard Sleeper |
| --- | --- | --- | --- | --- |
| Everyday | 2188 km | 24Hr 28M | 143 USD/Person | 91USD/ Person |
Shanghai to Lhasa Train 
| Frequency |  Distance | Duration |  Soft Sleeper | Hard Sleeper |
| --- | --- | --- | --- | --- |
| Everyday | 4373 km | 46hr 15m | 219 USD/Person | 138 USD/ Person |