Jokhang Temple, a place of the Holy Statue of the Buddha is the holiest Buddhist temple in Tibet and it is located in the center of Lhasa city. Originally it was built for the holy statue of the Buddha called Mikyoe Dorjee. Moreover, it was brought to Tibet by Brikuti Devi, the Nepalese wife of the King Songtsen Gambo, as her dowry.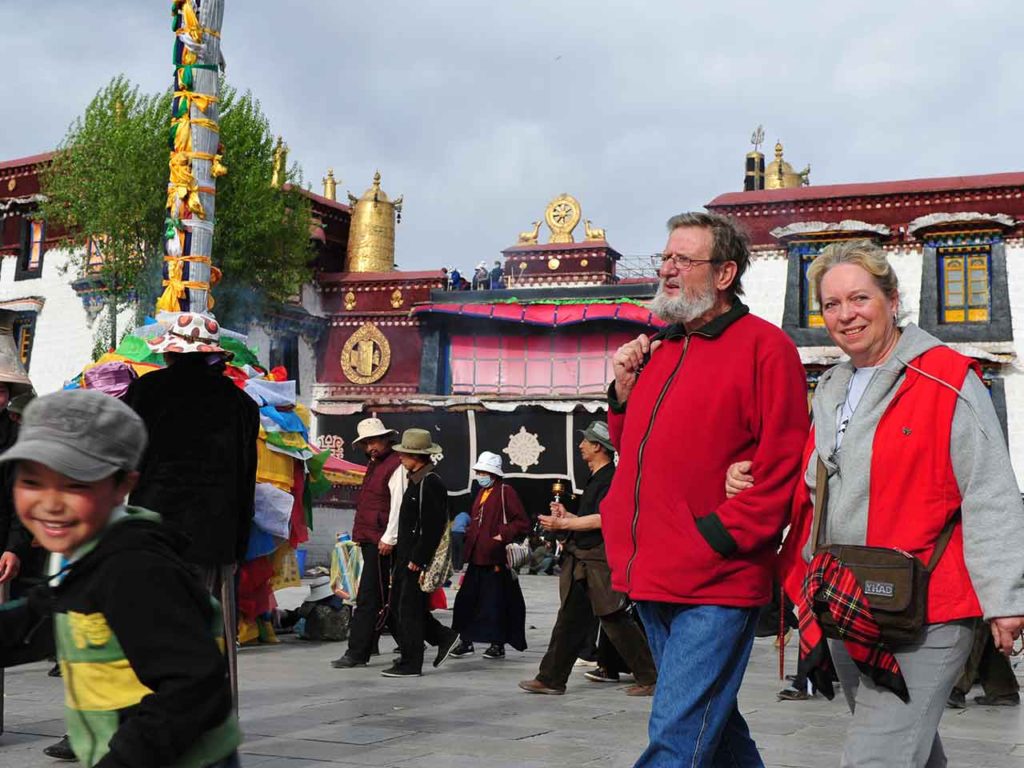 In the meantime, Princess Wencheng – the Chinese wife of the King Songten Gambo – also brought another statue of the Buddha and she built Ramoche temple to provide "residence" for the second statue for the Buddha.
History of Jokhang Temple (Place of the Holy Statue of the Buddha)
According to legend, there was a lake here called Wotang at the original site. And, Jokhang temple was built right on top of the lake after it was sealed. The two statues were later put in the wrong temples intentionally after the King Songtsen Gambo passed away. The holy statue that we see today inside Jokhang temple is the one brought by princess Wechang. She was the Chinese wife of the king. For the Tibetans, this statue is so holy that it is considered almost like the Buddha Shakyamuni in person. Every day you can see thousands of pilgrims in line to pay homage and make offerings to the Buddha statue.
You can also see hundreds of people prostrating in front of the temple. Furthermore, people also prostrating in the open space at the front entrance of the holy Jokhang Temple. The prostrating is an important physical practice to accumulate merits and purify sins. The sins one has committed through his or her body. At the same time, they pray for the well-being of all beings. They recite mantras and meditate or think of the Buddha or Bodhisattvas and their deeds to help all the beings.
About Us:
Tibet Universal Tours and Travel is a fully officially licensed international tour operator based in Lhasa, owned and managed by 100% local Tibetans. One of the most respected, longest running and best-reviewed tour operators since 1997.
Over 20 years of experience in the Tibetan travel industry, our team consists of the best and experienced Tibet travel guides that will show you the best that this extraordinary place has to offer, unravel all the undiscovered beauty of Tibet unique culture and tradition in front of you.  Whether a guest is looking to join a Tibet group tour or take a private tailor-made journey, we are the best choice.
Other than the above services, we provide stop over tour services in Nepal, Bhutan, and cities in Mainland China, you can also be booking your Tibet Flight and Tibet Train tickets with us. So, what are you waiting for? Reach us to embark on a trip that will last for a lifetime with Tibet Universal Tours and Travel!!!